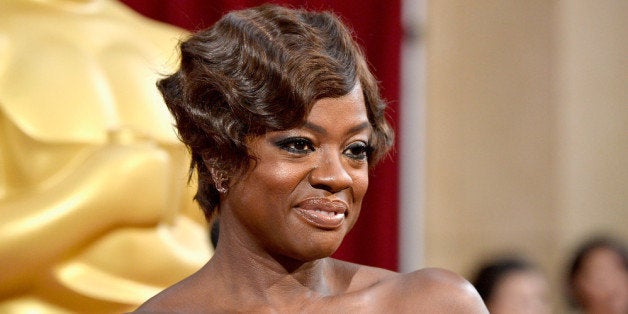 How To Get Away With Murder , the suspenseful whodunit, executively produced by TV show-runner Shonda Rhimes, is a bonafide hit. The weekly drama keeps fans coming back with its shockingly murderous plot twists. Its luminous star, Viola Davis, leaves viewers enthralled as the powerful and enigmatic law professor, Annalise Keating.
Davis' HGTAWM performances are compelling and multi-dimensional. So much so that she has earned SAG, Golden Globe and NAACP Image Award nominations for lead actress in a television drama. She also won an award at this year's People's Choice Awards.
According to Deadline's Nellie Andreeva, Davis's SAG nomination is an especially rare feat, given that freshman series' stars are rarely honored: "There's a tremendous amount of inertia among SAG Award voters who tend to stick with favorites and neglect newcomers." (The SAG Awards will air live on January 25, 2015 on TNT and TBS. The Golden Globes aired on January 11, and Davis lost in her category to Ruth Wilson of Showtime's The Affair.)
As a fan of both Davis and the show, I'm excited that she continues to be recognized by fans and critics alike. I am also hopeful that, with these nominations, there will be less emphasis on controversy, and more media coverage highlighting the qualities that make Davis the memorable and impactful artist that she is.
From the moment Davis entered the Thursday night line-up on ABC, there's been drama. And I'm not just referring to the shocking lines she delivers each week on HTGAWM.
In September, a New York Times writer described Davis as "less classically beautiful." It was a nasty comment that made me want to scream. And much of the public did scream: The article sparked a social media outcry and spawned a slew of op-eds. Adding insult to injury, the author reduced Rhimes -- one of the most powerful and innovative women in television -- to a loathsome stereotype: the "angry black woman." Margaret Sullivan, the NYT public editor called the piece "astonishingly tone-deaf and out of touch." I called it something that I won't share here.
Rhimes took to Twitter almost immediately, succinctly squashing the New York Times piece and its ludicrous assertions. Davis addressed it too in an appearance on The View soon after:
"[C]lassically not beautiful" is a fancy term for saying ugly. And denouncing you. And erasing you. Now...it worked when I was younger. It no longer works for me now. It's about teaching a culture how to treat you. Because at the end of the day, you define you.
Both graceful and uplifting, somehow Davis had transformed an ugly lie into a beautiful teaching moment.
When HTGAWM premiered on September 25, 2014, it was the highest-rated show of the night with 14 million viewers, and the largest debut for any series this season. That same evening, People Magazine live-tweeted from its Twitter account: "Waiting for Viola to break into 'You is kind. You is smart. You is important.'" The tweet was a reference to Davis's role in the 2011 film, The Help. Apparently, even when portraying a sophisticated modern-day lawyer in the Northeast, Davis still reminds some of a 1960s maid in the deeply segregated South. (People later apologized for the "insensitive" comment and removed the tweet.)
In an interview with the Wall Street Journal, Davis acknowledged the resistance that some have to seeing her as a leading lady:
Listen, I am very aware that I'm a different sort of woman for TV, for a lead role that's sexualized. I get it. I can either pretend to be like everyone else...or I can embrace my womanhood, my sexuality, my size, my age, my hair. I felt that [the latter] would be far more effective.

After 30 years in the business -- including years of being typecast and underestimated -- no one deserves to be a leading lady more than Davis. And regardless of what happens this awards season, or how many awards she wins (or doesn't), Davis matters. She matters for the same reason that non-profit organizations like the Women in Entertainment Empowerment Network (WEEN) matter. I joined WEEN years ago because I believed strongly in their mission to support and defend a more balanced, positive representation of women in entertainment and society. Davis is the embodiment of that mission; she lives and breathes it in her life and her work.
"You've got to teach people how to treat you," Davis told the WSJ:
You have to give people a glimpse of what your life is like. That's what it means to be private in public...Often you get a television gig and you feel like all that stuff has to be taken off the table because it's not attractive. It's not sleek or pretty...I'm not interested in doing that as an actress. I'm interested in the mess. What is not pretty. That, at its core, is what makes us human. And that's what makes people sit forward in their chair. Because we want to see ourselves in those moments.
This concept of teaching others how to treat you is a fundamental theme driving Davis' work. Davis imbues her characters with an unshakable confidence that for some is disconcerting. Their definition of confidence, beauty and power never included someone like Davis. Her "unapologetically me" approach is shaking the very foundation of some long-held beliefs and perceptions -- particularly as it relates to women of color.
Through her work, Davis is defining herself, for herself; and in so doing, she is also changing the conversation for all women. When Annalise Keating removed a full face of makeup -- and her wig -- in a HTGAWM episode from this past fall, it was Davis's idea to reveal her natural face and hair texture. By embodying characters who are willing to embrace their realness on television and in film, she is slowly chipping away at the unhealthy, idealistic standards that are so prevalent in our culture. Perfection is a fallacy, so why should our art and entertainment promulgate this unattainable standard? Instead, Davis reminds us that it is in our authenticity, and not in our masks, that true beauty is found.
The idea of people reinventing themselves for Hollywood is not novel -- the concept is probably as old as Hollywood itself. What is remarkable are women like Davis, Rhimes, Mindy Kaling, Tina Fey and others, who are actually reinventing Hollywood. By creating characters that more accurately reflect our world and the powerful, authentic women who inhabit it, they are re-defining the entertainment industry and challenging inaccurate perceptions in the process. And it is Viola Davis's accomplishments in this area, more than any award or controversy, that will be her greatest legacy.
Popular in the Community