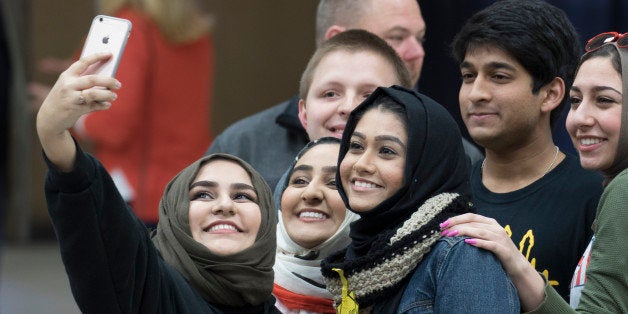 As an international student in the US, I often find myself startled due to Americans' reactions to my Muslim identity. I am a 24-year-old graduate student at CUNY's School of Professional Studies, pursuing urban affairs. As I write, I am wearing leggings, black boots, and a flannel shirt; a trendy messy bun and vibrant red lipstick. At the same time, I'm a nice Muslim girl from a mainstream Muslim household in Kuala Lumpur, Malaysia. Like millions of young Muslim women worldwide, I don't see any contradiction between my contemporary self-presentation, my strong professional identity, and my faith. Sadly, though, it seems that many of you do.
Paradoxically, America recently seems to be having a tougher time with ethnic diversity than has my mostly Muslim homeland. Malaysia, when I was growing up, was a multiethnic, multicultural nation, where Muslims, Hindus, Christians and others lived together harmoniously. Like most Malaysian Muslim girls, my lifestyle was comfortably integrated; in the mornings I went to Malay/English school to perfect my global credentials. In the afternoon, I attended Arabic school to study the Holy Quran. Yes, during the month of Ramadan, our family would fast- but always reassuring our many Chinese and Indian friends that it was okay for them to eat in front of us. In fact, my first name itself means "chapter of Holy Scripture." When I was growing up in a majority Muslim country, I was raised to respect all beliefs.
In contrast, America, which, in my teenage years I dreamt of as being even more tolerant, I was in shock. Indeed, my first experience on American soil was to have been 'randomly selected' at John F. Kennedy International Airport. I was only nineteen; a large, older, officious-looking security official called my name, asked me to depart of the security line, and escorted me into a secluded room with no windows; it was filled other 'randoms.' To my anxious gaze, it looked like a sea of white abayas and black burqas. It seemed that virtually everyone was brown-skinned; there was not a single Caucasian face. The officials looked at my passport and let me go. In retrospect, I was wearing a short skirt, western outfit, and my hair was loose; the ladies in black burqas and the men in white abayas remained behind.
At the University of New Haven, I majored in Criminal Justice. Because my fellow students were aspiring to be police officers, forensic scientists, and criminal defense lawyers, I was usually the only foreign student in class. This too led to some disturbing moments. One day, we were discussing the 9/11 attacks and the security measures that might have help to prevent this tragedy. A student, a Connecticut native, said that security measures should be tightened even further, because "Muslims are dangerous people." She added that it is crucial that we "take care of our people."
While I'm still angry at what she said - as I sat right there -- and the at fact that the instructor, a former security official himself, said nothing to correct her, my classmate's ignorance is unsurprising; the American media usually portray Muslims as angry people wearing hijabs and thobes (the male gowns worn by fundamentalists), and as people who are more likely than not to shout "Allahu Akbar", with bombs strapped to their chests.
Almost never did my classmate see in the U.S. media what I saw everyday: doctors, lawyers, journalists, housewives, feminists, bloggers, fashionistas - all of whom are Muslims.
Now, with the rise of Donald Trump's anti-Muslim demagoguery, I am worried anew. This past weekend, as I was attempting to stream Broad City with my housemates, I saw on my Facebook news feed that Donald Trump, US Presidential candidate, has advocated "killing Muslims with bullets dipped in pig's blood."
This is a hateful echo of the Indian Rebellion of 1857; Muslim and and Hindu soldiers were forced by the British to use cartridges contained pig or cow fat. Trump, resurrecting Colonial propaganda from that era, is also resurrecting ancient and hateful colonial racism. This Trump-created hatefest has caused panic back home; my friends' mothers are calling for them to return -- because the moms feel that America is no longer safe for their kids. Is this why I sought the American dream? Hardly.
In a climate such as this, a new bill, H.Res.569, introduced by Representative Donald Beyer of Virginia, could be a tonic; it makes a stand against anti-Muslim hate. The resolution condemns violence, bigotry, and hate-filled rhetoric towards Muslims in the United States; and it expresses condolences for anti-Muslim hate crimes. Not a moment too soon: according to the FBI's Uniform Crime Reports, anti-Muslim hate crimes are five times more frequent now than they were before 9/11. If Trump's star continues to rise, we can expect worse to come.
Representative Beyer's bill declares that the House of Representatives confirms its dedication to the rights and dignity of all citizens; it denounces the increase of hate speech and hate crimes targeted against mosques, Muslims, or those citizens perceived to be Muslim; and it recognizes the positive contributions made by the U.S. Muslim community to U.S. society: it "[d]eclares that the civil rights and liberties of all U.S. citizens, including Muslims in the United States, should be protected"; it
"[u]rges law enforcement authorities to work to prevent hate crimes and to prosecute the perpetrators of such crimes" and it "[r]eaffirms the inalienable rights of every citizen to live without fear and intimidation and to practice freedom of faith."
This bill seems important. But it's also -- just language. Language opposing anti-Muslim hate is a start but it does little to stem the violence that's on the rise. Would this resolution have stopped Craig Stephen Hicks, who killed three Muslim students, Deah Barakat, 23, Yusor Abu-Salha, 21, and Razan Abu-Salha, 19, in their home in Chapel Hill, North Carolina, in February of 2015? Would it have stayed the hand of Piro Kolvani, who assaulted the storeowner, Sarker Haque, in Queens, because of his faith? Will it provide a safer education for the sixth grader in the Bronx who was attacked by her schoolmates, who accused of conspiring with ISIS, and tore her hijab from her head?
I love America, my new adoptive country, but I miss her better self. I want to believe that hateful anti-Muslim stereotyping will end in this country soon. But for now, I remain cynical. Just as in 1932, it was not a good sign when people had to defend Jews from being singled out from prosecution, today is not a good sign that a resolution aimed at protecting any specific ethnic, religious or racial group has any sort of perceived necessity in the Congress of the United States of America.
I appreciate your intentions, Representative Beyer, but we need more than a resolution -- we need to stop separating Muslims from the general populace in what should be this free, tolerant and open multiethnic country.
Popular in the Community