I wish I could sing, and belt out every feeling like Nina Simone or sing a love letter to my daughter like Paul Simon. I love music and have long been impressed with the artists that enrich our world in so many ways. A while back I started exploring the idea of writing a thoughtful compilation of the efforts in philanthropy made by the music industry. The deeper I dug, the more I uncovered a world of beautiful people destined to create, heal, and challenge humanity to be better. Musicians give us the soundtrack to our lives and define our times, and can also show us how to truly make an impact by giving back.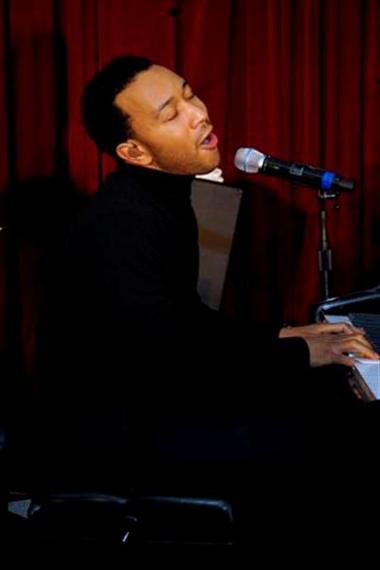 John Legend performed at an event benefitting nonprofit organization Common Threads. Photo courtesy of Common Threads.

This is a topic that I have visited and revisited over the last few years. Through my research it became clear that the music industry's cup of givers is flowing over, full of inspiring individuals making the world a better place.

"Perhaps the artist best known for his incredible philanthropic work is Bono," explains Dave Boxenbaum, co-founder and COO of A&M/Octone Records. "Through his Red campaign, advocacy work in between tours, meetings with world leaders, and work with nonprofits improving communities in Africa, he has become the public face of musicians making a difference," affirms Boxenbaum. The global activist co-founded DATA, EDUN, the ONE Campaign and Product Red - raising money and awareness for the fight against AIDS in Africa. (RED) is the largest business sector contributor to the Global Fund to Fight AIDS, Tuberculosis, and Malaria.

Clearly, Bono has given of himself, his fame and his music selflessly - changing the lives of people across the globe. Most recently, he is reportedly organizing a concert to raise funds to benefit and support the victims of the tragic terrorist attack in Paris, France. He is not the only one using his star power to give back - far from it. "There are many musicians who dedicate themselves, their talents, and their fame to raising awareness about important causes and making difference in our lives and world," said Boxenbaum.

There are various avenues that musicians use to carry out their bigheartedness, and the amazing work of this diverse group has affected people and communities all around the world. Just like the artists themselves, the acts come in all shapes and sizes, but in collaboration create a beautiful melody. This is a tune we can all admire and sing along to!

1. Concerts: Live Aid and Beyond
Music and charitable work often go hand in hand. Bands use concerts to advocate a charitable purpose in different ways. The most obvious is the benefit concert - popularized by the "Concert of Bangladesh", organized by George Harrison in 1971. A charity concert allows musicians to leverage their position to great philanthropic success, raising funds to be donated to countries around the globe to assist where famine, war, and disease are prevalent. Paving the way for benefit concerts were the exceptionally noteworthy efforts including "Live Aid" (1985) and "Band Aid" (1984), launched to raise awareness about suffering in Africa and fundraise for anti-poverty efforts. Bob Geldof, lead singer of the band The Boomtown Rats and arguably the pioneer of the modern musical philanthropic concept, organized both concerts.

Benefit concerts are held most often as a response to a disaster and in an effort to uplift and raise funds for a specific humanitarian crisis. In 2001, K'naan (Keinan Abdi Warsame) performed before the UN High Commissioner for Refugees against their unsuccessful efforts to aid Somalia, his home nation. In 2011 he was back in Somalia to bring attention to the devastating famine.

Some benefit concerts go beyond raising funds to influence policy and legislation, such as "Live 8" (2005) and "Farm Aid" (1985). On July 2, 2005, Geldof and Bono organized "Live 8," a set of 8 concerts held in 8 cities around the world on the same day as part of a campaign to persuade the G8 member governments to increase their fight to eradicate poverty in third-world countries. The first "Farm Aid" concert, organized by renowned artists Willie Nelson and John Mellencamp, was established to raise money for family farmers in the United States. There have been more than 30 Farm Aid concerts to date, held in new locations each time.

Musicians have the unique ability to educate and engage concert attendees - bands like Maroon 5 make continuous efforts. "Maroon 5 is extremely philanthropic and supports a variety of environmental and cause related initiatives," says Boxenbaum. For their 2008 tour Maroon 5 partnered with Reverb, an environmentally focused non-profit. The tour focused on educating fans while reducing their carbon footprint by providing better recycling facilities at shows, an online carpooling service for fans, and eco-friendly merchandise. In 2013 they partnered together and asked concert attendees to bring old cell phones to the show to be donated to victims of domestic violence.

Another particularly charitable band is Dispatch. Dispatch is "deeply committed to the greater good and make their philanthropic agenda front and center stage...definitely leaders in our music community," Boxenbaum says. Dispatch supports organizations that work to improve health and education, they want to empower people and communities, build leaders, alleviate poverty, stop hunger, and eradicate disease. In 2007 Dispatch sold out three nights at Madison Square Garden and raised hundreds of thousands of dollars from those shows to fund humanitarian relief efforts in Zimbabwe. The band established the Dispatch Foundation on the heels of these New York City benefit concerts. The organization provides hope and opportunity to Zimbabwean youth. For their 2013 tour, Dispatch donated hundreds of thousands of dollars in support of their Amplifying Education Initiative. Earlier this year they released their first new song in several years and attached that and the live weekend to a campaign to fight hunger in the US. All proceeds through July of 2015 benefitted various hunger initiatives.
"Dispatch has always used their music as a vehicle for change. They took the position early on in their career that if they were going to be fortunate enough to be given an incredible platform, that they had an obligation to use it to do good," says Steve Bursky, Manager and Founder at Foundations Artist Management. "Unlike so many who 'talk' about making a difference, Chad, Pete, and Brad live and breathe it - volunteering alongside their fans to do good - both here and abroad."

"The Concert for Sandy Relief" is another example of musicians' ability to help those in need. Held in NYC's Madison Square Garden on December 12, 2012, the concert featured legendary names like Paul McCartney, Eric Clapton, The Who, Bruce Springsteen & the E Street Band, Billy Joel, Bon Jovi, and more. Efforts were a huge testament to the power of organizations coming together to increase impact - according to Business Pundit, "the Madison Square Garden show reached over 2 billion viewers compliments of 34 national networks who carried the broadcast. Additionally, over 30 websites aired a live stream of the broadcast to extend the audience base and expand donations." The benefit raised more than $35 million and all proceeds went to the Robin Hood Relief Fund, which provides money, material and know-how to local organizations that are helping the victims of the hurricane in regions hardest hit by the storm.

The Green Music Group (GMG), a coalition created by Reverb, is a notable illustration of musicians joining forces for a common cause. GMG is a large-scale, high profile environmental coalition of musicians, industry leaders, and music fans using their collective power to bring about widespread environmental change. The founders of GMG include Willie Nelson, Sheryl Crow, the Dave Matthews Band, The Roots, Linkin Park, Bonnie Raitt, Maroon 5, Barenaked Ladies, and Jack Johnson. Leading by example, GMG magnifies the work of national nonprofits allowing them to expand their reach and support base while building a vibrant community committed to environmental action. The support of the founding members as environmental stewards enables GMG to inspire millions to action. It is the first organization to harness the collective power of the entire music community to bring about measurable global environmental change.

2. Songs: Beyond "We Are the World" (the song that taught me to love the piano): Using Their Voices and Music as a Part of a Message for The Greater Good
Sarah McLachlan kept her "World On Fire" video simple, and donated the $150,000 that would normally be needed to make a music video, to a variety of charities. According to Looktothestars.org, the Red Hot Chili Peppers are another band that has made significant charitable contributions. "Since 2000, the Red Hot Chili Peppers have donated ¼ of their touring profits to a variety of charities...The band donated their "Stadium Arcadium Box" with signature to the 19th Annual Rock N Roll Charity Auction in 2007 to support Chicago's homeless and underprivileged children."

Maroon 5 released a documentary which was released exclusively on the Amnesty International website, and displayed their fight for human rights all over the globe. The band also contributed their cover of the Bob Dylan song "I Shall Be Released" to the "Chimes of Freedom" album commemorating 50 years of Amnesty International.

3. Giving: Their Names, Their Voices, Their Music, Their Time, and Their Money
Perhaps the greatest way in which musicians give back is through their creation of foundations and non-profit organizations, the gift that continues to give. Working towards sustainability and seeing your organization come full circle means something different to every nonprofit founder.
Hip-Hop Artist Lonnie Rashid Lynn, Jr., aka "Common," founded the Common Ground Foundation, a non-profit seeking to empower underprivileged youth to be strong citizens and citizens of the world. Journey founded the Arnel Pineda Foundation, Inc. (APFI), a Philippine non-profit that provides underprivileged children quality education, scholarship programs, health services, and medical attention. Madonna established Raising Malawi, a volunteer organization that helps orphans in Malawi - and she matches every dollar donated to the organization.
Sting co-founded The Rainforest Foundation to help save rainforests in South America. Simon Counsell, Executive Director for The Rainforest Foundation UK, explains the magnitude of support that Stong and his wife, Trudie Styler, have provided. "Sting and his wife Trudie Styler have provided extraordinary support, stretching back nearly 25 years, to the international programmes of the Rainforest Foundation. The greatest value has always been in funding innovative projects and campaigning efforts which other mainstream funders might be reluctant to support."
Other artists lend their name, time, and efforts to organizations that are already fighting the good fight. Christina Aguilera is an ambassador for the World Food Programme and contributes her time volunteering in third-world countries with the organization. Maroon 5 is committed to volunteering and has helped the Pablove Foundation in their efforts for pediatric cancer research and advancement for treatment, educating and empowering cancer families and improving the quality of life for children living with cancer through hospital play, music, and an arts program.

A number of musicians bring it back to their core by establishing music schools to bring resources, services, and support to children and families who need them. Neil Young, Sarah McLachlan, and the ever-cool bass player for the Red Hot Chili Peppers, Flea, created organizations and/or schools to do just that.

Others lead by example through volunteering which in turn encourages their fans to get involved. While launching his singing career, John Legend created Management Leadership for Tomorrow's Career Prep program and continues to provide leadership and support through his role on the organization's Governing Board. John, who oozes charm and grace, is the founder of the Show Me Campaign, whose goal is to end economic and spiritual poverty through sustainable development. The campaign challenges fans to become their own forces for good. In partnership with Jeffrey Sachs' Millennium Promise organization, the Show Me Campaign adopted the village of Mbola, in Tanzania, and has pledged to raise $1.6 million dollars to support Mbola in its efforts to lift itself out of poverty.
Elton John has not only created a legacy with his own foundation, but has also made considerable donations to Andy Roddick's foundation, Andy Roddick Foundation, through his six headlining performances at the organization's yearly gala. "In 1992, Elton established the Elton John AIDS Foundation (EJAF) to support innovative HIV prevention programs, efforts to eliminate stigma and discrimination associated with HIV/AIDS, and direct care and support services for people living with HIV/AIDS. Since its inception, the EJAF has raised over $321 million in support of projects in 55 countries around the world," reads the Andy Roddick Foundation 2015 gala announcement.

Environmentalist and philanthropist James Taylor has long supported a variety of related causes. In 2007, Taylor was the very first artist to sign on to build and support efforts for a free, scalable platform to do good and have impact, Tickets for Charity. As of 2013, Taylor had raised just over $1.8 million in support of the NRDC and other organizations including the Berkshire Natural Resource Council.
And of course, there is Eric Clapton. It isn't hard to feel something when you just think of him, his story, survival, and his healing. In 2013 Clapton organized The Crossroads Festival in New York City's Madison Square Garden - all the profits allocated directly towards Clapton's Crossroads Center in Antigua, which educates and treats chemically dependent people. The festival was designed to bring together the past, present, and future of guitarists from various genres of music.
I have touched on some high points but the inspiring fact is that there are too many to mention here. I hope that the trend of giving back - just like our favorite musicians' fashion and hairstyle trends - becomes all the rage. I commend these artists and would like to insert a standing ovation here - they sit at the top of the charts in my book. I enjoyed taking a closer look at the lyrics to some of these very satisfying acts of generosity.