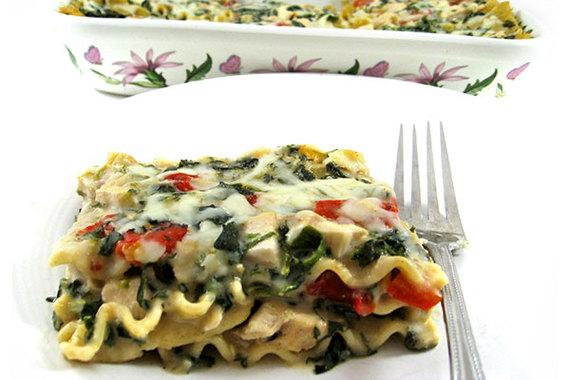 Get ready to thrill your family and friends with this out of this world dish! No one will ever guess it's low in calories. It's made skinny by using whole grain lasagna noodles, delicious store-bought light Alfredo sauce and reduced-fat cheese. Each serving has 290 calories, 10 grams of fat and 7 Weight Watchers POINTS PLUS.
Prep Time: 35 minutes
Bake Time: 55 minutes
9 dried whole wheat or whole grain lasagna noodles, see shopping tips
2 (10 ounce) containers Buitoni Light Alfredo Sauce, see shopping tips
3 tablespoons lemon juice
½ teaspoon cracked black pepper
3 cups chopped, cooked chicken breast
1 (10 ounce) package frozen chopped spinach, thawed and well drained
1 cup bottled roasted red sweet peppers, drained and chopped, see shopping tips
½ cup Sargento reduced-fat 4 cheese Italian blend or reduced-fat mozzarella, shredded
Instructions

1. Preheat oven to 325 degrees. Cook noodles according to package directions. Drain; rinse with cold water; drain again. Meanwhile, in a large bowl, combine both packages of Alfredo sauce, lemon juice and black pepper. Stir in chicken, spinach and red peppers.
2. Lightly coat a 12 or 13 x 9 x 2-inch baking dish or 3-quart rectangular casserole with nonstick cooking spray. Arrange 3 cooked noodles in bottom of dish. Top with one-third chicken mixture. Repeat layers twice. Cover with foil and bake for 45 minutes.
3. Uncover; sprinkle with cheese. Bake, uncovered for 10 minutes more or until cheese is melted. Let stand 15 minutes before serving.
4. Cut into 9 slices. This casserole freezes great.
Makes 9 servings (each serving, 1 slice)
Shopping Tips
There are several brands of whole wheat or whole grain lasagna noodles that will work great for this recipe. I used a brand called Eating Right and bought it at Vons/Safeway.
Use Buitoni Light Alfredo Sauce, if possible. It comes in a 10 ounce container and can be found in most supermarkets in the refrigerator section where fresh pasta and sauces are displayed. If you can't find it, there are several brands of jarred light Alfredo sauce in the pasta aisle. They come in a larger, 15 ounce jar, so you'll need to buy 2 and save the extra for another use.
Sargento's Reduced-fat 4 Cheese Italian Blend is delicious. If you can't find it use any brand of reduced-fat mozzarella cheese.
Jarred roasted red peppers are sold in most supermarkets. They're packed in water, not oil. I used about ½ jar of Trader Joe's fire roasted red peppers.
Weight Watchers (old points) 6
Weight Watchers POINTS PLUS 7
SKINNY FACTS: for 1 serving (1 slice)
290 calories, 10g fat, 24g protein, 26g carbs, 3g fiber, 503mg sodium, 3g sugar
Related