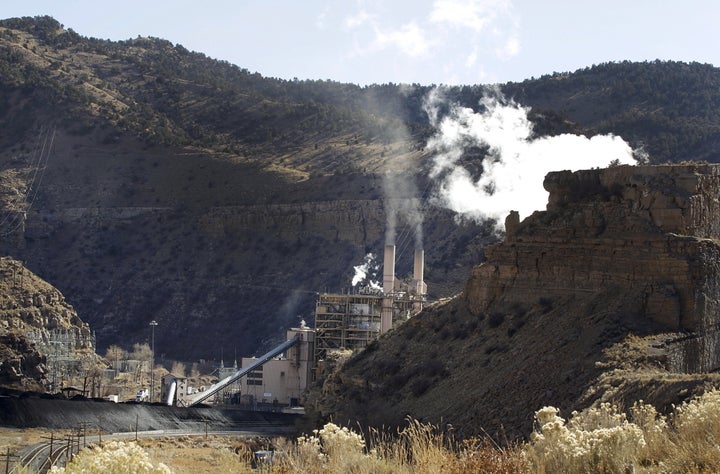 Right now, when you look around our nation, it seems like all we see are disasters. Harvey, Irma, Maria, the California wildfires. Here and around the world, storms, droughts, and fires are being made worse by the climate crisis. And on top of those obvious calamities, every year in this country, thousands of people are dying prematurely and tens of thousands of kids are going to the hospital because of respiratory diseases. What all of these disasters have in common is pollution from coal-fired power plants.
Then there's the dumpster-fire Trump presidency, a man-made disaster if there ever was one. Rather than trying to solve our country's biggest problems, Donald Trump is actively making them worse. He wants to repeal the Clean Power Plan, which is an affordable, flexible, and life-saving plan to cut dangerous carbon pollution from power plants. It also would ensure that the benefits of reducing pollution are deployed equitably. Yet Trump wants to throw it out, along with dozens of other clean air and clean water safeguards.
However, in spite of the disastrous actions of this president, it's still possible to see something positive if you look more closely at what's happening across this country. You can see progress. That progress began 15 years ago, when some active and engaged citizens decided they couldn't sit around and wait for Washington to protect them from coal plant pollution.
Instead, they began standing up and taking action in their own communities. They organized town halls, they went door-to-door, they put scientists together with students and business leaders, and they stopped a massive coal plant from being built just 50 miles south of Chicago. They then stopped another one—and another one after that. That was the beginning of the Sierra Club's Beyond Coal Campaign, which has since grown into a national coalition of hundreds of organizations that's widely recognized as one of the most successful environmental campaigns in history. And Donald Trump is not going to be able to stop our vision of producing power without pollution.
The American people—and especially those in coal country—deserve to know the truth that Trump refuses to acknowledge: Coal is stuck in an irreversible decline. This is happening for two reasons. First, coal is too expensive for utilities and investors and it's too dirty for the public. Meanwhile, clean energy is getting cheaper, becoming more accessible, and creating good jobs by the minute.
We've seized this momentum along with our grassroots partners across the nation to achieve results that would have seemed unbelievable just a few years ago. We've secured 262 coal-fired power plant retirements in seven years—that's one plant retired every eleven days. In fact, more than half of U.S. coal plants that were operating in 2010 are now scheduled for retirement. Additionally, with the encouragement of our Ready for 100 campaign, 46 cities have committed to go to 100% clean energy, from San Diego to Salt Lake to Georgetown, Texas. More than 3 million people now work in the clean energy economy, which now employs more people than fossil fuels in almost every state in the country, including good-paying, family-sustaining union jobs for former coal workers.
Here's something Trump won't be tweeting about anytime soon: Coal's share of the energy mix is at a record low and won't be bouncing back. Since Trump's inauguration, 10 more coal plants have retired. In fact, coal plants are retiring at the exact same rate under President Trump as they did under President Obama.
Thanks to the partnership between Sierra Club's Beyond Coal Campaign and Bloomberg Philanthropies, we can replace 65 percent of all the coal plants in the U.S. by 2020, leading the world in carbon pollution reduction—in spite of Trump's total abdication of responsibility. The Sierra Club will push even further, to drive out the use of all dirty fuels in the electric sector as soon as possible. We'll reach that goal because we know how to fight under even the toughest of circumstances. We succeeded under George W. Bush, we succeeded under Obama—and we're still succeeding under Trump.
Calling all HuffPost superfans!
Sign up for membership to become a founding member and help shape HuffPost's next chapter