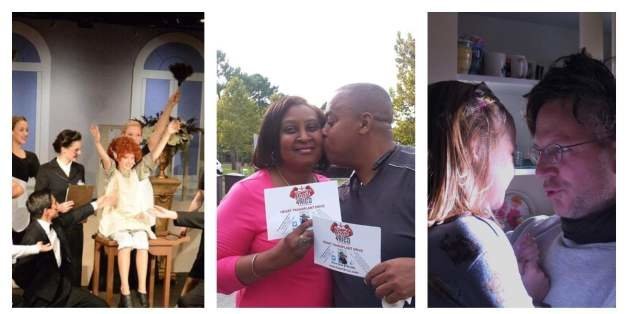 "We mostly focus on the good giving does for others—the good it does for our community. But just as profound is what it does for us. Because it is really true that while we grow physically by what we get, we grow spiritually by what we give."
-- Arianna Huffington, Thrive
For the last 30 days we've been sharing inspirational stories of giving—of resurrecting beloved community services from the brink; of mobilizing citizens into action for those less fortunate; of families, friends and strangers rising up to support those in need, and those we've lost. As I've read these stories, I've been moved to tears by their subjects: Bob, the former Olympic cyclist who's heart condition left him unable to work; Oona, the young girl whose father passed far too soon; Rico, the former policeman and disaster relief volunteer who needs a new heart.
As I've prayed for Bob, Oona and Rico, I've also been inspired by the givers in each story: One of Bob's biggest advocates is a fellow Olympic cyclist he's never met; Oona's champion is her aunt, whose own loss of her brother must have been insufferable; Rico's "team captain" is a childhood friend who he hadn't seen in 25 years. As I see stories like these on Plumfund every day, it strikes me how profound the act of giving really is -- being there for someone during a critical or meaningful time is one of the most rewarding experiences in life.
I first became aware of this fact more than 10 years ago when my husband and co-founder, Josh Margulis, and I got married. We had put a simple wish out to our wedding guests: we had most of the traditional "things" a newlywed couple needs -- all we wanted was a meaningful honeymoon that could take us away from work and stress and give us a special start to our marriage. And something happened that we didn't expect: many of our wedding guests were not only delighted to contribute to our honeymoon, they positively raved about the idea. Out of their enthusiasm for giving we launched one of the earliest crowdfunding sites on the Web: Honeyfund (and later Plumfund for other life occasions). And for nearly half-a-million Honeyfund couples since, wedding gift givers have loved being there to give something meaningful -- the gift of time away at a critical point in their lives.
As I reflect on those 479,029 honeymoons funded by millions of friends and family members, and as I've worked to produce this series of Plumfund stories, it is clear to me that the simple act of giving is a gift in and of itself.
Today, on Giving Tuesday, it brings me great pleasure to share with you these simple ideas to enjoy and expand the benefits of giving in your life.
1. At Home: Give an Experience To Someone You Love
Recent research suggests that experience-based gifts offer greater benefits to both givers and receivers. We have certainly noticed the trend -- millions of wedding guests contribute to honeyfunds as a wedding gift each year, and travel is one of Plumfund's most popular crowdfunding categories. Is there someone in your life who you especially want to honor this holiday season? Consider inviting friends and family to pool together to send them on their dream getaway. Other experience gift ideas are classes, a local tour, or a favorite restaurant gift certificate. They'll cherish the memory and you'll enjoy the pleasure of giving the perfect gift.
2. In Your Community: Volunteer Throughout The Year
The holidays are all about giving, but there are long-term health benefits when you make giving a part of your regular year-round routine. Start by writing down some causes you care about. Then find matching community programs and sign up to volunteer to one each month or quarter. Involve your close friends or family -- especially children -- as it creates lifelong memories and habits that endure into adulthood. If you're like me and there are several causes near and dear to your heart, year-round volunteering gives you a chance to share your time and talents with more than one.
3. In the World: Support a Cause
There are many urgent needs in the world today -- it's sometimes hard to imagine choosing just one to support. One thought experiment I love can help you break through this: If you never had to earn a living again and could dedicate yourself full time to any cause, what would it be? Got it? Good. Here's how to start supporting that cause this year: dedicate your next birthday to it. Once you've identified the right nonprofit to support, set up a birthday plumfund and share it with friends and family who would normally give you a birthday gift. Ask them to contribute to the cause instead. Add whatever you can to the total received, and mail that check off as a gift to yourself! You'll feel amazing when the nonprofit sends back a thank-you with pictures of the work you're supporting. Be sure to share those with those who pitched in.
"So often we think of giving as donating time or money to relief efforts for catastrophes in faraway places, helping people who have nothing. And that's obviously critical to do when disaster strikes. But we forget that every day we are surrounded by opportunities to act on the same instinct for giving. These chances are always 'under foot.'...and every place is full of openings to make a real difference in the life of another human being. There are millions of small missed opportunities at home, in our offices, on the subway, on the street where we live, in the grocery store..."
-- Arianna Huffington, Thrive
It's been my honor to partner with the Huffington Post and Giving Tuesday to share Plumfund's stories of giving. When I first saw Arianna Huffington speak at Wisdom 2.0 in San Francisco in 2014, Plumfund was only a few months old. I never would have imagined we'd have this opportunity, and I am truly grateful for Arianna's inspiration, encouragement and generosity.
This post is part of a series produced by The Huffington Post and Plumfund, in conjunction with Giving Tuesday. In the series, we've featured inspirational stories of giving and receiving from users and friends of Plumfund, the free crowdfunding site. You'll find one post every weekday in November leading up to Giving Tuesday. To learn more or start your own, visit Plumfund.com.
Calling all HuffPost superfans!
Sign up for membership to become a founding member and help shape HuffPost's next chapter