In 2013, just after super Typhoon Haiyan struck the Philippines, I attended a benefit reception to support an NGO that had been working in the Philippines since 1985, called Handicap International. At that time I was a friend of Handicap International, and this was my first #GivingTuesday action on behalf of any organization.
On hand was Filipina-American Goodwill Ambassador, Jessica Cox, and the Philippines Ambassador to the U.S. at the time, Jose L. Cuisia. Photos on a loop showed the carnage that the storm's terrifying surge had caused, and also some of the incredible work that was helping people with injuries safely heal, and opening up critical routes to allow for a better flow of aid. The team delivered a book to Ambassador Cuisia, containing hundreds of messages from friends and donors for the people of the Philippines.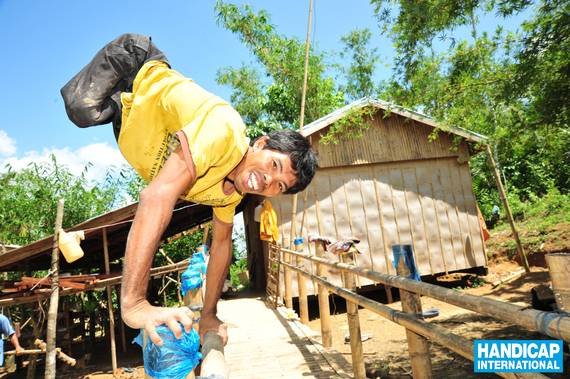 Roldan, 35, built the addition on his home in the Philippines, with the support of HI. (© Till Mayer/Handicap International)
This was not my first interaction with Handicap International, but it was the moment I made my first donation. That simple gift set me on a journey of discovery, as I began to receive regular updates, and started to understand the scope of Handicap International's work. The Philippines was one of just 60 countries where the organization worked. My wife and I joined the organization's monthly donor program, called First Responders. Years later, I applied the job of Executive Director.
I make no promises in this blog: a donation to Handicap International on #GivingTuesday doesn't mean you can have my job! But it does, for many first-time donors, mark the start of a relationship that we take seriously.
Supporting the often overlooked populations we serve in low-income countries comes with a pretty strong reward: our donors get regular updates about the progress being made by the people their gifts reach.
Take James, for instance. He lost his leg in the 2010 Haiti Earthquake, received critical aid and a prosthetic limb from our donors. Today, he works for the local partner to which we handed rehabilitation operations as an ortho-prosthetic technician. See for yourself.
Lumngen, in Laos, illustrates another powerful story. Her father was the victim of a cluster bomb explosion. Today, Lumngen works as a Handicap International deminer. She and her colleagues have destroyed more than 25,000 unexploded ordnances (UXO) since 2006 in Laos. Watch her save others from her father's fate.
There's also Jamila, who lives in a place still ravaged by conflict. After the Syrian crisis delivered a devastating blow to her family, Jamila became psychologically distressed. At an internally displaced persons' camp in northern Syria, our teams provided Jamila with physical therapy and psychosocial support. She is now walking better, leaving her tent to socialize, and best of all, smiling. Jamila's progress is possible because of our committed donors.
Nirmala's story is one of my favorites, because our teams met her immediately after doctors removed her leg, which had been badly damaged by the 2015 Nepal Earthquake. My colleagues began rehabilitation that day, and when Nirmala, a young girl, was healed and strong enough, they fit her with her first artificial leg in the late summer. Our donors made it possible to care for Nirmala, and they were along for that powerful ride. Their generosity still reaches her when her leg needs adjustments, or replacement. To see that kind of impact on one child's life, in such a short amount of time, was simply awesome. See Nirmala standing tall.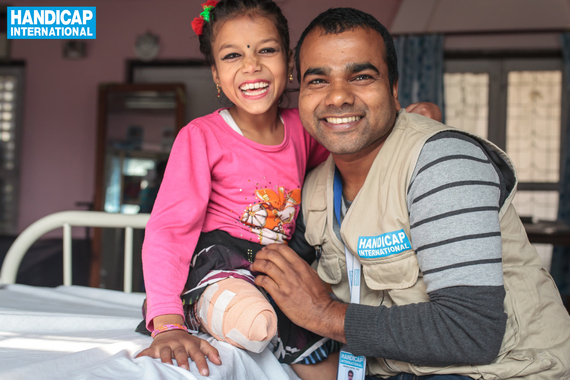 Nirmala with Handicap International physical therapist Jay Narayan Nadav during a rehabilitation session in Nepal. (© Lucas Veuve/Handicap International)
From Colombia to India, and Iraq to the Democratic Republic of Congo, Handicap International helps our planet's most vulnerable individuals. Attending a simple #GivingTuesday event was my entry point into their narratives. I feel privileged to be a part of it.
On #GivingTuesday, you might choose to train the next James, and ensure the world has more skilled technicians to help people with disabilities, illness or injury to "stand tall." You might educate the next Lumngen, and help remove deadly, disabling war debris from the paths of civilians. You might support the next Jamila, and provide psychosocial care to individuals who are deeply affected by conflict. Or you might support Nirmala, and help an injured child regain her strength and independence. But this is your day to stop and think about the kind of difference you want to make in someone's life.
As 501(c)3s, gifts to the NGOs participating in this blog series prompt gift receipts that you can use to offset taxes. To make a gift, you can call our office to make a donation from Monday to Friday on (301) 891-2138—we're real people, and we love talking to our donors! Please ask for me by name, if you would like.
You can mail a check to "Handicap International" at 8757 Georgia Avenue, Suite 420, Silver Spring, MD 20910. You can even visit Facebook and type #donate followed by the amount of your gift (eg, #donate $25) into a comment on one of our posts. Yes, it's even that easy.
At any time you choose, today, tomorrow, on Nov. 29 for #GivingTuesday, at 11:58pm on December 31, or when you're simply inspired to give, you can hop online and make a secure, one-time donation, or sign up to be a become a First Responder like me.
We are grateful to the donors who have chosen to leave a legacy gift to Handicap International by naming our NGO in their will. This, too, can be a powerful action on the international day of giving.
You can also support us and other NGOs by sharing our messages on social media, signing up for newsletters, and spreading the word with friends and family.
Together, with a simple, but generous action here, we make the invisible visible in 60 countries. I hope you'll join me and use #GivingTuesday as the start of something meaningful this year.
Co-winner of the Nobel Peace Prize, Handicap International supports people with disabilities and other vulnerable populations living in conflict and disaster zones and in situations of exclusion and extreme poverty. Learn more about how Handicap International directly impacts the lives of more than 2 million people.
---
---
This post is part of a series produced by The Huffington Post and InterAction, to celebrate #GivingTuesday. #GivingTuesday is a global giving movement, and the series aims to celebrate how people are giving back around the world. For more information about #GivingTuesday, visit here. To learn more about InterAction, visit here. And to join the conversation on social media, use the hashtag #GivingTuesday.
REAL LIFE. REAL NEWS. REAL VOICES.
Help us tell more of the stories that matter from voices that too often remain unheard.