Natural disasters are overwhelming. For those directly impacted whose lives are shattered. For the humanitarian landscape responding to the devastating needs on the ground. For all of us at home watching as the extent of the chaos and tragedy unfolds. It is so very easy to turn a blind eye, to perhaps send sympathy and a quick prayer but to otherwise remain inactive and swiftly return to our own daily lives.
For every blind eye however, there is also an altruistic soul who feels compelled to act but for whom the situation is equally overwhelming. The options are plentiful – yet baffling. How does one donate when who really knows where our money goes? How does one volunteer when disaster relief volunteers are so often chided for their will to do good? Will one more pair of hands really make a difference when the devastation is so great or will they just add to the chaos?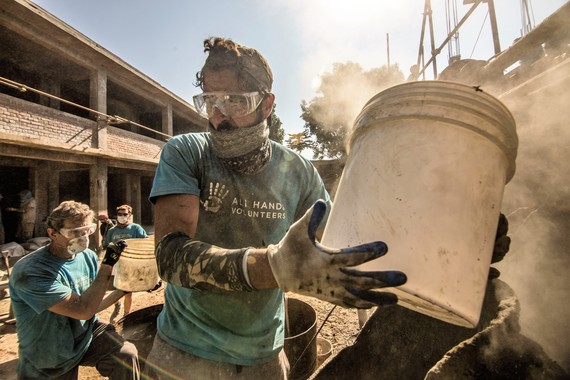 Photo courtesy of All Hands Volunteers.
Meanwhile, for Thakur in Nepal, for Trinity in Louisiana, for Beatriz in Ecuador, that quotidian life that we all cherish so much will never be the same again. Loved ones lost. Irreplaceable memories submerged in a swamp of flood water or buried under a mountain of earthquake rubble. And amidst the devastation, a foreboding realization that once the news moves on, so will all compassion from the rest of the world, leaving you all but forgotten as you try to piece your life back together.
The truth is, at home and abroad, one pair of hands CAN make a difference - maybe not to everyone, but to someone. So the answer is, GO. Volunteer. Take a day, a weekend, two weeks, six months out of your own life to help a neighbor in need.
But go with a responsible organization that understands the real needs of those affected and creates an infrastructure by which to leverage the hard work and good intentions of "average people" to meet those needs. That kind of organization has local relationships that drive projects, and will provide you with the logistical support, on-site training and coordination on the ground to transform those good intentions into appropriate, effective, and positive impact for the people in need. Volunteer with an organization like All Hands Volunteers, an experienced non-profit that accepts anyone and everyone, irrespective of prior experience, age, gender, or faith.
You might be a retired father of four, a student on break, a solo traveler, or a young professional with a desire to do something for someone else once in a while. You will work 10 hour days, knees raw from ripping out moldy floorboards, face streaked with dust and sweat, muscles aching from a day, a week, a month of working your cotton socks off to help bring hope to a family in need. Be it in Ecuador, in Nepal, or right here in your backyard in Louisiana. But you will walk away each day with a genuine smile and a deep knowledge that your day's work has not only made a difference to a stranger's life but also altered their outlook – and yours – for years to come. This experience creates not only physical results, but positive psychological effects for all involved, and fuels the resulting advocacy that so often stems from a life-changing event.
For Trinity Rose who lost her house, her business, her worldly possessions and all associated memories in the recent Louisiana floods, the difference All Hands Volunteers made to her life was indescribable.
"What these volunteers do, these few days or weeks of their lives that they're giving up, they're affecting people's lives for years and years and years to come. They have shown me that you can't underestimate humanity. There are still people out there who are willing to help others."
Volunteering isn't right for everyone. Sending funds is always beneficial as it is these that drive the majority of any recovery effort. But for those who have the desire and ability to do so, it is that human connection that truly makes a difference to someone like Trinity. The idea that a total stranger cares enough about your plight to put their own needs aside and help rip out your flood infested walls shows genuine human empathy and fuels hope. The experience restores our faith in humanity and rebuilds not only a home but hope for a fresh start, a way forward and a better future for us all.
For most of those who do take the time out of their lives to volunteer, the effort comes from the heart. These are people who believe in people over things and who truly acknowledge that it is our collective responsibility as human beings to support each other in times of need. The snowball effect is tremendous. And much needed in today's world in which the darker underbelly of human nature is all too often exposed.
So if you have the heart, the time and the willing hands, DO IT. Jump on that plane, take a moment away from your life to rebuild a little hope in someone else's. Perhaps one day someone will do the same for you.
Those who want to support All Hands Volunteers' efforts around the world can make a donation at www.hands.org/donate or apply to volunteer. Programs in Nepal and Louisiana are both currently in need of volunteers.
This post is part of a series produced by The Huffington Post and InterAction, to celebrate #GivingTuesday. #GivingTuesday is a global giving movement, and the series aims to celebrate how people are giving back around the world. For more information about #GivingTuesday, visit here. To learn more about InterAction, visit here. And to join the conversation on social media, use the hashtag #GivingTuesday.
Popular in the Community