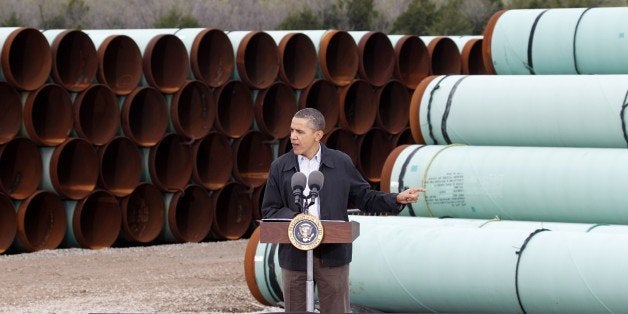 President Obama's veto this week of a Republican bill passed -- precisely so that he would veto it -- mandating the construction of the Keystone XL Pipeline does, indeed, as former New York mayor Michael Bloomberg pointed out, serve as "a perfect symbol of Washington's dysfunction." Obama made it clear that this veto, at least, was over the process, not the substance, and the Republicans had set the process up so that no self-respecting president could do other than veto.
In their last PR foray before the veto, tar sands proponents offered up an IHS-CERA study which asserted that, facts to the contrary, approving Keystone would increase the reliable supplies of oil for domestic consumers. The study asserted "the overwhelming majority" of oil flowing to refineries in the Gulf Coast would be refined and consumed in the U.S., even after XL is built -- which is true but irrelevant. If I pour a glass of water (Keystone XL) into an already full bucket (Midwest and Gulf Coal oil markets), most of the water stays in the bucket, but the bucket does not hold any more water; the increment just slops on the floor, or in this case gets exported.
I've already said I'm happy to look at increasing pipeline production for U.S. oil. But Keystone is for Canadian oil. Sending it down to the Gulf it bypasses the U.S., it estimated to create 250, maybe, 300 permanent jobs. We should be focusing on American infrastructure for American jobs for American producers....
Keystone is an enormously important environmental symbol. But it is also a commercial struggle. Alberta tar sands oil and North Dakota light shale oil flows into the same markets, have access to the same refineries, and rely on the same pipelines and railroads to get them to the same customers. So it was never terribly plausible that Keystone would be good for the U.S. -- it was designed to make Canadian oil more competitive in global markets, which, on balance, is not good for American producers or, since the Canadians want to escape from American markets, American consumers.
The logic of the North American Free Trade Agreement was, in some minds, that we would collaborate, rather than compete, with Canada and Mexico, and would allow Canada, for example, to put U.S. territory, waterways and airsheds at environmental risk to provide the cheapest route for Canada's oil to global markets. But the Canadians walked away from their Kyoto commitment to curb global warming emissions precisely because doing so would put them at a competitive disadvantage with U.S. oil and gas producers -- so the kumbaya theory of NAFTA was always pretty threadbare. Obama now seems to recognize this. Canada needs Keystone. The U.S. does not.
Now the lack of permit for Keystone is the least of Prime Minister Harper's problems. He bet Canada's future on finding ever-increasing markets for the world's most expensive -- $90-plus-per-barrel break-even for new projects -- crude. With global prices down at $60, returns from tar sands projects are a fraction of what they were a year ago. Even before global prices reached the bottom, three major projects had been cancelled. Shell just pulled out of its Pierra River Project last week. Investment is collapsing. Most companies will survive -- but they survive by cutting payrolls and supply chains, the two factors Harper was counting on to keep the Canadian economy afloat through his reelection bid this year. But unemployment rolls are soaring, and the Canadian dollar has lost 20 percent of its value. Harper is now running barely even with his leading opponent, Liberal Party leader Justin Trudeau, who acerbically attacks Harper's bet on oil. "It's not fiscally responsible," said Trudeau in January, "to pin all your hopes on oil prices remaining high, and when they fall, being forced to make it up as they go along."
Harper must call an election by November. One of the major issues in that election is certain to be Canada's next economic strategy, because the petro-exporter bubble just burst, which is why Bloomberg's suggestion that Canada embrace its former climate leadership and bet its economic future on low-carbon energy and high-knowledge manufacturing is almost certain to have at least one taker among Canada's three major parties. But it would be much better news for the climate if all three Canadian parties, led by Harper's Conservatives, decided that Canada doesn't have the cheap oil resource base to become the next Saudi Arabia -- and might not want to even if it could.