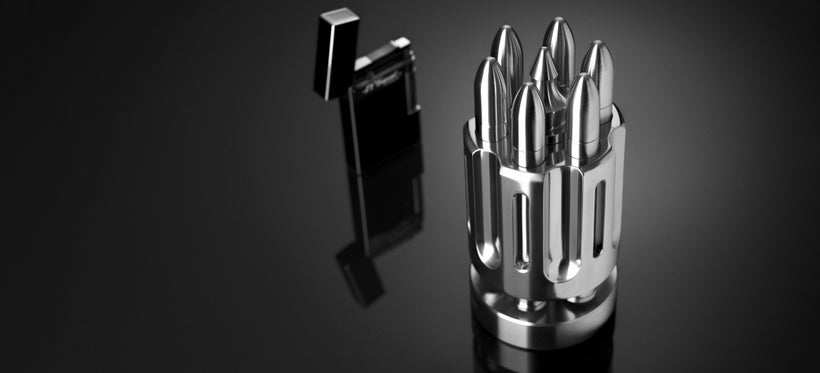 "The difference between style and fashion is quality." – Giorgio Armani
We are living in a world where superheroes and movies are ubiquitous icons of merging science fiction with science fact. Even the gadgets of James Bond's iconic world of espionage and intrigue are not just some fantastic fiction on the silver screen, but actually exist or are soon to be released now. In fact, James Bond has defined an era of men's style and is the most influential figure in menswear and he doesn't even exist!
The key is luxe tech and men's luxury fashion accessories today exude a sense of confidence and refinement. '007' is the epitome of a fine gentleman with taste and style 'who appreciates the luxury touch only a precision crafted item can provide'. Thus we are entering a new era where high tech meets high touch in the men's luxury accessories trend.
"Simplicity is the ultimate sophistication." – Leonardo da Vinci
"He is not so much a fashion icon as a walking, fighting advertisement for the notion that a man can wear beautiful clothes and still be bad ass. The Bond wardrobe exists in a zone of conflicting force fields, with elegance pulling against violence, classic style against fashion, subtlety against flash.
With meticulous attention to detail, the key is creating timeless materials that never go out of style.
Move over Aerospace and biomedical implants, here comes supreme Titanium Fashion Accessories. The future is bright for the emerging elements of style that carry over from industrial design to high art and are now crossing the barriers of different mediums. From architecture to interior design, the latest twenty first century materials are moving from high tech to high touch and spanning the cultural gap into every day luxury goods.
Top innovators are now working with these high-end materials such as Titanium which has inspired the most creative designers to branch out with a new range of products. One in particular who has crossed over from mastering other disciplines into the men's luxury accessories is Richard Solloshi of Solloshi Ltd.He is well known for his innovations in different domains of design including product design, industrial design, architecture and interior space design.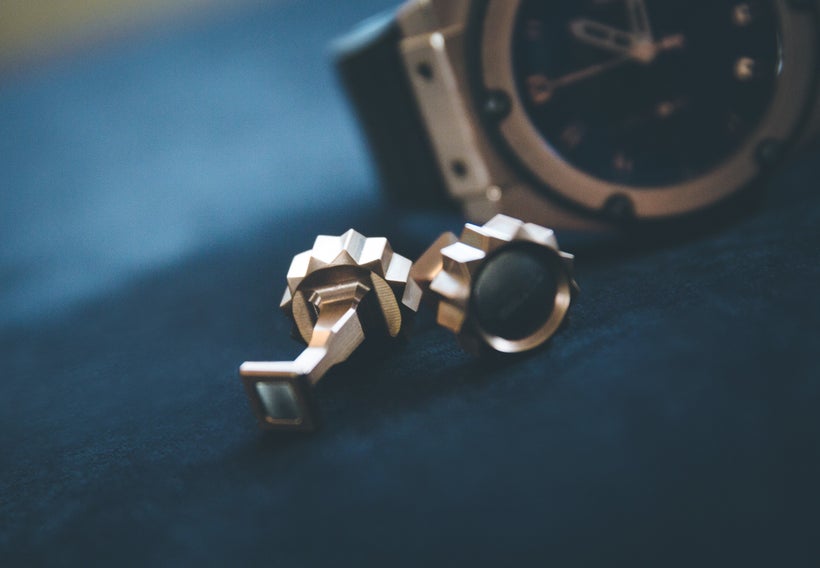 Solloshi has discovered the key to great design by revisiting and reinterpreting everyday objects. By transforming them into true masterpieces through meticulous models with the application of cutting-edge manufacturing technologies. This is what the culture views as high art. Form follows function moves into redefining the ideal of practical luxury through advanced manufacturing technologies.
A creative mastermind can transcend the barriers of different industries to bring forth a new way of using materials that were once confined to the industrial world. They key to this refined brand is melding the elements of style in architecture, interior design, while using the principles of industrial design to creating luxurious wearable art.
What one might imagine as something that will exist decades into the future, Titanium is as strong as steel but much less dense. It is therefore important as an alloying agent with many metals including aluminum, molybdenum and iron. These alloys are mainly used in aircraft, spacecraft and missiles because of their low density and ability to withstand extremes of temperature.The advantage is like Superman with steel-like strength but also lightweight, like aluminum.
Amazingly, this titanium bankcard holder weighs just 2.4 ounces, lighter than your current leather wallet.
Titanium is synonymous with strength and durability. Even the name is apropos after the Titans, Greek gods of myth, this element is used widespread crossing the barriers of industry, in airliners and lacrosse sticks. While most know of it's sunscreen qualities, who would imagine it was also used for body piercings and most recently in the bio-medical field and equipment.
This material is now ubiquitous, where it seems that titanium is being designed into new applications in the fashion industry – including jewelry, in which it appears a mini industry is developing. titanium has been promoted as a metal that is light weight, durable, and fashionable. Each day it seems that titanium is being designed into new applications in the fashion industry – including jewelry, in which it appears a mini industry is developing.
This innovative luxury brand is branching out into bankcard holders with a standard bankcard as well as a luxury edition. The brand is moving into other accessories like the nautical titanium bracelet, titanium money clip, a jewelry edition cufflink and a titanium nautical case.  The applications seem endless, with so many options including men's wallets, luxury cigar accessories, including humidors and mini-humidors, and creating a buzz over titanium jewels.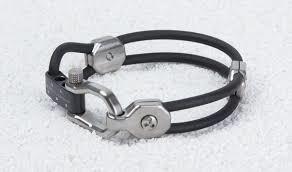 It takes an outlier with a keen sense of design to become trend setting luxury product designer. One who has broken all the restraints set by the conventionalists with their innovative concepts is Richard Solloshi. He is one of those mastermind innovators who has dedicated his high art to utilization of titanium.
"This high-tech material requires special skills in design and unique manufacturing methods. Despite the fact that this level of precision and design requires countless hours of engineering, almost all of his creations are limited editions to preserve their unique nature."
However, there's more than sleek design and beauty that propels this kind of material to become a mainstay in a man's wardrobe, it has become a lifestyle trend.
The market is exploding for high end men's luxury accessories, especially minimalist wallets. The key is to pack in as much as possible in a streamlined design to beat the battle of the bulge. With slim fashions ruling the scene, there's not much room in those pockets for a large wad of cash. The desire is to have an an elegant light weight carry option for credit cards. 
'The Solloshi Titanium Bank Card Holder does an ordinary task in an extraordinary fashion. It will hold your bank cards securely – that's the ordinary bit – and it will amaze you for years or decades to come with its exceptional workmanship that remains unchallenged by any of the others – this, you guessed it, is the extraordinary bit.'
This is precisely the kind of luxury accessories 007 would choose, because it they are lightweight and strong. It has the highest strength-to-density ratio of any metallic element. It weighs almost the same as aluminum but is stronger than steel. It is corrosion and scratch resistant even in sea water, aqua regia and chlorine. (For those underwater espionage adventures where he arrives from the sea and ends up in a Tux on an exclusive private island luxe resort) Durable - It is more durable than gold and has become a popular choice for designer jewelry and stylish accoutrements.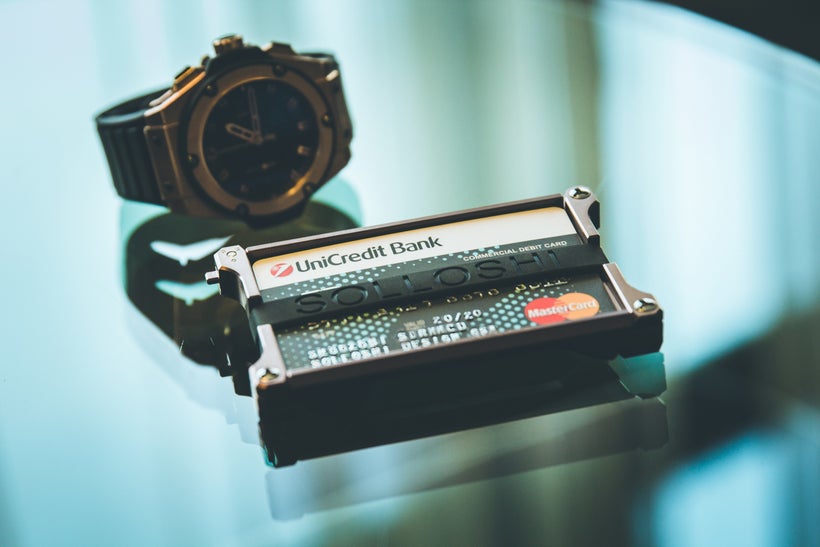 Although the Bond brand is old school, it is synonymous with the late twentieth century heroes. Most of the stars, like Roger Moore, Sean Connery and Pierce Brosnan are now film star style icons and being replaced by younger, more dynamic, powerful stars like Daniel Craig. In sync with this phenomenon is the trend in the men's luxury accessories market.
Innovative designers like Solloshi are revitalizing and boosting the men's luxury accessories market by creating a new demand for something that did not exist on the market before. This is a first, combining super hero materials like titanium with men's jewelry and accessories. The future is bright, both for the new, energetic actors and the world of men's style
Fashions fade, style is eternal." – Yves Saint Laurent
REAL LIFE. REAL NEWS. REAL VOICES.
Help us tell more of the stories that matter from voices that too often remain unheard.
This post was published on the now-closed HuffPost Contributor platform. Contributors control their own work and posted freely to our site. If you need to flag this entry as abusive,
send us an email
.