Before Napoleon went into forced retirement on St. Helena, courtesy of the British and Prussians who kicked his arse at the battle of Waterloo, several other historical figures set foot on this remote rock lost in the South Atlantic, 1,200 miles from Africa and 2,000 miles from Brazil.
Uninhabited when Galician sailor João da Nova discovered the 47-square-mile island for Portugal in 1502 and named it after St. Helena of Constantinople, mother of the Emperor Constantine the Great, Sir Francis Drake, English privateer extraordinaire, is held to have visited in June 1580 on his circumnavigation of the globe, eight years before he helped kicked the Spaniards' arses when they sent the Armada to invade England.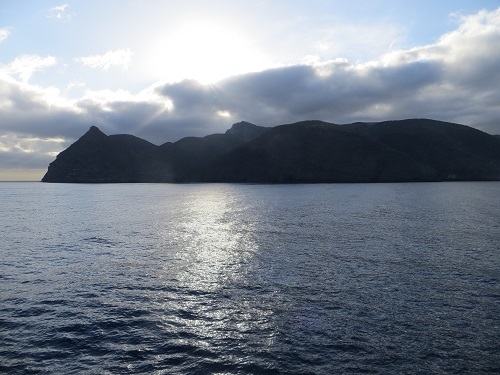 St. Helena's north-west coast
But St. Helena did not come definitively under British control until 1657, following decades of skirmishing with Portuguese, Spanish and Dutch ships, when Oliver Cromwell gave the East India Company a charter to govern the place.
The Company immediately established a major staging post on the way to India, sending out the first governor, Captain John Dutton, in 1659, building the ramparts and fort of Jamestown, the little capital, and generally doing jolly old English things.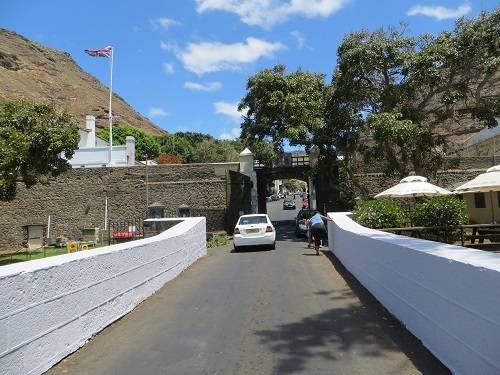 Jamestown's ramparts and gate
Thus St. Helena became one of the oldest British colonies outside the Caribbean and North America, where the Yanks threw away that honour in 1776 by kicking the Brits' arses. The Dutch were to kick the Brits' arses one more time, too, when they seized the island in January 1673, but the Brits kicked the Dutchmen's arses back in May that very same year.
From then on until the opening of the Suez Canal in 1869, this remote little speck serviced up to 1,000 ships a year as they made their way to and from India and further afield as far as Australia. Today it sees the monthly visits of RMS St. Helena, an occasional cruise ship and a few score tiny local boats.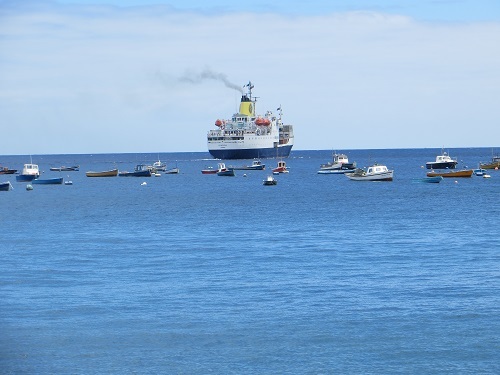 St. Helena's current scant harvest of ships
According to Jamestown museum, the East India Company period was filled with stories of 'mutinies, drunken clergymen, epidemics, slave rebellions, environmental disasters and good and bad governors.' Unfortunately it gives no further specifics here, although vicars three sheets to the wind and evil governors would seem to merit a whole section of their own.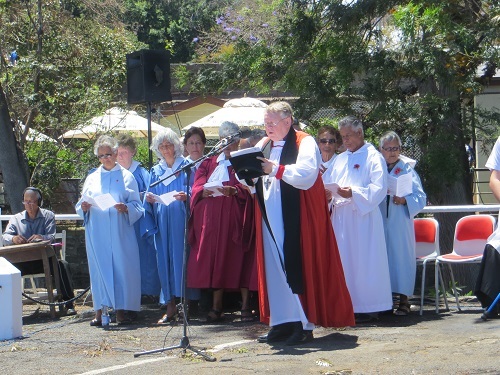 Today's clergy on St. Helena - at Remembrance Day service
I know no one is asking, but Jamestown is named in honor of James II while his brother Charles II was still on the throne and he was only Duke of York.
But let us now return to those famous men we set out to praise. It was thus that British navigator and explorer extraordinaire Captain James Cook resupplied HMS Endeavour off St. Helena's craggy shores in 1771 on his return from the European discovery of Australia.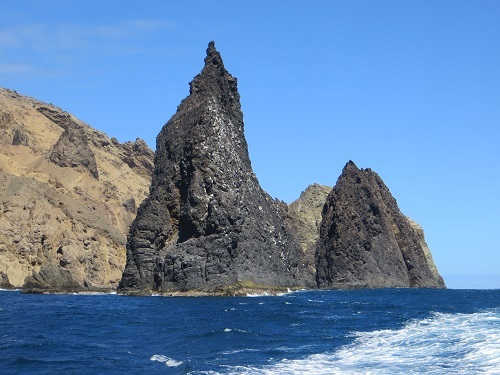 St. Helena's craggy shores
Four years later he visited the island on the final segment of his second circumnavigation of the globe, just four years before the Hawaiians were to kick his arse, and possibly partake of his flesh too, on the Big Island.
Captain Bligh, of almost equal notoriety, is said to have set foot here on one of his many voyages after Fletcher Christian kicked his - then only lieutenant's - arse in 1789 in the Mutiny on the Bounty (reprised by George Cross and Wilton Power in the film of 1916, Mayne Lynton and Errol Flynn in 1933, Charles Laughton and Clark Gable in 1935, Trevor Howard and Marlon Brando in 1962, and Anthony Hopkins and Mel Gibson in 1982).
Perhaps the most ironic and prophetic of the notable visits was that of Napoleon's nemesis, British military and political leader extraordinaire Arthur Wellesley, better known to all and sundry as the Duke of Wellington.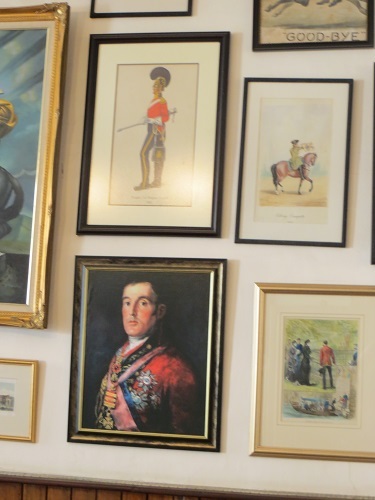 The Duke of Wellington graces the wall of The Consulate Hotel
He turned up here on his way to and from India where he served as a commander in the fourth Anglo-Mysore War and the second Anglo-Maratha War from 1799 to 1803, years before he was to kick Boney's arse at Waterloo and dispatch him here.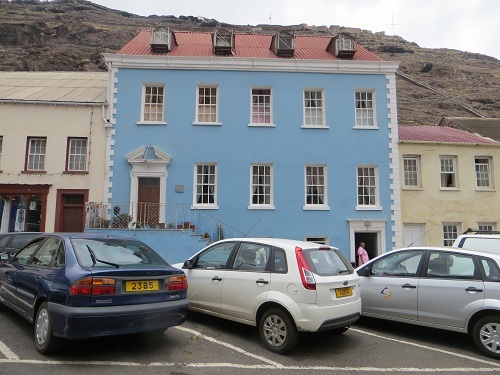 Wellington House, Jamestown
A handsome blue Georgian mansion with a corrugated tin roof on Main Street in Jamestown, now an inn, sports the name of Wellington House. The eponymous duke is commonly said to have slept here during his sojourn on the rock, just feet from where Napoleon now poses in pompous effigy on the first-floor balcony of The Consulate Hotel, staring out inanely, his right hand stuck into his tunic as he tickles his left tit. But His Grace apparently passed his nights in the now demolished Old Porteous House.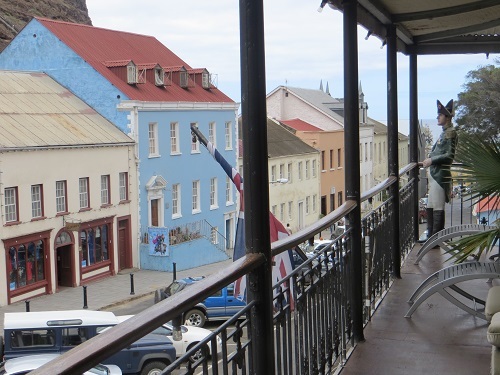 Napoleon looks out onto Wellington House from first-floor balcony
Nor were sailors and explorers the only famous men to visit St. Helena. British astronomer extraordinaire Edmund Halley, of comet fame, set up shop on a hilltop here in 1676 to spy on the stars of the Southern Hemisphere, though he appears to have chosen the cloudiest time of the year for his visit.
Almost two centuries later, British naturalist and species-prober extraordinaire Charles Darwin turned up here, too.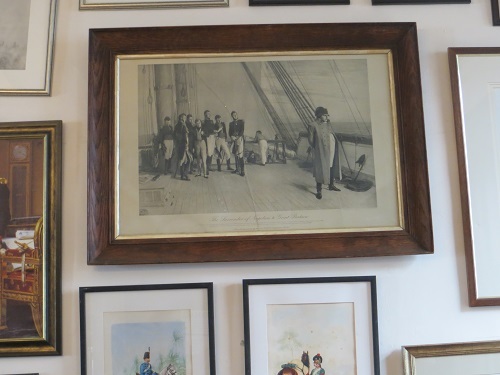 Napoleon surrenders to the Brits again on the wall of The Consulate Hotel
Nor were all the notable visitors voluntary. Some of them turned up here like Napoleon, courtesy of His or Her Britannic Majesty's Government. Such was the case of Zulu King Dinuzulu whom the Brits sent into seven years of exile here in 1890 for trying to kick the Brits' arses in one of the many Zulu wars in South Africa.
According to the museum, he was a very bright gent judging by his efforts to improve himself, learning and writing in perfect English in a fine hand while also carving traditional wooden items, as can be seen in the display cabinets.
Lesser in name but greater in numbers were the 6,000 Boers imprisoned here from 1900 to 1902 after the Brits kicked their arses in the Boer Wars. Historical signs now mark Broad Bottom Plain where 3,000 were housed in tent camps, and Deadwood Plain, not far from Napoleon's Longwood House, where the other 3,000 tented down.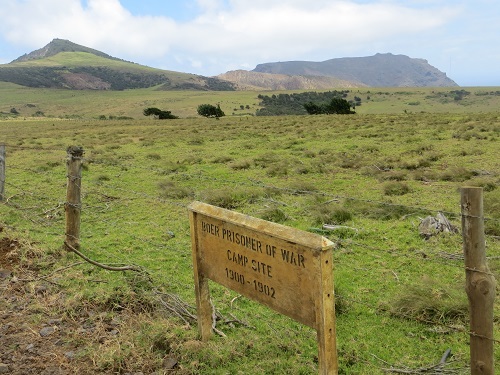 Boer prisoner of war camp at Deadwood Plain
Along a tree-lined path in a valley near White Gate, the Boer cemetery holds the graves of those who did not make it back, with two pink-brown obelisks inscribed with their names and ages. An Afrikaner tourist passes by with a posey-cum-wreath of little red flowers to pay his respects.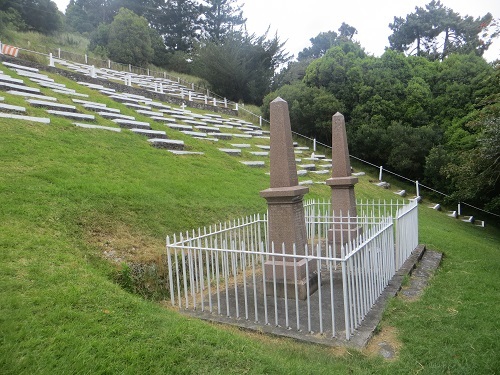 Boer cemetery
The Brits' last hurrah at using St. Helena as a dumping ground for those whose arses they kicked came in 1957 when Her Britannic Majesty's Government sent three Bahrainis here for four years for anti-government activities at a time when the little Persian Gulf kingdom was still a protectorate of Her Britannic Majesty.
More recent notable visitors include two of Her Britannic Majesty's progeny - Princess Anne in 2002 and Prince Andrew in 1984. The fact that the welcome sign for Prince Andrew, painted in white on a brown stone wall halfway up a cliff side, is still up there, large but fading, 30 years after His Royal Highness graced the island with his presence, says something, though I'm not sure what.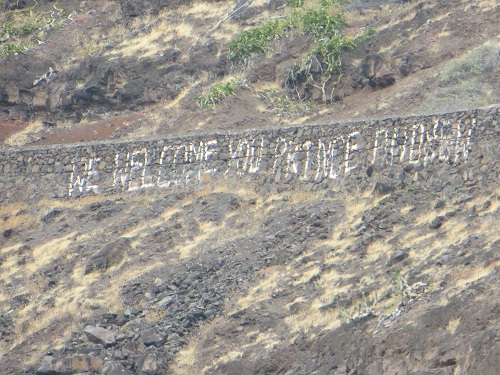 We'll keep a welcome in the hillside
______________
By the same author: Bussing The Amazon: On The Road With The Accidental Journalist, available with free excerpts on Kindle and in print version on Amazon.