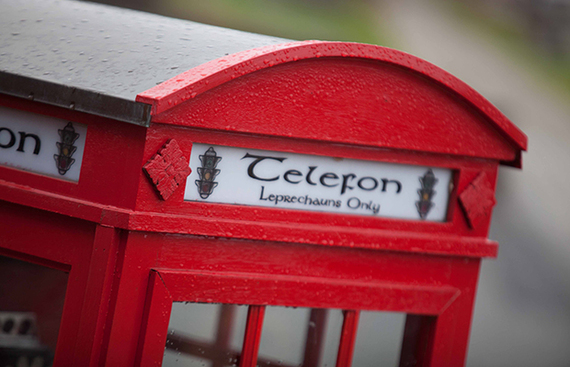 Looking for a way to celebrate St. Patrick's Day that goes beyond a parade and green beer? These four Irish communities around the world draw on their Irish heritage to infuse some meaningful fun into their celebrations.
Syracuse, New York
Many of the Irish immigrants who worked on the Erie Canal eventually settled in Syracuse and established their own Tipperary Hill neighborhood. Their descendants are so fiercely proud of their heritage that, in the 1920s, they threw stones at a traffic light because they couldn't stand to see "British red" over "Irish green." Fun fact: Today, the traffic light at Tompkins Street and Milton Avenue is upside down, green over red.
That Irish pride continues today in even more ways. After a traditional St. Patrick's Day parade, revelers celebrate at an Irish Hooley -- a party with music, song and dance -- sponsored by Coleman's Irish Pub, known for its wee leprechaun entrances (and, yes, green beer during this time of the year). Or, they head to other authentic pubs like Kitty Hoynes Irish Pub, Nibsy's, The Blarney Stone and Ballybay Pub. As part of the festivities, you can also try your hand at Irish road bowling, an Irish game where teams hurl a small cannonball towards a target.
Montserrat, West Indies
You wouldn't expect the volcanic Caribbean island of Montserrat to go St. Patrick's Day crazy, but during the 17th century, Irish Catholic indentured servants worked alongside African slaves at the sugar plantations that supported the local economy. Today, Montserrat is the only nation in the world other than Ireland that considers St. Patrick's Day a national holiday. The island celebrates with a weeklong festival full of calypso concerts, plenty of Guinness on tap and the commemoration of an attempted slave revolt on March 17.
Allentown, Pennsylvania
The Lehi Valley region of Pennsylvania doesn't just celebrate its Celtic heritage on St. Patrick's Day. Bethlehem hosts Celtic Classics, one of the largest Highland games festivals in the nation, every September. Don't miss the athletic, pipe band, fiddle playing and haggis eating competitions.
But nearby Allentown reigns supreme on St. Patrick's Day. The fun begins with a pub crawl where teams rotate, every half hour, from pub to pub, for a total of nine stops. If you decided to participate, you might want to start at Jack Callaghan's Ale House, which stages a Best Legs in Kilts contest before the event. Allentown also hosts a free Irish Cultural Community Day in conjunction with St. Patrick's Day, with dancing demonstrations and lessons, musical acts and theatrical performances.
New London, Wisconsin
Leprechauns (members of the Shamrock Club) kick off the festivities here by replacing New London with New Dublin on highway signs and singing to residents at local nursing homes. The city's parade, which includes a green-painted hearse in an Irish wake parody, draws roughly 30,000 people to the town of 7,000. This week, also expect Irish entertainment and menu items at pubs and restaurants throughout town. The celebration's grand finale is Irish Fest, a Celtic music festival under a giant, heated tent.
photo: Wainwright Photography
More from ShermansTravel: