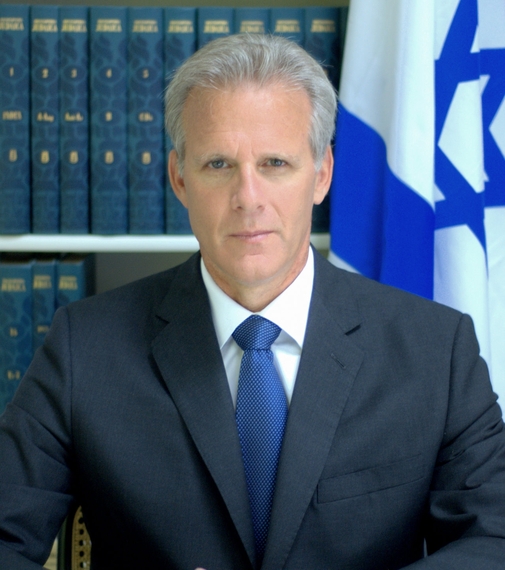 The following was adapted from Dr. Kadish's introduction of former Israeli Ambassador Dr. Michael Oren, who was presented with the Bruce K. Gould Book Award by the Touro Law Center on Nov. 12, 2015:

I am delighted to introduce tonight's honored guest, Michael Oren, former Israeli Ambassador to the U.S. Dr. Oren is currently a member of Knesset, the Israeli Parliament, where he serves on the foreign affairs, defense and constitutional committees. He leads initiatives to improve Israel's public diplomacy and fight the global anti-Israeli campaign of the Boycott, Divestment and Sanctions Movement, also known as BDS. While serving as ambassador, from 2009 to 2013, he was instrumental in obtaining U.S. aid, especially for the Iron Dome air defense system and American loan guarantees for Israel's economy. He built bridges with diverse communities across the nation and worked on so many levels to strengthen the U.S.-Israel alliance.
Our distinguished honoree is a graduate of Princeton and Columbia and has been a visiting professor at Harvard, Yale and Georgetown. He holds four honorary doctorates and has been named Statesman of the Year by the Washington Institute for Near East Policy. His last three books--Six Days of War, Power, Faith, and Fantasy, and Ally: My Journal Across the American-Israel Divide --were all New York Times bestsellers. He has won the Los Angeles Times History Book of the Year Award, a National Humanities prize and the Jewish Book Award. He has been named by Politico as one of the fifty most influential thinkers in America, by the Forward as one of the five most influential Jews in America, and by the Jerusalem Post as one of the ten most influential Jews worldwide.
Raised in New Jersey, Michael Oren made Aliya in the 1970s, was an emissary to Jewish refuseniks in the Soviet Union and a gold medal-winning athlete in the Maccabiah Games. He served as a Lone Soldier, or foreign volunteer in the Israel Defense Forces, in the First and Second Lebanon Wars, and in the 2008-09 Cast Lead campaign in Gaza.
Before we call Dr. Oren to come forward, I would like to share some personal reflections. I am 59 years old and for the first time in my life, I find myself constantly worrying about the state of the world. There are more refugees today who have been evicted from their homes due to violence than at any time since World War II. Democracy, which we all take for granted, is on the decline. Mass murder, terrorism and random attacks on civilians are rampant. In parts of the world, slavery, especially sex slavery and repression, have become commonplace. Non state and semi state actors are attempting to return the world to the Middle Ages. Iran, a country which reached an agreement with the United States, has responded to that agreement by arresting reporters and imprisoning innocent Americans.
But my concern for the future goes beyond the actual physical threats. I am far more troubled by the attitudes underlying these actions--that terrorism is legitimized as an appropriate response to grievances, perceived or real and that sexual slavery is becoming institutionalized national policy. That the American media and the world are obsessed with a lie that keeps being perpetuated regarding the status of the Temple Mount.
Basic principles of freedom and democracy are no longer universally valued and the truth is no longer absolute. Morality has become relative. Human freedom and rights to free speech are no longer considered a necessity. I'm not sure how to reverse these trends and I can't state with certainty that American leadership could have prevented these reactionary developments of the last decade.
What I am sure about, however, is that we need leadership. Leadership for a time when the truth is not fungible and morality is not subjective. We need leaders who are willing to stand up for freedom, democracy and human rights. Leaders who are willing to tell the truth even if it is inconvenient or politically volatile. In writing Ally, Michael Oren gave readers a glimpse of a career that exemplifies true leadership. It is my pleasure at this time to introduce to you the esteemed recipient of the 2015 Bruce K. Gould Book Award.
REAL LIFE. REAL NEWS. REAL VOICES.
Help us tell more of the stories that matter from voices that too often remain unheard.