Finding environmentally friendly modes of urban transportation is a key issue for cities working to ensure sustainable development. In the Global South, the number of cars is rapidly growing, generating issues of congestion and carbon dioxide emissions. By 2035, the number of light-duty motor vehicles - cars, SUVs, light trucks and mini-vans - is projected to reach nearly 1.6 billion. The classic solution proposed to these issues is to build massive public transportation systems. However, other alternatives exist: read on to learn about four cities using innovative approaches to the challenge of bringing sustainable and affordable transportation to the urban poor.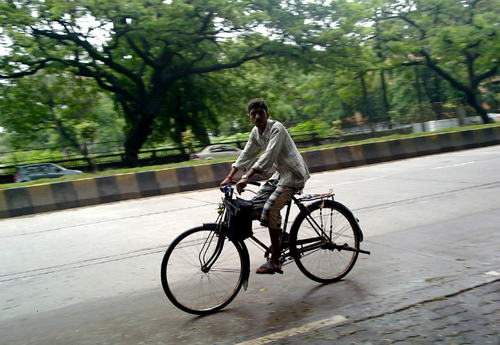 More and more Mumbaikers are foregoing hot, overcrowded public transport in favor of a personal vehicle. But since 2013, city residents jam onto the streets in new ways -- jumping rope, riding bikes and doing yoga. Car-free Sundays have taken off in Mumbai and around the country -- a first of many small initiatives that show a growing need for alternative, sustainable transport options in urban areas at risk of being overtaken by the car. In another initiative, 600 cyclists recently descended on the city's streets on World Environment Day to encourage more people to bike to work. The initiative, called "Project Cycle2Work," hopes to attract more riders over the next year, and importantly, garner more support from city officials. Both of these initiatives are small steps in a larger effort around India to take back streets for walking and cycling and move toward more sustainable forms of transport.
Similarly, Bangalore has faced rapid population growth that has brought a rise in cars so overwhelming to the city's infrastructure that rush hours have turned into parking lots that snake the city streets. In 2011, Bangalore's Directorate of Urban Land Transport proposed a congestion charge -- a measure that has helped cities from London to Singapore get commuters to leave their cars at home. But implementing car-curbing measures can be challenging: despite the obvious benefits of congestion charges, they can be politically unpopular. Unfortunately, as a result, congestion fees have been on the table for years in cities across India, but not a single city has implemented one.
In Nairobi, a number of studies have identified the significant risk to pedestrians and bicyclists operating in and around the city. Yet walking remains the primary mode of transportation to and from work every day for more than half of Nairobi residents. In March 2015, the Nairobi City Council released its Non-Motorized Transportation (NMT) policy to redesign the city's integrated spaces of transportation. The NMT policy seeks to recommit 20 percent of the all funds allocated to roads towards the construction of non-motorized transportation and public transportation infrastructure. Envisioned as a network of safe walking spaces and footpaths, bicycle lanes, green space and other support amenities, the NMT policy also seeks to mainstream appropriate laws and regulations to ensure that the policy remains operational. The NMT policy is the result of the collaboration of a wide range of actors from civil society organizations, citizens associations, and international agencies.
The rise of bici-taxis offers an alternative transportation option for the isolated zones of Mexico City. This mode of transport is affordable, private, and personalized compared to standard forms of public transportation. Despite being a citizens' initiative, bici-taxis have generated a clash of interests between users, drivers, and local authorities. One part of the solution was to bring bici-taxis into the formal economy. The Mexico City government therefore created a handbook to help bici-taxi drivers to obtain the necessary permits, and offered to waive the backdated tax burden. In exchange, bici-taxi drivers come forward, agree to regulation, and pay 5,910 pesos (USD $375) for a license. Today, some drivers operate under the regulated service of the Transport Ministry, but many drivers have not formalized their services due to the costs and requirements. The government therefore needs to continue improving the accessibility of its framework for this mode of transportation.
Check out more of the discussion on public transportation, inequality and the urban poor on URB.im and contribute your thoughts.
Photo credit: Satish Krishnamurthy.
REAL LIFE. REAL NEWS. REAL VOICES.
Help us tell more of the stories that matter from voices that too often remain unheard.