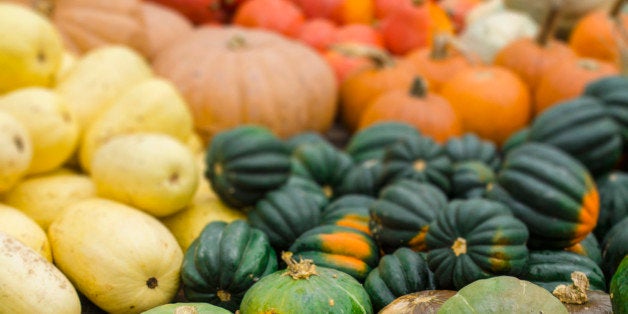 It doesn't matter where you are this season -- there's no escaping them. They're at every family gathering, spicing up your morning coffee run, taking over menus, and even lining office window sills! That's right: winter squash. From the omnipresent pumpkin (and its trendy cousin, pumpkin spice) to striped and spotted decorative squashes, it's almost impossible to imagine the autumn and winter months without these tough, colorful vegetables filling our plates and overflowing from market stalls. We put them in our pies, hollow them out and carve them up for spooky effect, roast them, mash them, and stick them in stews. When the leaves crunch underfoot and the air gets chilly, all other vegetables take a bow, because squashes run this town.
The seasonal obsession with pumpkin spice everything always brings in the media and disdainful critics. As we giggle over massive lists detailing gross acts of pumpkin spice abuse, it's easy to forget that the real thing has star standing in the vegetable world for a reason. Winter squashes are nutrient powerhouses: One cup of baked butternut squash is filled with a vitamins (A, B6, C, and E), as well as magnesium, potassium, and manganese. Pumpkin, butternut, and acorn squashes are some of the most well-known varieties, but there's a world of winter squashes out there just waiting for some extra love:
Delicata Squash -- Small, oblong, and pale yellow with stripes. Its thin skin is edible, but it also means that it doesn't store as long as other winter squashes and bruises more easily. When cooked it has a sweet potato-like texture with a much earthier, nuttier flavor. It's delicious roasted or stuffed and baked.
Hubbard Squash -- Tear-shaped with dark green to pale grayish blue skins, they're the largest winter squash you'll find (with the exception of field pumpkins). They're very sweet with a clear pumpkin flavor and the sweetness will only magnify the longer they're stored (up to five months). Try hub bards roasted or mashed.
Kabocha Squash -- Squat, dark green, and mottled. The tough peel makes it trickier to cut, but once you're past that, it's sweet and nutty and doesn't take much preparation to be delicious. Try it in soups or pan-fry the slices with sesame and ginger.
Red Kuri Squash -- Similar to the Hubbard in its lopsided shape (think of a small pumpkin without the ridges). It has a chestnut-like flavor.
Spaghetti Squash -- Probably one of the more unique squashes on this list, it pulls apart into noodle-like strands when cooked. It's mild and slightly-sweet, making it a great pasta alternative, but is also tasty roasted or cooked in a gratin.
Sweet Dumpling Squash -- Small, compact, whitish-yellow with dark green or bright orange stripes -- what a cutie! Its starchy with a slight corn/sweet potato flavor and its small size makes it ideal as a single serving bowl.
Squashes run the fall. While pumpkins get the most attention, its cousins are equally as tasty and versatile. The next time you're in the grocery store or at your local farmers market, branch out and try a different squash.