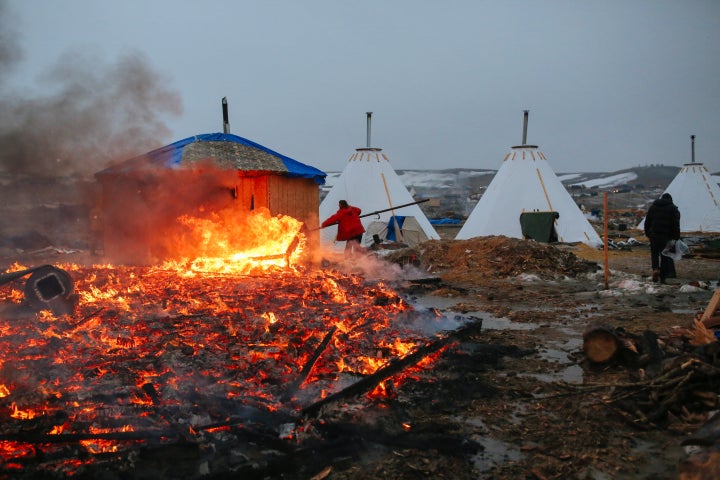 Co-authored by Rogelio Tec, Intern at CFED
As the protests at Standing Rock illustrated, the United States has too often hindered Native American advancement when they should have supported it. Through years of intentional governmental policies that removed lands and resources, American Indians have been separated from the wealth and assets that was rightfully theirs. Thus, Native Americans continue to be disenfranchised and suffer from the racial wealth divide similarly to African Americans. The Native-American and African-American experience in the United States are different colored threads in the same quilt of economic injustice.
In 2013, the ACS for American Indian and Alaska Native Alone Population did an income report of Native Americans. It showed that Native Americans and African Americans only had a $1,654 difference in income; Native Americans had a median income of $36,252, while African Americans had $34,598. Yet, the greatest economic disparity is for Native Americans living in reservations themselves. The median income on a reservation was $29,097, that is $7,155 less than their national median during that time. However, altogether these numbers pale to the White median income of $58,270.
Thus, the story of the Native-American economic struggle also tells a story on the diversity within the Native-American community. Many live in either urban or rural environments with varied racial makeups and with some who are card-carrying members of recognized tribes and many others who are not. Presently, roughly 22% of the U.S.' 5.2 million American Indians live on reservation. On the other hand, based the 2010 U.S. Census, roughly seven of 10 American Indians reside in an urban area.
New York, Los Angeles, Phoenix, Oklahoma City and Anchorage are the cities with the highest concentration of Native Americans. In contrast, Alaska is the state with the highest concentration of Native Americans living on tribal lands with 19.56%; Oklahoma and New Mexico follow with 12.9% and 10.7%, respectively – per the NCAI Policy Research Center.
Still, the Native American population struggles with unemployment and poverty rates similarly across residential location. Based on the 2014 Bureau of Labor Statistics data, both Native Americans and African Americans have an unemployment rate of 11.3% while White people had a 5.3% rate of unemployment.
As for poverty rates, Native Americans have the highest poverty rate among all minority groups. Their national poverty rate was at 27.0% ― 1.2% higher than African Americans and 15.6% higher than the White national poverty rate. No matter their location and amount of jobs in their area, Native Americans experience an unemployment and poverty rates at disproportionate levels.
Clearly, Native Americans have similar (or worse) struggles akin to other minorities yet their representations within the dialogue is sparse. Our time doing this research presents us with out-of-date and hard to find information. For example, the U.S. Census Bureau has often excluded Native Americans from Census studies because of a supposed insufficient sample size. Hence, years of clouded census calculations and governmental negligence led to the Native American economic experience to be erased, or be ignored, from the overall narrative.
For this reason, it is far past the time that the U.S. should end the racial economic inequality for the Native Americans. We are a country that celebrates the Native American heritage in November, but it is still culturally acceptable to appropriate native garments, and have sports teams adopt racist Native American caricatures as mascots. The U.S. has gained far too much from the marginalization of Native Americans and needs to start working towards full inclusion and respect of Native Americans. It is now the time that the U.S. stand alongside the community it has for so long stood on the backs of.
Popular in the Community