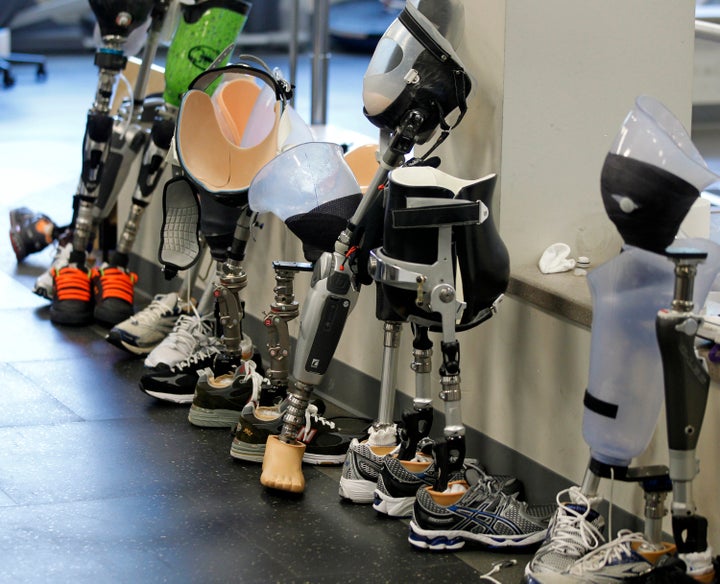 On a recent autumn day, 350 colorfully clad cyclists swarmed down Newswanger Road and swung right onto Highway 324 out of Lancaster, Pa. Most of them were wounded warriors, like Gary Linfoot, a former Army special forces pilot paralyzed from the waist down in a helicopter crash in Iraq. He rode a specially adapted recumbent bike powered by hand cranks.
Dexter Durrante, a former Army 1st Sergeant blinded in an explosion, rode a tandem bike behind Mike Thomas, a retired Army colonel from Fort Bragg. Joseph Daniel Jackson, a former Navy combat corpsman with nightmares and depression from post traumatic stress disorder, rode a conventional road bike. There were civilians, too, who had joined to support the wounded and help raise money for their cycling and fitness programs.
And as the cyclists streamed past a young man holding a bike on the roadside, they yelled "Come join us! C'mon -- come along with us!"
That's the message from these riders and thousands of others who've come home wounded from Iraq or Afghanistan. Get connected. Join us.
Another nonprofit organization, Wounded Warrior Wives, takes the wives of the severely wounded away from their 24/7 bedside caregiver role and flies them away for a weekend of fun and companionship.
"We wouldn't be where we are today without the nonprofits," said Cheryl Gansner, whose husband Bryan was badly injured by an IED in Iraq in 2006. Currently, she works as a program coordinator for Wounded Warrior Wives. When the VA was too backed up to provide mental health counseling, the Gasners got free counseling through Give an Hour, which links up mental health professionals who donate their time with military service members and their families.
On a hard, uphill leg of the R2R's 9/11 journey across Pennsylvania, a tired rider began to fall behind. Silently, Army Lt.Col. David Haines came alongside, put a hand on the flagging rider's back and gave him a two-minute push. When he'd caught up, the rider turned and shouted a heartfelt "Thanks!" to Haines, who himself was badly wounded in an explosion in Baghdad and who since has become a powerful rider.
Haines' answer sums up what many of the wounded hope will become a new community of the wounded and civilians.
"That's what we're here for," Haines said. "To help each other."
There are countless ways to get involved. While the Departments of Defense and
Veterans Affairs provide a continuum of care and support, a number of gaps have widened as the roster of wounded has swelled. Volunteer, non-profit organizations have proliferated -- and they're looking for help.
Ride 2 Recovery organizes the commemorative bike rides that take wounded warriors from Ground Zero on September 11 through Pennsylvania to the Pentagon a week later.

Soldier Ride
Like Ride 2 Recovery, the Wounded Warrior Project's Soldier Ride is dedicated to getting the wounded up out of their wheelchairs or rehab clinics and out onto bicycles. Both organizations are looking for riders, volunteers and fundraisers across the United States.

The Fisher House
The Fisher House provides free housing to wounded troops on the grounds of major military hospitals. "It's a terrific program because otherwise, to have my family with me it would have been a hotel or some other strange place," said Bobby Henline, who was badly burned in an IED explosion in 2007 and moved into The Fisher House with his family.

Hero Miles
Through its Hero Miles program, the Fisher House Foundation also provides free air transportation for the families of wounded warriors who must travel between home and hospital. The program uses donated frequent flyer miles from the public.

Navy Marine Corps Relief Society
Nonprofits such as the Navy Marine Corps Relief Fund provide trauma care nurses and volunteers to augment short-staff hospital wards.

Semper Fi Fund
The Semper Fi Fund brings specially adapted clothing to amputees.

Adaptive Adventures
Adaptive Adventures takes disabled veterans on ski trips. organize adaptive sports, enabling disabled warriors to go fishing, ride horses, mountain climb, even paraglide. Still others provide job counseling and training and help wounded veterans find jobs.

The Mission Continues, Project Healing Waters, the VA's community-base
sports programs, and Disabled Sports USA.
These organizations organize adaptive sports, enabling disabled warriors to go fishing, ride horses, mountain climb, even paraglide. Still others provide job counseling and training and help wounded veterans find jobs. They also help finance handicapped-adapted cars and trucks, organize volunteers to run errands, buy groceries and mow the lawns of families struggling with a severely wounded and hospitalized loved one.

Wounded Warrior Wives
This nonprofit takes the wives of the severely wounded away from their 24/7 bedside caregiver role and flies them away for a weekend of fun and companionship.

Give an Hour
Give an Hour links up mental help professionals, who donate their time, with military service members and their families, who get free counseling. This organization is especially important when the VA is too backed up to provide mental health counseling.

The Wounded Warrior Project aims to honor and empower warriors, who were injured on or after Sept. 11, 2001, through its athletic, employment and rehabilitative programs.

Iraq And Afghanistan Veterans Of America
Iraq And Afghanistan Veterans Of America works to improve the health, education, employment and community opportunities for the veterans it serves through its programming and public policy initiatives.

United Service Organizations
United Service Organizations aims to boost our troops' morale through its entertainment and educational programming. From its language programs for those stationed in Afghanistan to its touring musical groups in the Persian Gulf, the USO works to provide "a home away from home" for military servicemen and servicewomen stationed in 27 states and 14 countries.

Operation Homefront
Operation Homefront offers a range of programs, including food assistance, vision care and moving services, for military families facing financial hardship.

ServiceNation
Launched in 2008, ServiceNation envisions a United States where a commonly asked question is "Where do you serve?" Through its promotion of national days of service and strategic partnerships across the philanthropic, government, military, entertainment, retail sectors, this nonprofit hopes to inspire a national culture of volunteering among citizens in the U.S.

Navy Seal Foundation
The Navy Seal Foundation provides immediate and continuing support to the Naval Special Warfare community and their families through its endowments and health and education programs.

National Military Families Association
The Military Families Association ensures that those who serve in the military -- and their family members -- gain access to the education and financial benefits that they deserve.

T.A.P.S.
The Tragedy Assistance Program for Survivors has assisted more than 30,000 surviving family members, casualty officers and caregivers with its peer-based emotional support, case-work assistance, crisis intervention and grief and trauma resources.

Homes For Troops
Homes For Troops builds specially-adapted homes for servicemen and servicewomen returning home with serious injuries so that they can live in an environment that provides maximum freedom of movement and the ability to live independently.

Disabled American Veterans
The Disabled American Veterans employs a virtual army of 250 national service officers who work from 88 offices across the country to help veterans and their families settle claims with the VA, the Defense Department and other government agencies.

Warrior Writers
The organization helps the wounded express themselves through writing and art, and will publish the third edition of their work on Veterans Day, Nov. 11.

Veterans Journey Home
Veterans Journey Home sponsors workshops where veterans from all wars can relate their experiences as a form of therapy.

REAL LIFE. REAL NEWS. REAL VOICES.
Help us tell more of the stories that matter from voices that too often remain unheard.