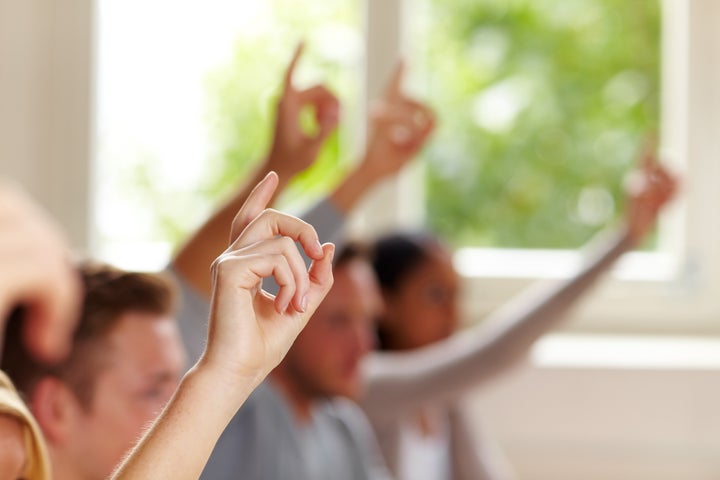 People, in general, seem to be getting a little tired of some of the buzzwords in education, such as "underserved." That word initiates a Pavlovian response, almost knee-jerk reaction in many -- "Quick! Pay attention! Do something!" In addition, the word "underserved" also connotes deficiency and stems from viewing the most vulnerable individuals through a deficit model lens. Of course, "underserved" is not a word only used by educators. It's the word to use to try to get people in decision-making roles to pay attention to the poor, to minorities, to the disadvantaged, to anyone who may be disenfranchised.
Don't get me wrong. I use the word "underserved" -- a lot. However, finding and serving the underserved becomes a cliché or buzzword only when there is no planned action to go with the word. To the actual people who are in the "underserved" category, the word itself may not have much meaning -- but when we as a society, as a country, as educators, utilize the word underserved to try to reach out to all individuals and to make their life more equitable, this word does have deeper meaning and does make sense.
At Saint Paul College, our actions and efforts do have tremendous influence/impact when we are reaching underserved populations, whose success as students remains the cornerstone upon which this institution was founded.
In 2006, Saint Paul College and Minneapolis Community and Technical College, along with foundations and community partners, began the Power of YOU™ program, which makes the first two years of college available tuition-free at our two colleges, to eligible graduates of local public schools. Since then, Saint Paul College and Minneapolis Community and Technical College have educated over 2,300 students through Power of YOU. Over half of these students have either graduated, are continuing or have transferred to another institution of higher education. The program is successfully educating students who are among Minnesota's fastest growing populations and who have the lowest post-secondary education participation rates. In a nutshell, the Power of YOU program has proven to close the achievement gap between minority and non-minority students.
Who are Power of YOU students? Over 85 percent are students of color, with an average annual family income of less than $18,000. They are also more likely than others in their peer group to be first-generation college students. Most Power of YOU students had not planned on attending college because they did not think that they could afford college, let alone believe that they were "college material." It is our job and calling to convince them that they can afford college and that they are college material. Our Power of YOU students receive comprehensive support services to ensure their success in college, including membership in a cohort group, specialized counseling, service learning, participation in community events and off-campus educational experiences.
Thus, the Power of YOU program is a transformational experience for our students. Our faculty and staff know that what empowers students is not to give them the easy answers -- but to provide them with the tools and means, support and encouragement to master their trade, their craft, their skills, and their knowledge to excel in their chosen field. Their educational journey is their achievement. We believe in all of our students. We believe in their capacity to excel in using their knowledge and education in their lives.
Post-secondary education is pivotal to the future employment of our young people and to the health of our region and the economic prosperity of our nation. The Power of YOU is designed to significantly increase the post-secondary participation rates of these public high school students, particularly those of color, and help close the achievement gap. That is where the Power of YOU becomes the power of us. And that is how Saint Paul College best serves all people in our community and the economic vitality of this region.
Calling all HuffPost superfans!
Sign up for membership to become a founding member and help shape HuffPost's next chapter