Before going to Istanbul, I knew little about Turkish cuisine beyond doner kebabs and Turkish delight. Much like stereotypical "Australian food," these misconceptions were uninformed and simplistic, yet not exactly horrible (lamb on a spit? What's not to love?). Still, I figured my three-day trip to the heart of the Ottoman empire was a good opportunity to finally learn about authentic Turkish cuisine. That, and I watched Anthony Bourdain guzzle some kind of honey-drizzled cream thing on the Istanbul episode of "No Reservations" and decided I could no longer go on living without knowing such rapture.
Turns out, I was not alone in my mission to find authentic and delicious Turkish food beyond the trusty doner. In fact, I discovered there was a whole, blessed blog dedicated to such a quest, aptly named Istanbul Eats (now under the umbrella of the worldwide Culinary Backstreets). Run by two American expats living in Istanbul, dedicated to finding the city's best off-the-beaten-path eateries, these bloggers also organized food tours, I discovered. How serendipitous.
So one cold, rainy Saturday morning, I Google-mapped my way to the Spice Market in Istanbul's Eminönü neighborhood, where I was to meet my tour guide, Angelis Nannos, and engage in some good old Southeastern European gastronomy. Angelis, I discovered, was a former civil engineer from Athens who quit life and moved to Turkey four years ago to eat and just generally chase happiness. He also had a blog named Angelis and the Istanbul and wore a bow tie. I trusted him immediately.
The tour commenced with breakfast shopping, naturally. An infectiously jovial Angelis shepherded us down a narrow, bustling alley, where he made frequent stops for various foodstuffs: bread, three types of cheese, some salam (Turkish salami), a bag of olives. He encouraged us to sample from the mammoth-sized open containers of olives, ranging from pale green to blue-black. "It's not like in Brooklyn, where you're not allowed to pick up the food with your hands," he said to me cheerily. "Here in Turkey, you can try before you buy!"
Loot in hand, we stepped into a deserted arcade where we gathered around a makeshift breakfast table covered in newspaper. We tucked into our feast caveman-style, attacking fresh slabs of beyaz peynir (a mild, white cheese) and tulum peynir (a goat's milk cheese ripened in a goatskin casing) with hunks of sesame-encrusted pretzels. Spicy salam was wrapped around plump olives and stuffed into still-warm bread. As we ate, chipper old Turkish men brought out cups of Turkish çay and plates of the honey-topped clotted cream I'd watched Bourdain scarf. Bal-kaymak was what this traditional Turkish breakfast dish was called, and it was creamy and rich and tart and sweet all at once. One bite, and I knew I could never look at my cornflakes the same way again.
After breakfast, Angelis led us deeper into the less-frenetic markets of Küçük Pazar, where we continued our food worship: baklava, kokoreç (a sandwich prepared from chopped, slow-roasted lamb intestines, sweetbreads and offal), and mercimek çorbasi (steaming, red lentil soup peppered liberally with chili and mint). We paused briefly for pide at the shop of Haci Mehmet, a man who'd been making the crusty, cheese-filled flatbreads for 35 years. Tea was to follow, but not without stopping first at Altan Sekerleme, a tiny sweets store established in 1865, for rosewater-flavored lokum (Turkish delight). Cold but satiated, our small group huddled together by an abandoned Ottoman-era caravanserai to quaff soul-warming Turkish çay from hourglass-shaped glasses. Tea, I noticed, just like in many parts of Asia, was a staple with almost every Turkish meal and this was definitely alright with me.
Our eating adventures were far from over, however. On our way from Eminönü to the neighborhood of Fatih (where I noticed the diminishing presence of women), we visited a hole-in-the-wall doner kebab spot frequented by locals. Yes, I was assured, doner is considered authentic Turkish cuisine. Although I'd never had doner like this in New York: tender, fatty lamb layered with perfectly charred vegetables. I was floored by how fresh everything tasted: all the "street meat" we'd eaten, the peppers, tomatoes, and zucchini. It was beyond farmer's market fresh. It was grown-in-the-backyard fresh. I mentioned this to Angelis, and he smiled, amused.
"All these guys here, they were doing 'farm-to-table' and 'locavore' long before it became fashionable," he explained. "It's the only thing they know, to cook the vegetables and produce they have available to them. They've been doing it this way for hundreds of years."
We washed down the doner with a creamy, tangy fermented millet drink called boza, then sat for the final meal of our six-hour tour: an exquisite büryan kebap (pit-roasted lamb). Içli köfte and perde pilav (a dumpling and rice dish) accompanied the main course -- further evidence of Turkish cuisine's strong Central Asian influences. I can't say if it was the food or the company or the history and culture I'd soaked in, but I left the restaurant that day feeling rapturously full.
I also left with a better understanding of Turkish cuisine. Though it varies across the country, the food I enjoyed in Istanbul was a bold fusion of Asian, Middle Eastern and Mediterranean influences, adapted to indigenous ingredients. The vastness of the Ottoman Empire, which spanned three continents for almost 600 years, meant tasting layers of history in everything I ate. Turkey also has some of the most fresh, hearty street food in the world (my favorite was lacmacun, dough topped with mince and herbs, stuffed with vegetables and eaten like a burrito). I loved the meze style of eating; how breakfast was both piecemeal yet abundant (a plate of cheese, a bowl of olives, a dish of sliced sausage, some cucumber). Like Turkey itself, food was simple yet rich, like kaymak drizzled with honey and a steaming bowl of mercimek çorbasi. Dried fruit subtly punctuated dishes in place of sugar; there was a lot of lamb and a lot of tea. And they liked cheese. Oh my word, these Turks liked their cheese.
But what really struck me was the Turks' obvious love for food in the most unobnoxious way: just this deep-rooted appreciation and respect for its colorful history. None of the Turks I met were "foodies," they just loved and understood good, local food. In my three days in Istanbul, I barely scratched the surface of this fantastically vibrant food culture, which, happily, gives me reason to return. In the meantime, I found a place that sells kaymak in New York. And I'm not even going to lie. I'm still a sucker for a good, greasy doner.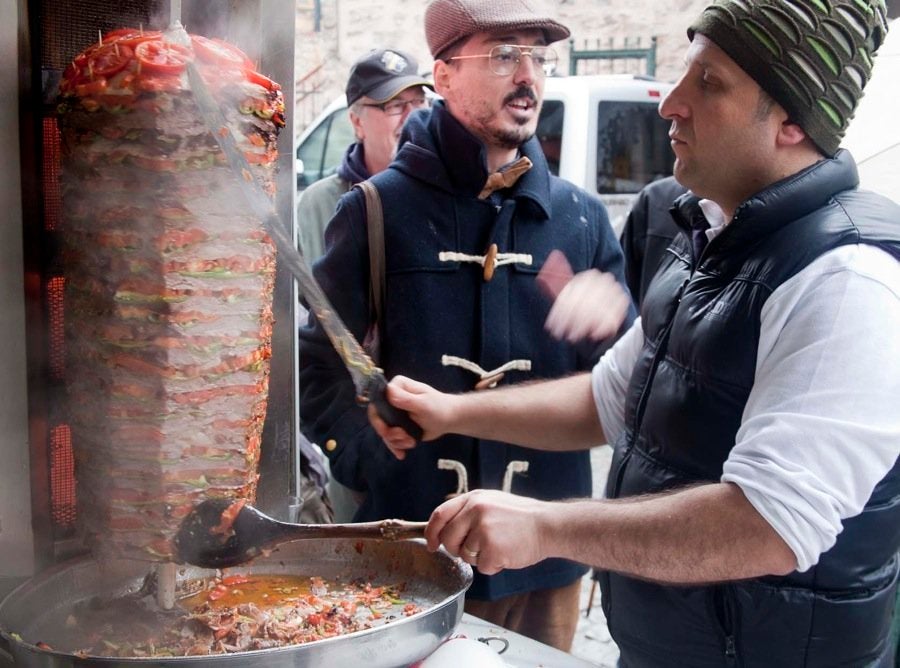 A Food Tour Of Istanbul
Related