Nothing in Gitenstein's long and illustrious Beltway resumé augurs social media canonization. A more obvious poster child selection might be Ahmed Maher, a driving force behind Egypt's April 6 Youth Movement (A6Y) which is given much of the credit for the social media strategy that filled Tahrir Square and brought down Mubarak.
Or you could go with iconic Adbusters founder, Kalle Lasn, wonderfully profiled in the New Yorker in the context of the #Occupy movement which he is credited with sparking. Lasn, 69, has been around even longer than Gitenstein, but his resume is from a different solar system entirely, reflecting a lifetime of challenging accepted truths and fomenting radical change.
Still, Gitenstein's my guy, precisely because he's not a 'usual suspect.' Memes gain power when they leap the social and political synapses. The idea that people deserve honest government is a meme. And so is the behavior that we, collectively, don't need to wait for our governments to lead, but can take action ourselves, collaboratively, across gaps of language, culture and geography, using the new tools at our disposal. Those are two damn powerful memes. And when someone like Gitenstein embraces them and powers them to an entirely different level, that's quite a sign of the times, and of the future.
By all accounts, Gitenstein hit the ground running after his 2009 appointment. He embraced/endured traditional ambassadoring--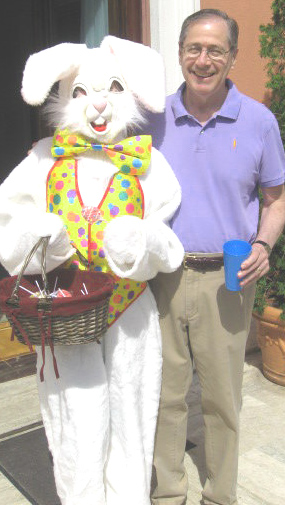 here he is enjoying the heck out of a photo opp with the Easter Bunny--but his cause from day one was the corruption that has severely hamstrung Romania's growth, demotivated its citizenry and created a highly problematic climate for free enterprise, including American businesses and investment.
When he saw an opening to catalyze change, he acted, throwing his full support behind Restart Romania, a web-based challenge to surface social innovations aimed at fighting corruption and opening up government. He's all over YouTube talking about the challenge. My favorite interview is this one, because the Romanian interviewer is having so much trouble believing any of this is possible. "C'mon," the interviewer says in various ways, "This is Romania, dude. We don't do civic engagement." Yes you do, says the implacable ambassador.
"I managed to get a meeting with the Ambassador through the Peace Corps director and pitched a laundry list of ideas. We started talking about engaging young programmers--this is a very teched up country--creatively. He right away saw that a Challenge could connect the dots of what was possible, and he was very adamant that it had to be about tough issues like corruption and open government."
And that is why if you click here you will see one of the Challenge winners, the hilariously straightfaced Codru Vrabie, at the 3 minute mark, explaining his project, Bribe Market, which is based on the simple idea that if you are going to have to pay bribes for basic services, you ought to be able to shop for the cheapest bribe. A free market approach, Codru calls it.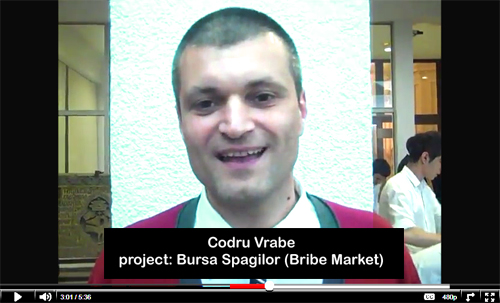 Let me give the last word to Radu Motoc, who is the director of programs for the Soros Foundation Romania, and who observed Restart Romania closely from its beginning.
"For us, 1996 was the year when we finished what we had started in the 1989 uprising: to throw the heirs of Ceausescu out of office, this time by means of votes, not street barricades and stones. With Restart Romania, the spirit is definitely the same. It was something absolutely unique in the current landscape. You could feel a certain ethos -'we count, we can do things'-that has otherwise been fading out in the last years. Initiatives like Restart Romania prove that civic-minded individuals and groups are still there who are willing to defy the cynical majority and act for the public good. Let them connect, inspire and bring others in, and we might just see a new kind of majority emerge."
Popular in the Community