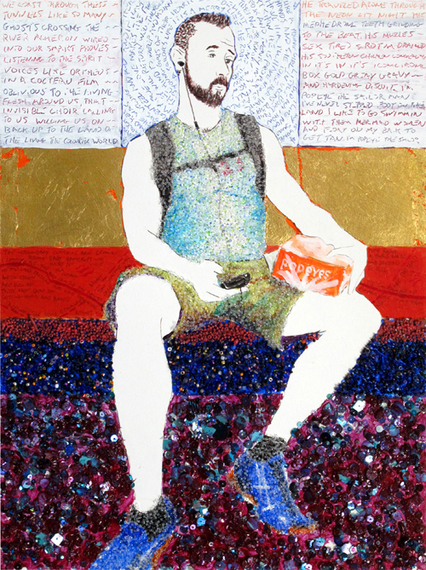 The Travelers, 3rd Man (2013) mixed media on panel 14" X 10.5" (image courtesy of the artist)
Nicholas Moore's art is campy, surprising, lucid, fussy, symbolistic, and sincere. At times impulsive, sometimes reactive, British native Moore manages all of the above by letting his instincts guide him. Moore's one-person exhibition at the Tenri Cultural Institute of New York (located at 13th Street between 5th and 6th Avenues) lies just beyond the fringe of the Chelsea art district, a location that is quite fitting for this artist who truly thinks outside the 'white' box.
The first thing you will notice about Moore's art is the minutiae: the alphabet beads, tiny toys, coins, buttons, novelty/cartoon eyes, paper flags, miniature plastic soldiers, pipe cleaners, etc. that embellish his subjects and punctuate his narrative. And as a figurative artist, he's got quite a bit of the School of London in him - R. B. Kitaj, David Hockney and Paula Rego come to mind - however his second major residence Syros, Greece, is another stylistic influencer. Both schools of thought converge in the two largest polyptych type paintings here, Guide 1 and Guide 2 ( 2013). The somewhat regal pose struck by the main character, the guide, is reminiscent of a design on ancient Greek pottery. On the other hand, the trio of figures that run up the left side adjacent to the main 'guide' panel are very London School. The overall composition in Guide 2 is oddly balanced by a tsunami of debris - a cresting cultural morass - that the subject pays little attention to as if to say: "I've got bigger fish to fry."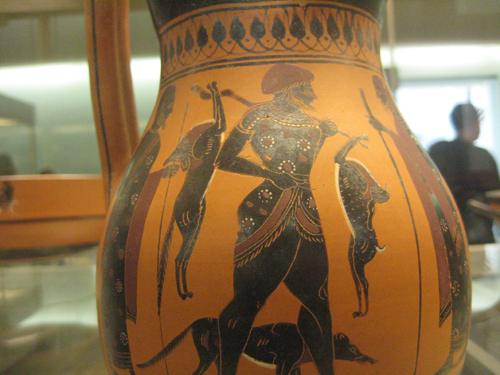 Black Figured Olpe depicting the return of a hunter and his dog. Made in Athens between 550-530 BC. Attributed to the Amasis Painter. Found in Rhodes.
Height: 10.2" X 5.3"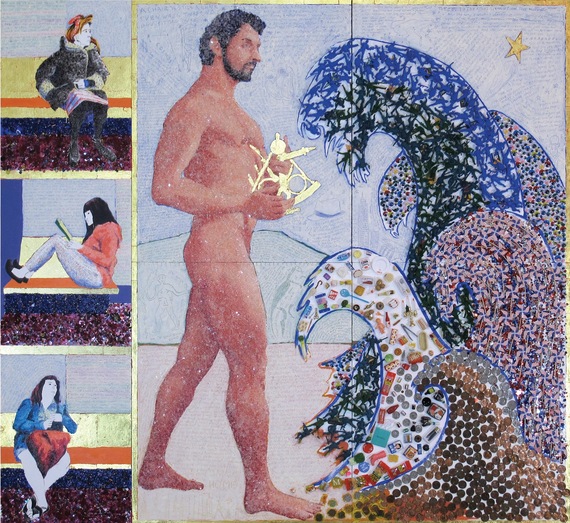 Guide 2 (2013), mixed media on panel, 48" X 52" (image courtesy of the artist)
The other large works in the exhibition are his two Fabrics: Sword of Damocles (2013) and Between a Rock and a Hard Place (2013). Comprised of cut and tooled copper sheeting and alphabet beads, Moore weaves a tumultuous tale through iconic forms such as the Eiffel Tower, a proudly pumping fist, the Trojan Horse and a human heart interspersed in a grid-like network between such things as a dancing bear, menacing bull, circus dog heads, a fire hydrant, male and female organs and a horseshoe and four leaf clover just for good luck. Like bracelet charms, or more specifically Mexican Milagros (miracles) Religious or Healing Charms, there is a magnetic power, a sense of healing through devotional representation at work here.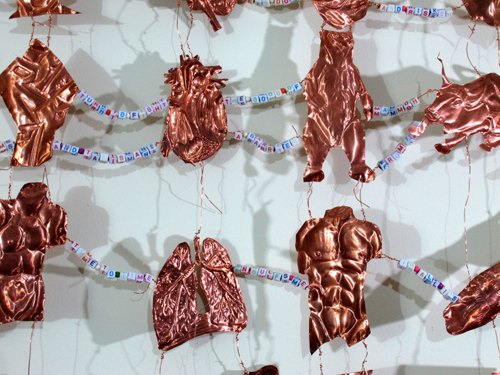 Between a Rock and a Hard Place (2013), copper and alphabet beads, 70" x 30" (image courtesy of the artist)
I also find that Moore offers just as much aesthetic oomph in his smaller formatted works as he has done in his larger epics. His Travelers (2013) series show lone mass transit passengers zoning out on the day's events as they head home from work, a shopping spree or some other banal endeavor. What is most uncommon is the life - the animation - the narrative - he brings to his subjects with the minimum amount of line, detail and gesture.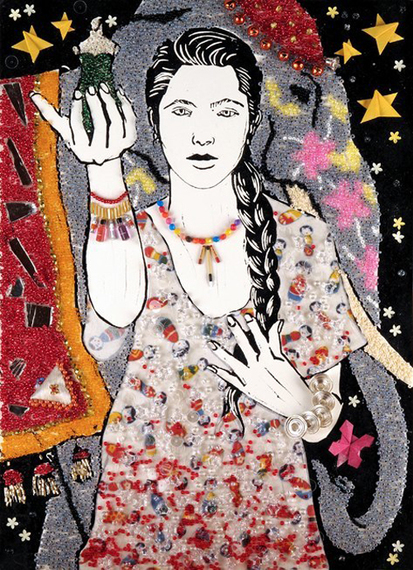 Pallas, (2011), mixed media on linocut, 10" X 14.5" (image courtesy of the artist)
The Wall of Friends, including the two examples in the exhibition: Pallas (2011) and Tony (2011), is another extremely effective use of mixed media which here incorporates the more graphic elements of collage and linocut combined with his now familiar application of ornamentation. In this series, we see a more direct - face-to-face - connection possibly making one feel both uneasy and enticed. A fun show for all - don't miss it. The exhibition, which is curated by the gallery's well-regarded director Thalia Vrachopoulos, ends November 26th.
Calling all HuffPost superfans!
Sign up for membership to become a founding member and help shape HuffPost's next chapter