Watching the Super Bowl commercials this year, I kept asking myself if perhaps, finally, we've won.
Of course when I say "we" I mean any non-white, non-male American, and by "won" I mean that we were not the butt of every cheap joke devised for the purpose of selling burgers, cars or website domain registrar. As The LAMP, the NYC-based media education nonprofit where I'm the Director of Communications and Development, gathered students for our fifth consecutive Break the Super Bowl event, I thought about the steep challenge ahead for our teens as they prepared to remix and talk back to this year's crop of multi-million dollar commercials.
Of course there were still plenty of ads that needed remixing. Past bearers of a torch for tastelessness, like Carl's Jr, Axe and GoDaddy, sat on the sidelines for Super Bowl 50 but Doritos and Mountain Dew delivered. I couldn't find the humor in a woman being beat up by her unborn child, especially during an NFL event, or in the sexist trope of an uncaring expectant father. The puppymonkeybaby was clearly intended to be the ultimate hybrid of lowbrow commercial gimmicks, but I doubt it left many people inspired to drink a Mountain Dew.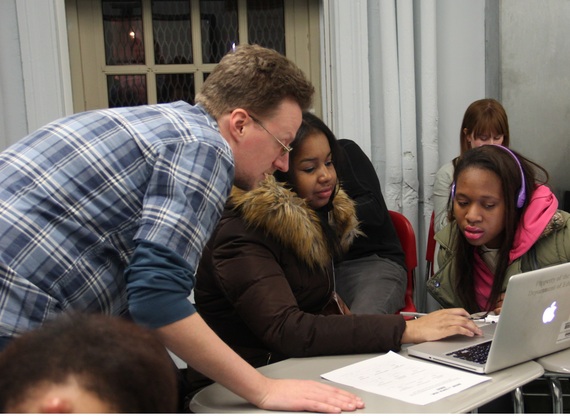 Many of this year's commercials were designed to inspire, like Colgate's PSA to turn off the water when you brush your teeth, Mini's call to defy labels or Budweiser enlisting Helen Mirren to shame drunk drivers everywhere. And, many of the ads featured diverse casts. The LAMP's annual Break the Super Bowl event is one way we encourage young people to be active thinkers and critics of mass media messages, but it's never been about teaching kids that ads are evil. It's about calling for ethical advertising, and helping people see that commercials can do their job without being offensive at the same time.
While I've been spending the last week watching Super Bowl commercials, I've been spending a few more weeks watching political ads, and am now wondering if yesterday's GoDaddy ad is today's call to arms from Donald Trump. It's heartening that maybe, just maybe, big media are tilting their ears to the concerns of those beyond the coveted white male demographic of 18- to 35-year-olds, but not even a halftime show built on a "Believe in Love" theme is a convincing antidote to the political antics we've seen play out since the Iowa caucus. It's a win that Super Bowl ads are leaning towards plain silliness instead of blatant stereotyping, but The LAMP -- and American consumers -- still have a lot of work to do in convincing elected leaders to grow up and do the right thing.
Which is why, in addition to Break the Super Bowl, we have Break the Election.
And, its why we created Break-a-thon in a Box, a free toolkit that provides educators and parents with everything they need to host their own Break-a-thon event on a variety of topics -- Super Bowl ads, the election, the Oscars, video games, etc. The toolkit includes templates and suggestions for planning, publicizing and documenting a Break-a-thon that are based on The LAMP's years of producing these events in a variety of settings.
Stay tuned for more news, and get plenty of resources for decoding media, by following us on Twitter at @thelampnyc or visiting us online at www.thelamp.org.
Popular in the Community