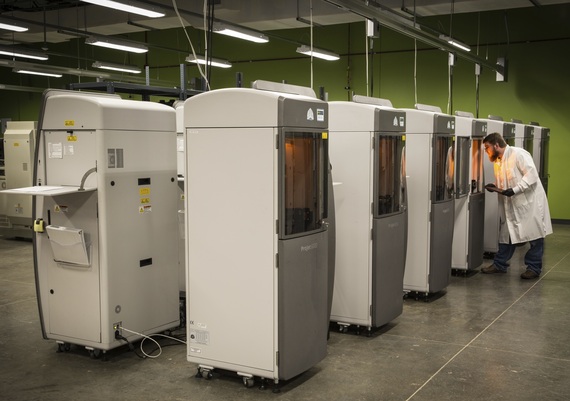 It wasn't long ago that 3D printing was one of the buzziest technologies around.
Fast forward to today. The potential of 3D printing remains enormous. Global spend on the technology is expected to climb from $11 billion in 2015 to nearly $27 billion in 2019. But with all of the early excitement now behind us, where does 3D printing stand today? And where will it go in the future?
It can be summed up in three key developments.
1. Widespread Consumer Adoption Remains Elusive
3D printing has not become the next must-have consumer technology.
Why? For starters, it doesn't have the plug-and-play ease of use that consumers expect in their home technology. Also, 3D printing doesn't have a strong enough value proposition for consumers. Yes, there's a "cool factor" to making your own door latches and organization tools. But at the end of the day, it's easier and far cheaper to just buy these kinds of things in a store or online.
As a result, the hope that 3D printers would become a staple in our homes has all but fizzled out - at least for now.
The industrial space is another story. More than 70 percent of manufacturers have adopted 3D printing technology, according to PwC. At Proto Labs, we've been seeing consistent double-digit growth in the demand for industrial 3D printing services since we entered this space three years ago. And this staggering increase in demand is what brings us to the next development.
2. Major Manufacturers Are Committing to 3D Printing
Large, household-name manufacturers have made some pretty big news in industrial 3D printing in the last year.
First, GE purchased two European 3D printing companies for $1.4 billion. With the acquisitions, GE expects to grow its additive business to $1 billion by 2020 while saving $3 billion to $5 billion in production costs over the next 10 years.
Next, HP introduced its first 3D printer, the HP Jet Fusion 3D Printing Solution. The industrial printer is the first to print parts at the voxel level (a voxel being a tiny cube, 50 microns in size, that is the 3D equivalent of a 2D pixel). This enables the capability to print a single part with various materials and colors, and even embed electronics. Even more, HP says the printer can produce parts 10 times faster and at half the cost of other 3D printing methods.

Major investments like these have the potential to reverberate across industrial 3D printing. They could lead to future improvements in 3D printing capabilities, increased material offerings and better mechanical properties in 3D-printed parts. They also could inspire further adoption of the technology within the manufacturing sector.
Not only are these investments a wise financial bet by these mainstream manufacturers, they represent an important stepping stone in the advancement of 3D printing's capabilities and economics of use, which will benefit a much larger manufacturing ecosystem.
3. Applications are Moving From Prototyping to Production
In the manufacturing world, 3D printing is largely associated with small-run prototypes. But a number of advancements around the technology and product development engineers experience in designing for 3D printing is creating more interest in the use of the technology for end-use production parts.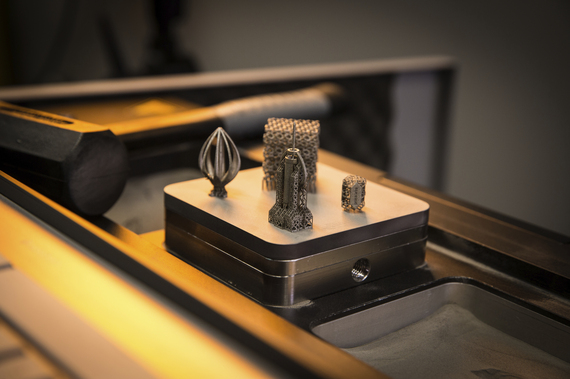 One of those advancements is in materials. Today, several resins and metal powders can meet mechanical and electrical part requirements, while also delivering the part quality and production cost effectiveness needed to help 3D printing compete with other manufacturing processes. Improvements in material availability and cost, continued 3D printer technology development and more experience designing for 3D printing will enable growth of 3D printing beyond the predominant prototyping role it plays today.
Still a Long Way to Go
Clearly, the future of 3D printing is in the industrial space. And Ford gives us a stirring vision of what this future could look like: "One day, millions of car parts could be printed as quickly as newspapers and as easily as pushing a button on the office copy machine, saving months of development time and millions of dollars."
That's an exciting possibility. And if the industry continues to push the envelope on 3D printing technology, we can get there.
A PWC survey found that less than 7 percent of U.S. manufacturers use 3D printing for end-use production. Other manufacturing methods are still the most cost-effective process for large volumes of end-use parts. So while the potential is there and it's growing, we still have a lot of runway ahead of us before we can truly expect industrial 3D printing to transform manufacturing as we know it.
Related
Popular in the Community