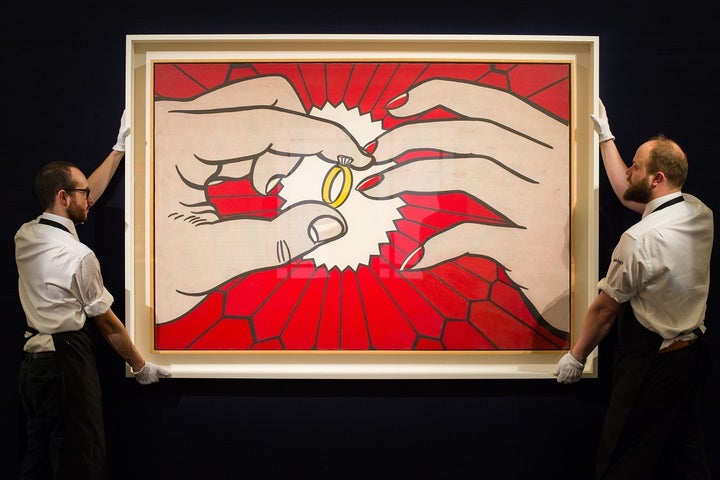 The Recording Academy's high-wattage GRAMMYs on the Hill event in early April honored Sens. Tom Udall (D-N.M.) and Susan Collins (R-Maine) for their commitment to the National Endowment for the Arts (NEA) — an agency that President Donald Trump's administration has proposed cutting.
Still, stars like country singers Keith Urban and Wynonna Judd, both of whom performed that night, don't rely on the NEA for their survival; they were there, in part, to underscore the central role of the endowment in the artistic endeavors of nonprofits, museums, schools, local governments and other noncommercial organizations. Among last fall's grantees: The city of Los Angeles, which received $50,000 for an exhibition about Latin American art and architecture; Step Afrika! of Washington, D.C., awarded $10,000 to support its Black History Month tour; and the Cuyahoga Community College Foundation in Cleveland, which won two grants, including $20,000 for an educational jazz festival.
Without much of a presence on the Hill, such community-centric organizations rely largely on advocates in the broader arts universe, like the Recording Academy, which spent $162,000 lobbying last year, and Americans for the Arts, a group that spent $160,000 lobbying on issues like arts education and creative arts therapy access for veterans.
In the first quarter of 2017, Americans for the Arts ramped up, spending $90,000 on lobbying — more than half its outlays for all of 2016. Funding for NEA and its companion group, the National Endowment for the Humanities, was the first concern it listed on its lobbying report.
Another concern listed by the group: tax deductions for charitable contributions, which, as of last month, some in the Trump administration reportedly were considering capping as part of a tax reform proposal.
That could be a matter of life and death for arts groups, which rely heavily on donations. In 2012, for example, the NEA reported that nonprofit performing arts groups and museums received nearly 45 percent of their revenue from government and private sector contributions. Almost all of that, however, came from individuals, foundations and corporations; less than 7 percent of total revenue came from the government at any level.
Then why is the NEA so significant for these groups?
For one, the endowment helps make up for the geographically disproportionate nature of charitable giving, said Elizabeth Auclair, an NEA spokesperson, in an email. Rural areas receive only 5.5 percent of philanthropic dollars, she explained.
The second reason: Government grants can catalyze private giving by legitimizing a project. "Research shows that even a low level of public funding can stimulate private giving," wrote Auclair. NEA's funding must be matched by money from other sources, and "when a nonprofit receives an NEA award, it provides the credibility for other funders to step up."
In fiscal year 2016, NEA grants resulted in $500 million in matching support, Auclair noted.
Art is for everyone, but its money leans left
When it comes to campaign contributions, the kinds of arts organizations that might receive a small NEA grant are unlikely to be rife with high-earning employees capable of donating large sums of money to politicians. Still, some of the bigger groups and arts institutions do make a mark. Americans for the Arts has a PAC (a rarity in the art world), and between that and gifts from its leadership and staff, the organization gave nearly $143,000 in contributions last cycle, 84 percent of which went to Democrats. The group's top recipient after presidential candidate Hillary Clinton ($10,711) was Rep. Louise Slaughter (D-N.Y.), co-chair of the Congressional Arts Caucus. She received $10,000, and her co-chair, Rep. Leonard Lance (R-N.J.), received $3,500.
Overall, Democrats get the lion's share of contributions from arts organizations, perhaps because they seem more willing to publicly associate themselves with the cause. Although the Recording Academy honored one senator from each party (Maine Republican Collins and New Mexico Democrat Udall) with its political Grammys, about 79 percent of the 160 members of the Congressional Arts Caucus are Democrats.
In the 2016 cycle, individuals associated with the American Museum of Natural History, the Metropolitan Museum of Art and the American Association of Museums all gave 99 percent or more of their contributions to Democrats. In fact, Natural History has given all of its contributions of more than $200 to Democrats since at least 1994. The level of the gifts varies widely between groups: The museum association gave $1,600, Natural History gave more than $27,8000, and the Met gave a relatively whopping $282,000 ($20,000 from Joanne Lyman, who used to manage jewelry reproduction for the museum; about $50,000 from Laurel Britton, head of strategy; and nearly $161,000 from Annette de la Renta, a board member.)
Private art galleries skew no less Democratic.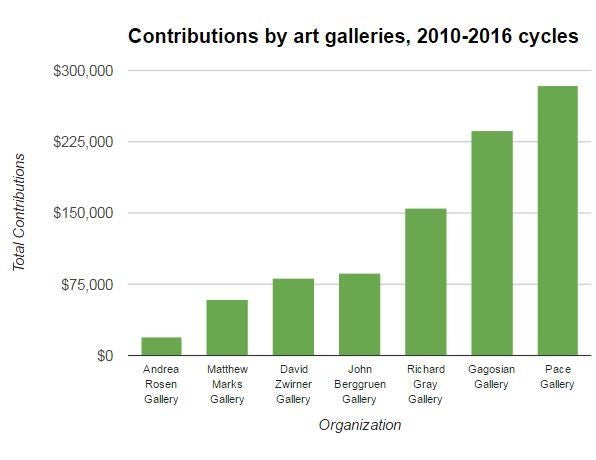 Over the course of the past four election cycles, seven galleries (selected for their prominence and because they employ active political donors) gave less than $1 million combined. Two of them, Gagosian Gallery and Pace Gallery, accounted for more than half that total. (We didn't include Christie's and Sotheby's, as their business dealings extend beyond those of a traditional gallery.)
Most of the money from Gagosian and Pace came from their respective owners. In the 2016 cycle, Larry Gagosian gave about $86,400 (almost all of Gagosian Gallery's contributions) to candidates, party committees and other groups, and Arnold and Mildred Glimcher of Pace Gallery gave more than $186,000. Gagosian made six gifts, and only one went to a Republican; all 159 of the Glimcher couple's gifts went to Democratic candidates and groups.
In addition to gallery owners and employees, some of the artists on display are donors as well. Multimedia artists Carol Brown Goldberg and Pamela Joseph have contributed more than $1 million and nearly $233,000, respectively, since 2008 — all to Democratic and liberal candidates and groups. And remember the iconic "Hope" poster from President Barack Obama's 2008 campaign? Shepard Fairey, its designer, gave $17,700 to the DNC that cycle. (He also sent $2,300 Obama's way.)
Before his death in 1997, pop artist Roy Lichtenstein was a reliable Democratic donor. His contributions pale next to those of his widow, though: Dorothy Lichtenstein, president of the foundation that bears his name, made more than $1.2 million in contributions in the 2016 cycle. Planned Parenthood Votes, a super PAC, received $900,000 of that, another $100,200 benefited the DNC Services Corp. and other gifts went to various Democratic party committees, candidates and PACs.
Regardless of the arts universe's progressive leanings, lawmakers of both parties might find reason to get behind the NEA; Its data shows it awards 40 percent of its grantmaking budget directly to states, and, in fiscal year 2016, it recommended grants in every congressional district in the country. At a cost equal to approximately 0.004 percent of the federal budget, that kind of local aid could be difficult even for Congress' most hardened small-government advocates to make a stink about.
On April 7, 11 House Republicans — along with many of their Democratic peers — signed a letter not only standing by the NEA, but also seeking a roughly 5 percent increase in its funding. The letter went to Reps. Ken Calvert (R-Calif.) and Betty McCollum (D-Minn.), the chairman and ranking member of the House Appropriations Subcommittee on Interior, Environment and Related Agencies, which handles the NEA and NEH's budgets.
And now, those lawmakers, along with the arts community, seem to be getting what they want — for the time being, at least. Last week, Congress agreed on a budget that calls for a $2 million increase in the NEA's funding, which would raise the agency's budget to what it had requested for fiscal year 2017 more than a year ago.
Popular in the Community