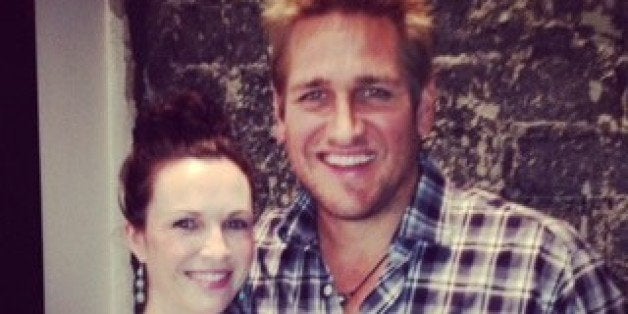 A few months ago I sat opposite my friend in an aesthetically warm and cozy San Francisco restaurant. Being a 'foodie' and sommelier, she led the way in orchestrating the dinner, from recommending food and wine pairings, to the order in which we would taste each component on the table. From my perspective ,this level of expertise wasn't a prerequisite to a pleasant dining experience but as we ate our colorful, flavorful meal, I noticed that our conversation weaved in and out of each bite and sip, seamlessly and fluidly like a perfectly choreographed dance. Since that evening I haven't viewed food's relationship with life through the same eyes.
As chef, TV personality, author, and soon-to-be restaurateur Curtis Stone, would say, "Food is a powerful conduit to incredible conversation." And that's just the front-end of the culinary process; the finished product that enables two friends to turn a seemingly typical meeting into a deeply memorable one.
In Beverly Hills, at a bright and airy bakery filled with the most plump and fluffy pastries I've ever seen, I met with Curtis. He provided me with a backstage view to the waltz of the culinary world and his journey that has led him to center stage.
Emphatically, he said, "Do you see all of these pastries in this beautiful bakery (as he threw his arms open wide as if to showcase the store)? All that people see is this lovely presentation. They don't realize that someone has been here since 3am, in the back, slaving away to make those croissants."
Often times when I see someone with a high degree of knowledge and passion in their field, I wonder if the gift was always within them from an early age, which was certainly the case for Curtis. As a young boy he was already creating his own culinary dances.
The Aussie told me, "From the time I was a little boy in my mum's kitchen I would flick raisins off of butter and she would say 'why are you doing that? Those things don't go together.' And I would say 'but why can't they go together? Why wouldn't they?'"
And there's another influential staple from his childhood -- his grandmother, Maude. Nostalgic facial expressions percolated instantly as he spoke of her and his time making fudge with her in the kitchen.
He said, "I used to love her fudge. And that fudge is one of the reasons I knew I wanted to become a chef. If there wasn't any fudge left she'd say, 'let's make some'-- and even now I can remember the process of leveling off the flour and I loved each step in the recipe."
Many of us feel utterly petrified and intimidated by cooking. It's easy to view it as a source of stress especially when we have young children, where time and energy aren't as abundant. At times I parallel a kitchen full of sophisticated ingredients and tools to tackling a foreign language; each component looks like an adversary, prepared to defeat me. Within minutes Curtis enabled me to see the curtain begin to open as he broke down the steps. In a very self-assured yet unassuming and enthusiastic voice, he explained that if a person can get one good meal 'under their belt', then the key to cooking -- confidence, will emerge. "And how do we build our confidence?" I asked. Without hesitation, he replied, "knowledge."
He said, "if you put together something as simple as a caprese, next time just change one ingredient. Add prosciutto or swap out the balsamic reduction for a wine vinegar. Make small, incremental changes to each meal and go from there. If you watch one of the cooking shows and want to try a technique, pause it right away and give it a shot. Before you know it, you're excited to show your husband the new trick you've learned and it builds from there."
"The restaurant is down the street. Would you like to see it?", he asked me. The restaurant he referred to is Maude (scheduled to open its doors this month), affectionately named after his grandmother, of course. Since his years working in some of London's most prestigious kitchens, Curtis has been yearning to get back into the arena where he feels most at home. I anticipated the restaurant to be cozy and intimate based on Curtis' prior description of a capacity of 25-30 seats, but the instant he opened the door, I saw so much more. With rustic, black brick at the entrance, sleek, white brick throughout, fresh, earth tones, and abstract lighting fixtures, it was inviting and genuine. I felt as though I was entering someone's home for dinner as the kitchen fused with the dining area as one. And that's just how Curtis wants the customer to feel -- at home.
He explained, "When you go to a friend's house for dinner, there's no menu. I want to bring an experience of 6-8 tastings with one common ingredient infused to each and every plate and each ingredient will be locally sourced. I want the customer to rely on us to bring the experience to them."
All of Curtis' hard work, dedication, discipline, attention to detail and contagious personality has contributed to bringing his dream of becoming a restaurateur into reality. For all of the other budding chefs and dreamers out there, I asked him what else has differentiated him in the saturated culinary arena and enabled him to soar.
In a humble tone he explained, "I think a lot of it is luck. But there's also something about passion that makes all the difference, because when you have passion for something, you have instinct about it; an instinct arises that gives you an advantage."
Through friends who are born lovers of food and all that encompasses it, I've acquired an experiential taste for it as well. I've evolved to feel the difference between a meal that is devoured for its immediate, satiating function and one that plays an elemental role in an abiding memory. And thanks to Curtis, I now have an increased awareness and acknowledgement of the process that leads to the meal at our table. Most of all, I'm not as apprehensive about taking on some new recipes that require more than three ingredients (as embarrassing as that is to admit).
For some, the culinary dance might be an effortless and ingrained tango -- one where each step is steady, instinctive, and flawless. For others it might be a clumsy slide, shuffle, and skid to the next turn. But with some knowledge of our partners -- the ingredients, tools, and techniques -- and a bit of confidence, we become equipped to develop our own moves that gradually morph into a balletic experience.