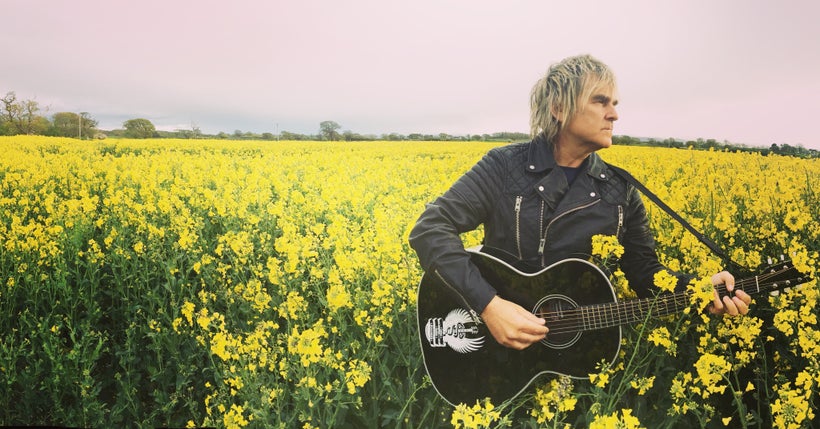 To be one's true self is the goal in life. This blog series would not exist if it weren't for a reunion with an old friend who had all the makings of a modern-day Mozart. But at a pivotal fork in the road, he chose the path behind a desk, instead of one behind a keyboard, which would've honored his gift - like Mozart did. Now, 20 years later, he's unrecognizable, this friend who once had music radiating from every cell, especially when singing in random bursts of happiness. The years have taken their toll - not just in the added 20 pounds that don't belong, but in the heaviness that comes when living someone else's life, and not one's true purpose. The life you came here to live.
As a writer, this inspired me to highlight the special souls who chose to follow their true path. The tougher path, but one that honors and expresses the powerful gift of music they've been given. To live the Mozart life. May some of their words help or inspire you to find your true calling in life.
The Alarm's Mike Peters is a busy guy lately. Perhaps that's due to being a three-time cancer survivor and knowing the value of time. He is the subject of a documentary "Man in the Camo Jacket," which comes out July 4. It was filmed over eight years, and chronicled his life, battle with cancer, and how he enlisted celeb friends like Duff McKagan,Billy Bragg,Glenn Tillbrook, Billy Corgan, Richard Blade and Martha Quinn to help save lives of cancer patients around the world. BBC One will broadcast "Mike and Jules: We Still have Time" June 13, which includes Bono talking about his friendship with the Peters and his wife Jules and both of their fights against cancer (she has breast cancer).
Peters co-founded the charity Love Hope Strength, which helps people around the world with cancer. Peters also has a new album "Blood Red Viral Black" available through The Alarm Store and not available for streaming or in stores until 2018. The Alarm are at the Isle of Wight Festival June 8. Stateside, they'll be on the Vans Warped tour starting July 7 in Camden, New Jersey, followed by Jones Beach in New York July 8. For more tour dates go to thealarm.com.
Life gives us catalysts, a release valve, which often is our lowest point in life, that allows us to push up to the next, hopefully better chapter. Like a desert, wilderness period in life, that helps raise our consciousness and stay true to yourself and your own path. What was that low point for you that helped you push yourself further, evolve and do better, and what did you do when you had that epiphany? I assume, as chronicled in your documentary "Man in the Camo Jacket," cancer may have been a catalyst?
In 1995 I was diagnosed with Non-Hodgkins Lymphoma and was told that I had a 50-60% chance to live. The medical team told me I needed an immediate bone marrow transplant to survive. My instinct told me to finish all my U.S. tour dates first and when I told my doctor he was more shocked than I was. The team had never met a patient who went against their advice before. I guess that was the punk rocker in me speaking, either that, or the fear of the word 'cancer' that had taken hold of me. I told no one, not even my mother, and kept going as planned. I spoke with a faith healer named Bambi and she said that she was "seeing green" as we talked and that I should focus on that as a healing colour. Even though I wasn't a doctor, I knew I had to defend and protect myself psychologically and through thought association. I ended up buying a camouflage Jacket and going to war mentally against the cancer. I've been wearing the jacket ever since and I'm still alive today after 21 years of living with the disease. The camo jacket is a reminder to myself to stay alive.
There are divine moments of serendipity, where a catalyst opens the door that leads to the path we're meant to be on, the one where we live out the fullest expression of our true selves, where we are most true to ourselves. What was that moment for you and how did it happen?
I've always thought that, or suspected when I was younger, that everything happens for a reason. I knew when I came home from tour in 1996 and had reversed my blood cancer count that life would never be the same. I have learnt through my own experiences, that although not everyone survives cancer, many can truly live.
What inspired this blog series was seeing an old friend who has a special gift of music, but didn't choose that path, who, 20 years later, isn't living the life he thought he would live. People who make music and get to travel the world doing so are a rare example of a life where one is able to honor and channel their gift of music. What are your thoughts? And do you feel you're consciously living the life you thought you would be living?
I'm certainly living the life I dreamt of having. Music has shaped my whole life for the better, and although when I was in school I thought I might become a computer operator or a programmer, it was music that made me feel alive.
I've said in that blog post about living the Mozart life, that it may be a tougher road to choose, but you're fully living out your true selves, being true to yourself. Do you resonate to that? You did not choose the 9 to 5 path.
I think some people confuse famous musicians that make famous music as being the lucky ones. Anyone who retains a love of music can set themselves free through playing whether that's in an arena night after night or in the garage at weekends. It's what you get back from it that makes it worthwhile. I know people who hate being in the band they have created and feel trapped by their own history, and I know people who play cover versions for the fun of it at the weekend, who are truly free and alive in music.
How do you find inspiration for the music? Is there somewhere deep within where the inspiration comes from? It's said that when we're most connected to our true selves - for example, some of the best songs were written in minutes. What's your take on that, do you feel that in those inspirational moments you're most connected to your true self? Have any songs come to you in that way, with such ease?
I think that you can say things through music that you can't say with words. The subconscious and the mind are alive with creativity but setting them free into the world is often difficult. Some of the best words written are direct from the subconscious and don't always have to make absolute sense. There is the limitation of the alphabet and the constraint of the amount of notes in music, but the imagination is endless and capable of infinite possibilities.
Do you have a daily musical process?
I try and write a song a day.
When did you know you had this gift of music and how did it manifest for you? How did you start to do the human discipline it takes to channel your gift, hone it and bring it forth?
I don't know if it's a gift or not, but I heard some music in my imagination and knew that it was an expression of who I truly am. I just had to let it out, and luckily for me, I knew some chords on the guitar that led to a life in music. Some people, I believe are less lucky, in that they don't have a creative outlet for what I hear many people describe as "hearing voices" - I believe everyone has a song in them.
But to embark on this path you chose, was that difficult? You didn't know you would get here.
Any path in life is difficult. It's difficult to come into this world as a baby and that act alone should prepare us for what follows. No pain - no gain.
How did you know that this is your life path, your calling? How does someone know when they're on the correct path?
No one ever really knows, but If you can look everyone around you directly in the eye and know you have done right, then that helps.
What is your idea of success, especially on the path you chose?
It's been a tough time for music, losing many of its legends or those we grew up with whose music was our soundtrack. What are your thoughts on time, how it seems to go by faster each year. Perhaps it's made you reflect on what you want to achieve in the time we're given here? Do you think about time much and what you want to achieve in the time we have?
There's a song on the latest record called "Time" that is a reflection on just that. Considering I've spent my entire adult life in a band named after a time instrument, I can conclude that "Time" is the most valuable commodity I/we have.
Unlike any time in history, we're in a overwhelming digital era. There is so much detritus, noise and schadenfreude. What's your view on that, and how do you find quiet in this era? What do you do to connect with your Higher Self, your true self? Do you have a day you unplug for example? How do you ground yourself, focus on your own life path and purpose?
I live only yards away from where I was born. I've never felt the need to run away from the person shaped by my parents and the surroundings I grew up in. I've had conflicts of course, but I've always stuck with the things that made me who I am, and have always tried to make those ingredients work for me, my family and my music. Staying true to yourself always helps to keep the outside world at bay.
I'm a firm believer in doing mitzvahs, especially in the tougher times of our lives. To give back, be of service in some way, to use our time most wisely, can only help us in the end. What are your thoughts and do you try to do your own mitzvahs to help others, even in the smallest way?
Always, it's the only way to live. You cannot receive if you don't know how to give.
What advice do you have for people who have the gift of music, but don't know how to start channeling it, to develop that gift and bring it out?
Stay off the internet and be yourself and go where your music takes you - wherever that may be.
What do you do to help pick yourself up when you're feeling down, and help you stay the course? Is there a song you play that inspires you when you're needing some inspiration or to pick yourself up?
I look into my children's eyes, that's all a father needs to keep going.
REAL LIFE. REAL NEWS. REAL VOICES.
Help us tell more of the stories that matter from voices that too often remain unheard.
This post was published on the now-closed HuffPost Contributor platform. Contributors control their own work and posted freely to our site. If you need to flag this entry as abusive,
send us an email
.