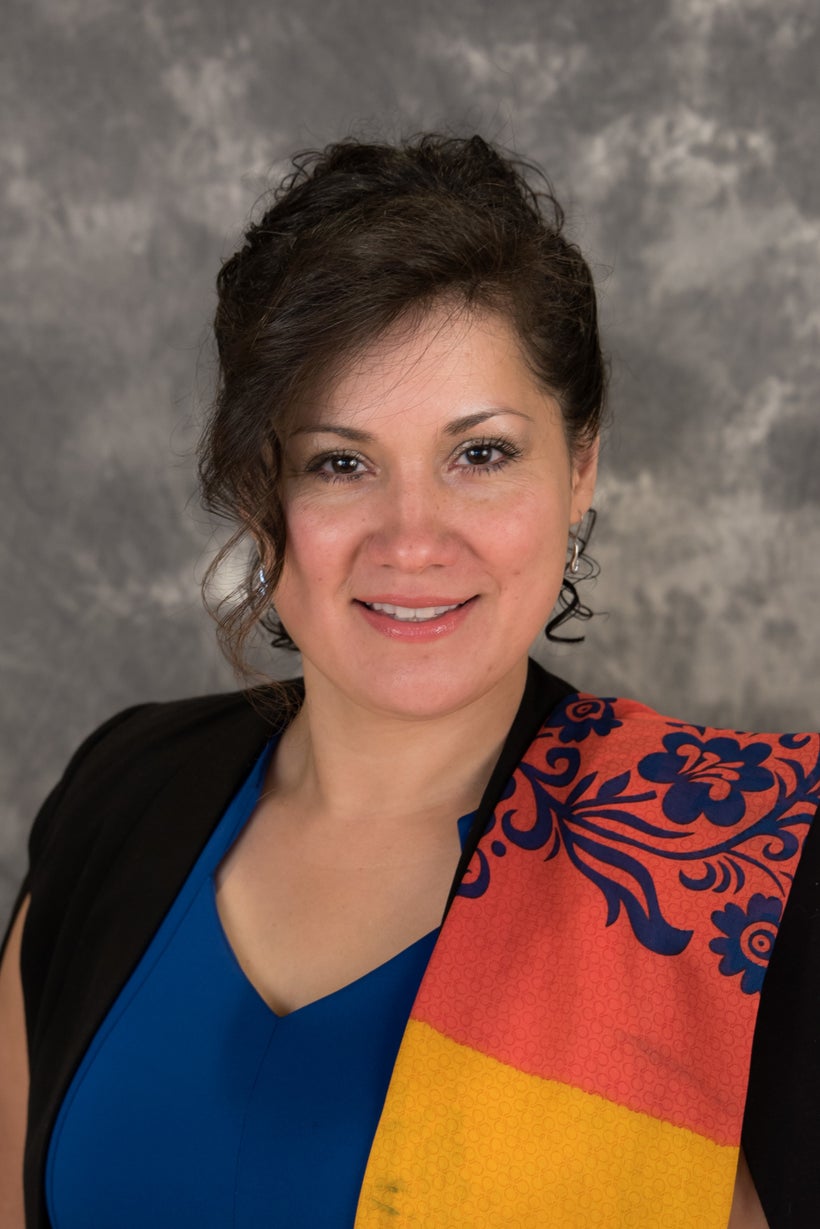 Rocío Pérez, President & Founder of Inventiva Consulting, LLC is a bicultural entrepreneur who has fueled her professional journey with a strong sense of connection to community, heritage and culture.  An innovator across multi-cultural markets, Rocío's contributions are recognized by GlobalMindED leaders, students, and social responsibility constituents.  In honor of National Hispanic Heritage Month, I recently connected with Rocío to hear her perspective on community and how she is making a difference alongside other Hispanic and Latino American leaders who have profoundly influenced our global society. 
What's your story and how does this story inspire others?
What makes my story unique is that I kept that vision of life, of what was possible and not what I was living. I grew up in the small border town of Laredo, Texas. Laredo is known as El Ombligo del Diablo—the Devil's Bellybutton— due to temperatures of 115 degrees or more. Often a news reporter would test how hot it was by frying an egg on the sidewalk. Poverty and unemployment were the highest in the country and graduation rates the lowest. Most families were migrant workers and would often relocate to pick cotton, potatoes and onions.
I saw very little of my father growing up. I remember the joy I felt as he drove up in his beat-up 1970's dusty yellow Cadillac. He would get out of the car in a mud-caked, sweaty, long-sleeved checkered shirt, exhausted and short-tempered. The men gave all they could harvesting crops and had nothing to bring home to their family—neither money nor energy. That was how it was for me and for everyone in our community.
Those that did not relocate would go to neighboring towns to create new opportunities for themselves. Kids had to work with their parents in the fields to keep a roof over their heads. They worked long hours in the scalding hot summer sun and if they were done early, would be dropped off at school. Most of them dropped out of school because they were so far behind. They simply gave up because they did not know how to catch up. Despite all of that, I was a little girl with a big dream. A dream that seemed impossible, based on my upbringing. As a child, I loved learning, I was a straight A student, on the Honor Roll, a Spelling Bee Champ. I was at the top of my class and I never missed a day of school. I was on fire!
What makes you resilient?
One of the hardest things I had to overcome was the trauma of losing what I thought I had… even when what I thought I had was so far-fetched from reality. At the age of five, I decided to go to college and, like most kids, I'd daydream—my dream was of becoming a teacher. I have no idea where it came from. All I knew is that me becoming a teacher would uplift us out of the miserable world we lived in. When my uncle Sergio would come to visit, I'd share the same dream over and over. He worked for the Water Department in the City of Laredo. He would nurture and encourage me to keep dreaming. He would listen to me for what seemed hours and hours and hours. Because of him, I loved reading. I loved learning. I carried old tattered books and would read for hours. I knew if I read a lot I would one day be—a teacher!!!
As a migrant worker, my father would move us from city to city looking for work. There was no permanence or real foundation in our lives. Sometimes, he would just say "Get your things," ("Agaren sus cosas.,") we're moving!!" There were no movers, no U-Haul truck or anything of that nature. Most of the time with little or no notice, he would load us up in the car with just the basic necessities. My mother would grab her blue makeup case, add all of our personal documents, plus a one-burner electric stove, a rolling pin, and tortilla griddle. We would move into our empty new home and start all over again.
Despite the transient nature of my life—our lives—I never lost sight of my dream of becoming a teacher. One day, I thought, I'm going to be a teacher!! It was holding the dream, never giving up, that made me resilient.
There are many people who have lived through difficult things. Why do you think they are stuck? What sets you apart from the rest of the people in similar situations?
As I've said, what made the major difference for me in my life was the fact that I kept focused on that dream. I knew what I wanted. I didn't worry about what was happening or what I had to do to get to where I wanted to be, because I was willing to do the work. I never thought, "It's too difficult, I can't do it." Instead, I thought, "How do I do it? How do I make it possible?" For instance, when I wanted to go to school, I focused on college instead of middle school or high school. I decided that I would go and become that teacher. I just wanted to move forward. I wanted to make sure that I did whatever it took. I stayed focused on the goal, not on my reality.
Today, I'm not a K-12th grade or University teacher. I teach through workshops and conferences. My life's purpose is to help others reconnect to what's important to them and how to do it so they can move forward through life with a sense of commitment to their dreams.
If there was one word to define you and your connection with the community, what would it be?
Two words: Intensely passionate. Intense because I am intense in the way I view life. I continue to go when others would have given up. I find ways to keep moving forward. I take a step back, forward, sideways or stand still when it's called for. Whatever I do, I continue moving towards the direction of my dreams. Passionate because I believe that we all have something to offer in this world and that we all came in with a gift. At no time in human history has there ever been someone like you, nor will there ever be anybody like you, with the particular gifts that you have. Each of us is so unique in this world.
Community is at the heart of everything I do. I am a commissioner for the Denver Women's Commission. I help represent the women and girls in Denver by giving them a voice to express what's on their mind. In addition, I provide opportunities that I did not have access to as I was growing up through training in leadership, self-confidence and self-awareness and being connected to and engaged in their community, owning their natural skills and their self-worth. That's one of the ways that I am helping them. On the 2016 Denver Public Schools Bond Oversight Committee, I give a voice to the parents that don't have that opportunity to be there for their children because they are working long days and cannot be there.
I am a Senior Advisor for GlobalMindED. One of the reasons that I support GlobalMindED is because they are an amazing organization that levels the playing field for everyone. They help first generation students, regardless of where they come from, to have the best opportunities possible. People that have had parents who went to college or have had opportunities have knowledge that other people don't have. I believe whole-heartedly that it takes a community to raise an individual and it takes a community to be able to give them the opportunities they need. Once we do this, the world will become a better place because people will be living their fullest potential. They will feel they are part of the community, want to make an even greater difference with their individual gifts, and create their own opportunities by becoming solution focused.
What advice would you give someone who wants to make a difference in the world?
Ask yourself, first and foremost what is it that you most desire in life? What is your why in life to begin with? I would be asking myself, "Am I really living my dream? If today was the last day of my life, have I really lived it to the degree that I want to live it? If it wasn't the last day of my life, would I relive this day forever?" Same circumstances, same situations, whether good, bad, ugly or indifferent, would I want to live this forever?
To help me find those answers, I would ask myself, "What is it that I'm not aware of that if I were aware of would change my life? What meaning have I given to things that if I were to change that meaning, it would allow me to create something new? Is the meaning I have given things serving me? If not, what changes would allow it to serve me?" In the end, nothing has meaning except the meaning we give it. We live in a complex world where there are a lot of amazing things happening. Finally, I would ask myself, "Am I aware of what I'm doing"? Is what I'm doing uplifting others or me, or is it bringing us down?"
The final thing that I would add to this interview is that you can be, do, or have anything that you want in this world. It is entirely up to you. Decide what you want to do and then put forth the effort to bring it to life. Nobody can tell you what to do or what not to do. Only you can tell yourself. If somebody tells you it can't be done, it's because they've never seen it themselves or they may not be willing to put forth the effort that it will take to bring it to fruition. Yes, there will be late nights. Yes, there will be long days. You will be tested to your limits. It will bring you to your knees at times and yet, in the end, you will likely discover it was worth it. As with me, your dream will have become your reality.
Rocío's story is an inspiration to many inclusive leaders in our global society. We are honored to work with innovators who give voice to those who aspire to build successful futures for themselves and their families. Over 1100 inclusive leaders will be gathering at the annual GlobalMindED conference in Denver this June 9-11, 2018 and we hope you can join this collaborative movement to create a more equitable and diverse talent pipeline for First Generation to College Students & underserved populations. Click here to register for #GMED2108 today!
Calling all HuffPost superfans!
Sign up for membership to become a founding member and help shape HuffPost's next chapter
This post was published on the now-closed HuffPost Contributor platform. Contributors control their own work and posted freely to our site. If you need to flag this entry as abusive,
send us an email
.