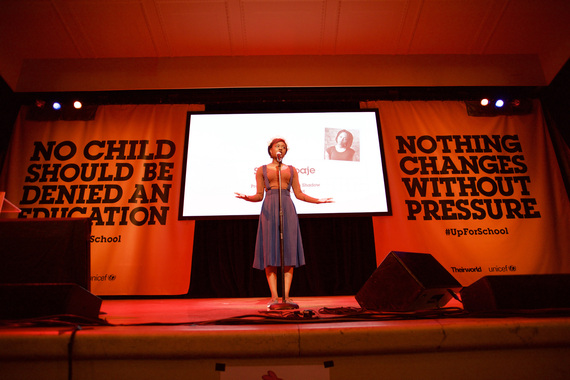 Photo: A World at School / #UpForSchool Town Hall Event
By Hannah Lownsbrough, trustee of Uplift.org.ie and Envision.
There aren't many people left arguing that the internet isn't changing the way we do politics: globally, nationally and even at the most granular, local levels. Instead, the conversation has become stuck on a handful of seemingly eternal loops.
The first and most obvious, is the critique surrounding "clictivism": the idea that our politics is dying because people have ditched real-life activism in favor of signing online petitions. Another, related, argues that online engagement forces into an increasingly short-term view of the world, as we lurch from one knee-jerk reaction to a news story to another - and as a result, we fail to tackle difficult problems. A third suggests that desire to please the largest number of people pushes us away from needs of the most marginalized in society towards semi-enlightened self-interest masquerading as progressive politics.
There is truth in all these arguments, and many similar ones. But those of us who would defend the role of mass engagement in politics and activism through new technologies have a growing number of counter-examples. More important, however, are the people taking those critiques and using them to inform the next generation of groups who will use these technologies to create change.
For A World At School, the challenge was to find a way to build a global conversation about the importance of education at a time when the number of children out of school around the world is on the increase and basic aid to education on the decline. In recent years education hasn't had the profile of other issues such as health or climate. The group drew on the lessons from digital organizing, and shaped them to fit their view of how change should be made: pushing young people to the front and centre of the debate about education, and encouraging children and young people to mobilize in their own schools, colleges and communities to build international support for their agenda through the #UpForSchool petition both online and by hosting their own rallies.
Without the high energy media interest around the issue that drives many other similar campaigns, the group had their work cut out for them. But they found a way to consistently drive the campaign forward relying the groups that understood the issue best: school teachers, pupils and youth. The momentum they built drew in collaborators from Avaaz to Angry Birds to Archbishop Desmond Tutu. But most important, it also drew in the perspective of courageous and inspiring young people, teachers and pupils around the world, and brought them into the key decision making moments where they belong: first at the Education Summit in Oslo and then most recently at the UN General Assembly in New York.
A World At School aren't alone in trying to find new ways to use the skills of digital organizing. Groups like ColorOfChange in the U.S. and Fair Agenda in Australia are trying to use these tools to amplify voices frequently under-represented within politics and activism. Amandla.mobi strives to capitalize on the opportunities arising from mobile tech to move politics in South Africa. Escuela De Activistas will take these skills to the next generation of activists working in Latin America.
On the face of it, there is little that connects these groups. They use different approaches, in different parts of the world, in the fight for different sorts of change. But they are alike in refusing to accept the limitations of the way we do politics now -- whether online, real-world or all the places in between.
It is all too easy when talking about digital campaigning to talk only about tech innovation. But for activists, the smartest innovations won't necessarily be those that apply the newest, shiniest tech. It will be those that force the least-heard voices into the centre of the debate, or push an issue to the top of the agenda from the sidelines. It will be the tactics that work time and again to draw decision makers' attention, and our strategies for making sure those tactics are widely available, not accessible only to a privileged few. For anyone interested in doing more than discussing politics from a distance, it is how best to fight for these victories that should lie at the centre of our debate.
Hannah Lownsbrough is a campaigner who works with different organisations (including some of those she mentions in her article) to support their work. She lives in London, where she's a school governor and is a trustee of Uplift.org.ie and Envision, an organisation that engages young people in social action. Find her on Twitter @hjlownsbrough
Calling all HuffPost superfans!
Sign up for membership to become a founding member and help shape HuffPost's next chapter