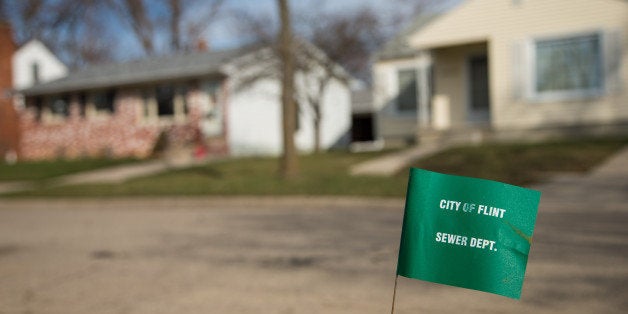 I arrived almost three months before my fourteenth birthday. It was cold and apparently one of the worst snowstorms the area had seen in years. Clutching the zipper ends of my denim jacket, I realized very quickly that it wasn't enough. It wasn't enough to save me from experiencing the coldest weather of my life; nor was it fitting attire for the all-white party the snow had invited me to. My uncle was late to pick us up from the airport in Detroit, but in three hours it wouldn't matter. By then I would be warm and safe at his house in Flint, Michigan.
Coming of age as a Nigerian immigrant in a Midwestern American city still reeling from the aftershocks of auto industry divestment, economic depression and other issues, exposed me to a wealth of experiences that were pivotal in shaping my formative years. Flint's current water crisis feels so very real and personal. When I talk to my friends who still live there, they tell me about the toll it has taken on their lives. I hear the uncertainty in their voices as they describe their fears about water, and having no clear answers in dealing with a man-made disaster that is unlike any other in recent memory. In a phone call to one of my friend's Jessica, she summed up the situation in these words:
"I grew up in Flint. I have lived through the city being the murder capital and hearing of some dead body being found in the park. Yet I have never not felt safe, and my kids feel the same. They are always asking me if they can go play in the park. None of the issues Flint has faced in the past has ever had me contemplate moving out. I never thought it would be water. My kids keep asking me when they can use the water. When it hits your family, especially your kids, it just feels so overwhelming. You know that James and his family are moving too right? So many people are tired."
Jessica's words illustrate the water disaster in a way that shows just how devastating and unfortunate this man-made crisis has been for Flint. Governor Snyder's (someone tell me why this man is still in office) well-documented failures and his appointed Emergency Manager's negligence are unbelievable. After my phone call with Jessica, I felt even more dejected. Eventually my mind went back to those years ago when I first got to the city that would eventually raise me through my adolescent years. After arriving from Nigeria, I enrolled at Beecher High School as a sophomore and one of the first classes I attended was Mrs. See's first period English class. My encounter with Shanita, the hottest girl in class is one that still cracks me up whenever I think about it.
"Why you ain't call me?" she demanded, as I stood there speechless. She then went on to berate me in front of the whole class for not calling her the previous night. This was certainly new to me. I was used to the girls in Nigeria playing harder to get than Beyoncé concert tickets, especially if they liked you.
However, my orientation to the United States was not limited to a humorous introduction to American girls; I also started building deeper relationships with my peers. Many of my classmates were genuinely curious and clueless as to what Nigeria (or Africa) looked like. Did we have developed cities? Did we wear clothes? How did I learn to speak English so well? The barrage of questions ranged from introspective to utterly ridiculous. I soon realized that I could either enlighten my new peers about my culture, or complain about how unaware they were about the 2nd largest continent in the world. I chose the former.
To be clear, the cultural and educational exchange wasn't a one-way street. When you spend more time with people, you begin to see who they really are. I met incredibly resilient people who had long ago given up expecting support or sustenance from their elected officials and institutions (public or private). After all, General Motors was once a bedrock of the city's working class, but abandoned Flint and crippled the local economy in the process, as outlined in Michael Moore's breakthrough documentary Roger & Me.
The Flint that raised me taught me many things. It showed me what inequality looked like in America. I remember visiting a nearby high school in the well-to-do Grand Blanc suburbs and looking in amazement at their shiny new computers and state-of-the-art facilities. I couldn't understand how Michigan's school district system allowed one school to flourish with resources, while another school less than 15 minutes away could barely afford new textbooks. The reality that I found in Flint was a stark contrast to the American Dream that I envisioned growing up in Nigeria, and that I read about in my American history books, which promised a place of equality and opportunity.
The Flint that raised me was the place that ignited my creative fire and gave me the catalyst that now fuels the energy and confidence I bring to the stage as a musician. I'll never forget open mics at the Lunch Studio, a cafe that served as the breeding ground for many of the city's creatives. It was in that art scene that I actually met Jessica and a crew of artistic mentors, the closest of them being Ed "Future" Wilson. Future was a poet who allowed me to accompany him on my first music tour across the country as a 17-year old fledgling artist.
The Flint that raised me is a city of legacy, the birthplace of the United Auto Workers and the first headquarters of General Motors (GM). The Flint that raised me was/is a dichotomy, like so many of us, going through life with a mesh of our best and worst qualities. The Flint that raised me wasn't perfect; but it was a city that epitomized the beautiful and ugly side of humanity's struggle.
The Flint that raised me still needs help. As the dust settles on almost two years of Governor Snyder's deliberate indifference, willful neglect and ignoring the pleas of families, the water pipes in Flint still aren't fixed. The outpouring of support from water drives to large-scale fundraising efforts have been incredible, but the water pipes in Flint still aren't fixed. Despite the national attention, the water pipes in Flint still aren't fixed. Band-Aid's can't heal gaping wounds and as I watched the Democratic National Debate in Flint, I couldn't help but wonder: what will happen when the cameras leave? What happens when the spotlight is gone? Has the media already found another story to focus on? It is disgraceful that Jessica's five-year-old child can't turn on the kitchen faucet tonight in the United States of America; for fear that her water has lead in it. Unfortunately, there are many more Jessica's in Flint who have families going through the same thing.
The Flint that raised me is a place like no other and one that provided me with experiences that I will forever cherish. The city has faced setback after setback, but it has always found a way to bounce back. With consistent support and real accountability for our lawmakers, the city will triumph and thrive like it once did. With our help and sustained action, the Flint that raised me will rise again.
Calling all HuffPost superfans!
Sign up for membership to become a founding member and help shape HuffPost's next chapter