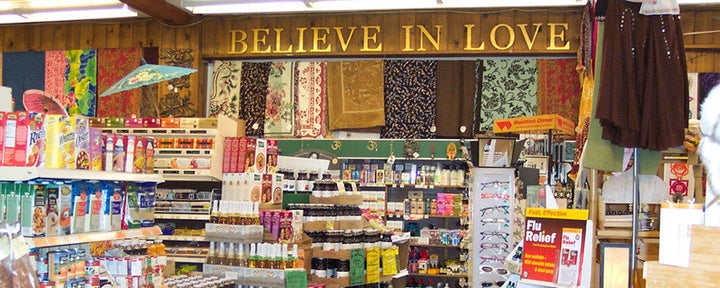 Keep the green in your wallet flowing through the local economy by shopping for your greens, and other assorted natural items, at these Los Angeles independent health food stores.
Erewhon: From bulk bins to natural wines, this massive mid-city natural food market is all about healthy, albeit slightly pricey, options. Erewhon offers more than 200 varieties of grains, nuts, beans and snack mixes in addition to an international selection of cheeses, oils and pastas. They also have bars of the sushi, elixir, and salad varieties, and Erewhon's in-house macrobiotic expert is there to assist with all raw food related questions. 7660 Beverly Boulevard, at North Spaulding Avenue, (323-937-0777 www.erewhonmarket.com) One Life: It's all about the juice bar at this friendly little Santa Monica health food market. Try One Life's apple/ginger/kale concoction. It's got major zing and enough vitamins to get the body through any illness or, uh, hangover. Don't forget to go upstairs for herbs and supplements. 3001 Main Street, at Pier Avenue, Santa Monica, (310-392-4501) Rainbow Acres: The locally owned Rainbow Acres offers organic fare, natural beauty products and a bevy of supplements to wash down with a selection from the store's juice bar. Try the Thai Coconut smoothie and a vegan oatmeal carob banana cookie, while chatting with the in-store nutritionist about what vitamins and minerals will do your body best. The store has two locations in Culver City and Marina del Rey. 13208 West Washington Boulevard, at Tivoli Avenue, (310-306-8330 or rainbowacresca.com) Co-opportunity: As the name makes clear, this natural grocery store is a co-op, but you don't have to be a member to shop there. If you do decide to join, the benefit of the $25 a year registration fee is owning a share of the store's stock of gorgeous produce, hot deli items and gluten-free snacks. Co-opportunity is involved in a number of community outreach programs and also hosts free health-based lectures at the nearby Santa Monica Synagogue. 1525 Broadway Street, at 16th Street, Santa Monica, (310-451-8902 or coopportunity.com) Follow Your Heart: Although this Canoga Park natural food store does not sell meat, poultry or fish, the charming Follow Your Heart keeps a healthy supply of organic produce, supplements, kombucha and other earthy odds and ends. Follow the beverage aisle to the back corner of the store and you'll find Follow Your Heart's café, which has been serving its juicy Wheatmeat reuben since 1970. 21825 Sherman Way, at Vassar Avenue, Canoga Park, (818- 348-3240 or www.followyourheart.com)
*This entry has been edited to correct facts about membership to Co-opportunity.
Popular in the Community