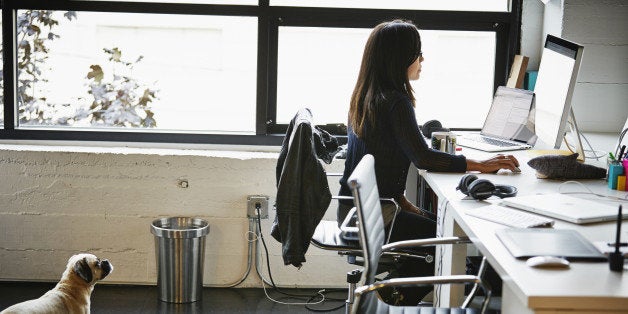 I hear people say all the time: You can't have it all. A fulfilling career? A family? Time for yourself? Not possible. Recent Pew Research studies show that while 66 percent of women rate career as a high priority, 56 percent of working mothers say it's either very or somewhat difficult for them to balance work and family. But maybe it's time to stop asking ourselves if we've achieved work/life balance and start asking: are we living the life we want? Because the solution to work/life balance is a subjective one. The biggest misstep anyone can make is accepting someone else's version of what "having it all" really means -- it's up to each of us to live the life we want. You don't need to know what you will be doing year after year and you need to be flexible when setting out on your own path. Trust me: you can live the life you want, if you're willing to go to bat for it.
I've written before about my home life: I grew up in the middle of the pack in a family of seven kids. And my mom was by far the most inspirational person in my life. She didn't set an example based on anyone else's expectations -- in fact, she was exceedingly pragmatic... is everyone alive? Is everyone accounted for? Doing what they need to do in school? Happy and healthy? After that, it was up to us to distinguish ourselves and decide.
For me, that meant distinguishing myself at work. I always believed if you gave it your all, good things would happen. And that's exactly what I found in a career that's included more than 14 moves, stints on multiple continents, and a place at the table at one of this century's most remarkable growth stories -- Nike.
I completely embraced "Just Do It," and just kept doing it; tackling every challenge and every opportunity with equal determination and grit. And then I found myself in my late 30's, living in Europe and realized that when I looked back on my life, it was going to be all about work. I wanted something different.
Admittedly, I didn't know what that meant for me. For me, it ended up meaning a moving back to the U.S., getting married, and having three sons in three years. When my third son was born, I was back working full-time, traveling around the world and on email 24/7. One day my husband asked, "Why did we have kids if you're too busy to see them?" The question stopped me in my tracks. He was right: we had enough. Enough to make ends meet, enough experience, enough professional accomplishment. Being at work just wasn't filling my needs the way it used to, especially compared to having three little ones at home. So shortly after that day, I stopped. I realized I wanted something different. I took off five years, I stayed home with our boys, and we focused on our family.
Now any stay at home mom will tell you: it's not an easy choice. As the saying goes, the days are long and the years fly by. And with each year, my boys spent more time in school; I found my natural tendency to take charge emerging. Five years into my break, my husband and I had remodeled three houses, I was president of the school foundation, getting more involved in the community, and generally just as busy as I'd been at work.
When our youngest started kindergarten, I had a much clearer perspective. I was ready to go back to work, but I had some real criteria in mind this time -- all, I had a much deeper perspective on the trade offs I was making to be at work. It had to be a company. This time around, I didn't want to consult; I wanted to build. It had to be an iconic brand and I had to feel like I personally had a set of skills that could make a difference. I wanted to learn and contribute. I wanted to join a company that had strong ethics and believed in the positive impact they could make on communities and in business. For the third time in my life, I wanted something radically different. So what did I do? I went after it.
That's how I ended up at Levi Strauss & Co. It was the right move for me. It's a company that is known and loved all over the world, and I have the opportunity to shape its future. Not to mention the fact that the company operates using a profits through principles philosophy and is leading the way in an issue I care deeply about: women's advancement and empowerment.
Five years running, I wouldn't say I "have it all" by society's (rather impossible) standards. I wouldn't say I've achieved the pinnacle of work/life balance, as it's universally understood. But that's only because I don't believe there is a one-size-fits-all definition to either of those. Despite what the media might tell women, you don't have to choose one way of life over the other forever. You can, in fact, change your mind. You can choose and re-choose the direction of your own adventure. The only caveat: you have to be willing to really go for it. Was I scared when I left the workforce for my family? You bet. Was I anxiety-ridden to re-renter the workforce after five years out of it? Of course. But in both instances, that's what I truly wanted and I knew I had to at least go for it. I am also lucky to have an amazing partner and supporter by my side in my husband.
I've discovered that my definition of 'having it all' is really: Enough. Enough time to attend most of my boys' school events, enough challenge at work that it matters and enough time that I can make choices about what balance means -- to me -- each and every day.
Now, it's your turn: what does "having it all" mean to you? Are you living the life you want? What is your Enough? I'd love to hear your thoughts.