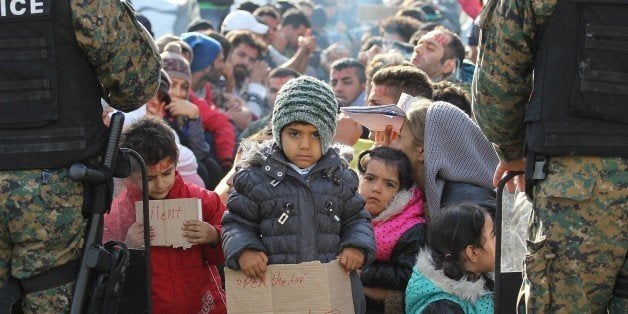 I have a confession to make. The article you are about to read is not what I originally drafted 2 months ago. That draft was written before my recent trip to Lesvos, Greece where I witnessed the current refugee crisis in living color. What I saw, heard and learned during that trip is almost impossible to articulate in a 1000 word piece. One must see it in person to truly get it.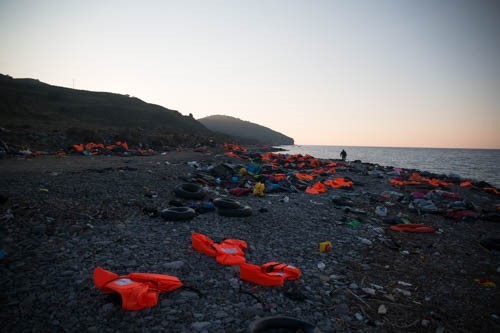 My draft attempted to draw attention to the refugee crisis taking place in Europe by criticizing the U.S. mainstream media for insufficient coverage. I'd grown incensed by the sporadic interest in this story, where even the heartbreaking images of the body of a three-year-old boy named Aylan Kurdi laying dead on the beach warranted just a few days of news. That the most serious refugee crisis since WW2 couldn't even begin to compete with the endless presidential campaign coverage, made me just shake my head. But, I discovered I was missing the point. As I departed Lesvos the other day, I re-read my draft and realized I had been looking at the issue from an intellectual level, making a rational case about the connection between a largely uninformed public and the lack of a proper response to the crisis. As accurate as that may have been, it would have achieved little to remedy the situation.
Most of us live in a bubble, far removed from the tragedies and suffering taking place around the world, unless we are affected personally. The question is - how do we burst from our little bubbles and start to care for our fellow humans around the world?
For me that process began two months ago when I received a text from my friend, Amed Khan. Amed spends much of his time traveling from one humanitarian crisis to the next trying to do what he can to help, but even he seemed shaken. The text read:
"Do you have any idea what's going on here on the ground in Lesvos?"
He went on to tell me how dire the situation was. Thousands of Syrians fleeing war, arriving in rubber dinghys from the Turkish coast every day, some drowning en route, and landing to find just a spattering of well-meaning but overwhelmed volunteers to receive them. There wasn't close to enough shelter, food, medicine or transportation. The best-case scenario after arriving on shore was to walk 40 miles to the other end of the island for processing, and then to find their way to other parts of Europe.
This project includes building a Reception Center on the northern shores of the island, providing critical services such as water and sanitation facilities that are imperative to prevent disease, and will give refugees a warm and safe place to spend the night before making their 40 mile journey to registration points. The IRC site will be located directly adjacent to the beaches where most refugees arrive so that aid can be immediately provided.
I listened to the details and realized that despite his efforts, there were few people willing to partner with him and lead the way. Truthfully, even I hesitated. I was already stretched thin with my other philanthropic commitments, but the urgency in his voice convinced me to get involved, under the condition that I travel to Lesvos with him to see the situation for myself.
Just two hours after arriving in Lesvos, we saw two men standing on the beach. They were shinning flashlights into the darkness over the ocean. We stopped and jumped out to greet them, naively thinking they were volunteers helping the refugees as they landed in overcrowded dinghies. Our facilitator shouted at me to stop. He grabbed me and explained that these were smugglers who weren't looking to help, but to quickly dismantle the boat and sell it back to the Turkish smugglers for reuse.
In the darkness, we could hear voices and children crying as the boat approached, and we waded into the water to help pull the dinghy to shore. As a woman handed me her small son, the full weight of the situation finally hit me. This wasn't about the media, or an intellectual argument, but about people who were afraid, cold, some crying, and whose future was uncertain. After reuniting the boy with his mother, I just stood there, frozen and speechless. It was all I could do to keep it together. All I could think of was my own children and how I would feel if I were unable to protect them.
We spent the next day talking to refugees as they landed. They loved their country and clung to life there for years, enduring war and chaos before finally having no choice but to leave. They were teachers, bus drivers, and doctors. Their kids played and had gone to school, just like ours. Below is a photo of a mother talking to me about their journey to Lesvos, and what they were given as a substitute for a child's life jacket.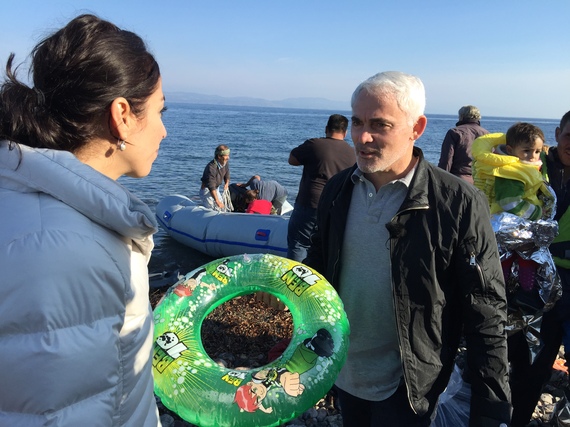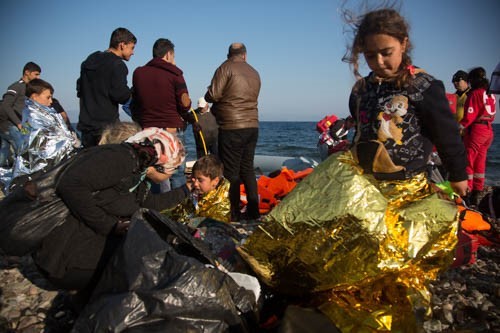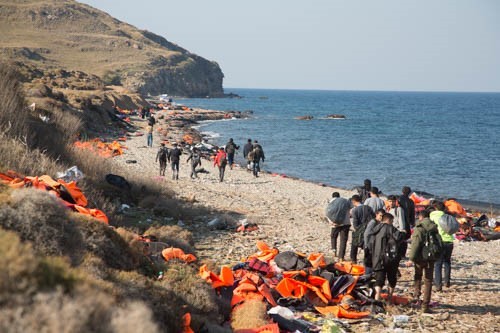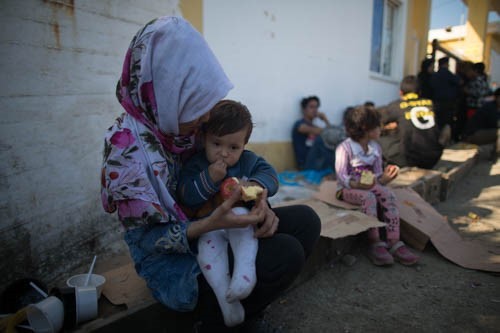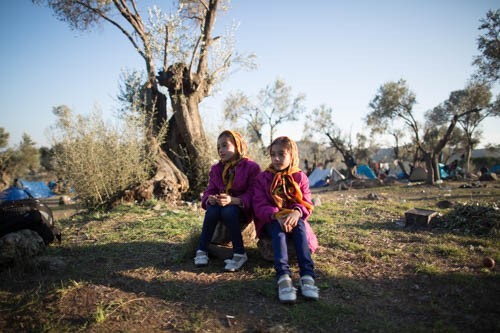 So here is my message to those who are far from this crisis. It may feel safe to live inside our bubbles, where everything is familiar. Stepping outside our little world might mean we would have to accept that we live in an extremely unjust world, but refusing to look is just another way of pretending injustice doesn't exist. I suppose that accepting the truth may reveal that perhaps we are a little selfish and maybe that's not something we truly wish to know about ourselves. Lack of empathy for fellow human beings, is not only because they are far away, but it is because of how we inform ourselves. It's almost convenient that our news channels feed us crap instead of real news. But, to me, it's inexcusable to ignore the suffering that is taking place in other parts of the world. It doesn't have to be out of sight, out of mind. Next time you are watching an image of one of these people on TV, close your eyes and pretend that is you and your children. I promise you, that feeling will help you burst out of your bubble.
Related
Popular in the Community