We are at a turning point. From Sheryl Sandberg's Lean In phenomenon to books like Arianna Huffington's Thrive, now more than ever women are questioning what it means to succeed.
For me, this question declared itself the loudest when my career was on the threshold of its greatest success: I was in Paris collaborating with Absolut, Philippe Starck and Le Bon Marche with my own jewelry brand Melissa Curry. However, my personal life was about to unravel. The arrival of my baby boy Kito was a wonderful but profoundly life changing event. Becoming a mother threw everything out of kilter -- all my reliable strategies for achieving success were suddenly inadequate. Equally, those closest to me I thought I could rely on disappeared. Overnight, I found myself very alone with the overwhelming responsibility of a child to care for with critical health issues, whilst trying to keep my business afloat. As my only source of income, the brand was wholly reliant on me as designer.
At the time it felt as if my whole world had imploded, but through the creation of this collection Beyourownsuccess I see that it was the making of me. Sometimes you have to see it to believe it, but when you are not looking you can miss it altogether.
Gradually the answer to my question 'what does success mean?' began to emerge. Initially I heard it through others -- those who had found the balance of success and harmony in their own lives. I feel humbled by how many incredible beams of light lit up my world with words of empathy and encouragement. I had lost my confidence, but with each positive conversation a new concept of success began to form. As my self-belief was restored, my imagination and creativity as a designer was sparked again. So I set myself the challenge of designing a collection of fine jewelry imbued with positive messaging, to encourage and connect the wearer to believe in themselves, just as I had. In the process of designing, I tried to distill these serendipitous encounters into elements that represented different aspects of success such as dignity, femininity and braveness.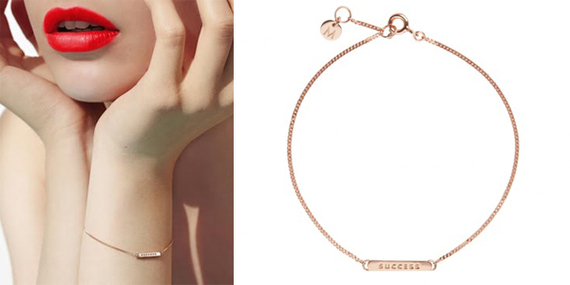 This design story began with a little bar of hope - modeled on the gold bullion to represent the dignity that economic empowerment represents. The idea of this bracelet is twofold: to wear and to share. This subtle but lasting amulet in precious silver or gold is given to mark personal achievement and reminds the wearer daily of their inner strength. I was inspired by so many phenomenal women on this journey, but my first true understanding of dignity came from a life-changing encounter with the wonderful news editor and mother of two Anne de Vernisy.
She too had experienced being a single mother, she too had rebuilt her own life through finding her inner core of self-belief, and she shared it with me. She had reached a point in her life in which all her hard work had compounded self-belief into self-respect, she was dignity personified. I dedicate this bracelet to all girls and women on their life's journey.
It took me over 18 months shape this piece. I went from sculptors to modelists to get that form absolutely perfect. It was a process of engineering. The bar was finally built in Paris by a wonderful modéliste goldsmith who worked with some of the finest brands (Cartier and Bulgari) in Place Vendome. The circle felt complete, as Paris the capital of luxury and elegance is where it all started for me.
My idea of a successful woman is not a visual one - how she looks to the world - but what she carries inside. This is the true meaning of success, it is not brash and loud, it is quiet and unassuming, and most of all it allows you to be generous and pass it on.
This is why, with this collection, I moved from bold statement jewelry to subtle chic pieces that connect the giver and the wearer to what they carry inside. This collection is for you - it is my way of giving back: Imagine. Believe. Achieve.
Join us at #beyourownsuccess #byos: