I'm not a chocaholic, but feasting my eyes on hand-made Swiss chocolate while on a business trip to Zurich was sheer nirvana.
We're talking serious chocolate, the kind made fresh daily by hand in front of admiring aficionados.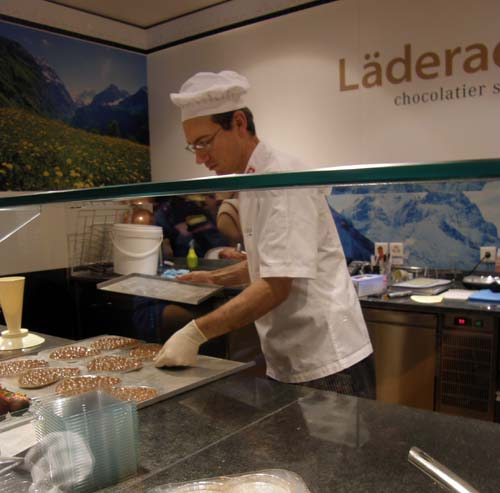 Fresh hand-made chocolates (Abu-Fadil)
Strolling down the Bahnhofstrasse, across from the central rail station, I was struck by a corner in a shop with stacks of neatly arranged chocolate slabs of various colors and flavors that were broken and weighed according to customers' requirements.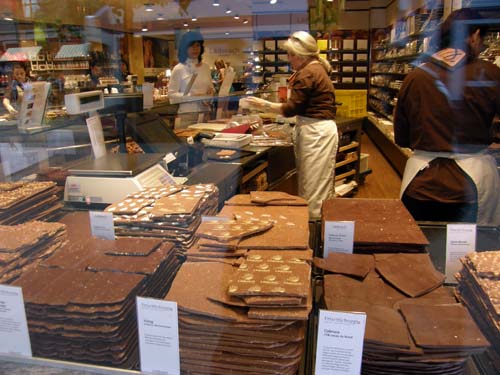 Chocolate slabs anyone? (Abu-Fadil)
I succumbed to a small mixed bag of lemon-flavored white, vanilla white, and cappuccino chocolate that set me back 13.80 Swiss Francs ($16.49).
But I stopped short of buying a box of 24 assorted masterpieces, figuring there was time for more purchases later.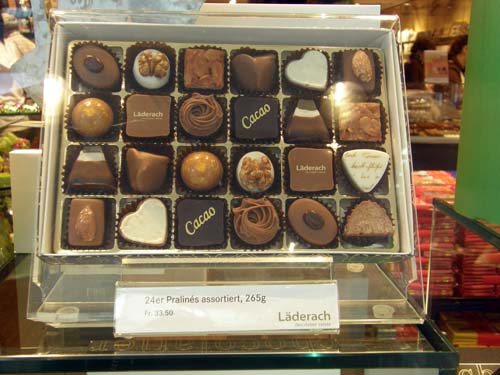 Mouth watering (Abu-Fadil)
A five-day trip dedicated mostly to learning about newsrooms is hardly enough to take in a city's landmarks.
And yet, one can always squeeze in some sightseeing, visit a museum, discover restaurants, ride public transportation, and, shop.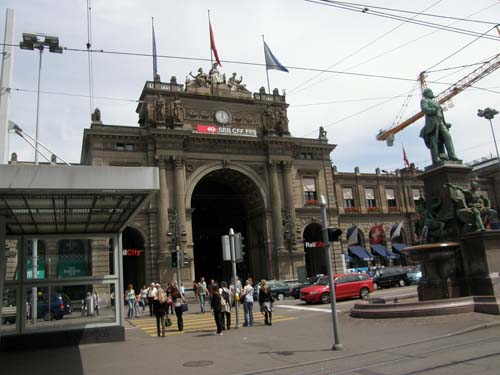 Zurich central rail station (Abu-Fadil)
Having arrived on a sunny day prior to my scheduled conference, I decided to gallivant around Zurich, first by tram, then on foot.
Sunny means people dress lightly, go to the parks during lunch hour, and bask in the rays as long as they can.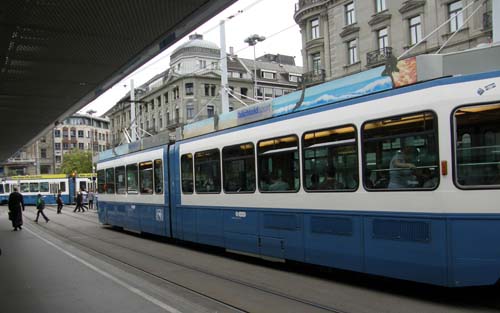 Zurich trams are handy transport (Abu-Fadil)
An 8.5 Swiss Franc ($10.18) ticket to hop trams and buses all over the city for 24 hours seemed reasonable, given how expensive Switzerland is, so I took my first ride to the central rail station where shops, sights and eateries abound.
Walking past a traiteur (caterer) I couldn't miss the beautifully displayed epicurean delights.
It built up an appetite, notably since the last meal was overnight on one of two flights to my destination.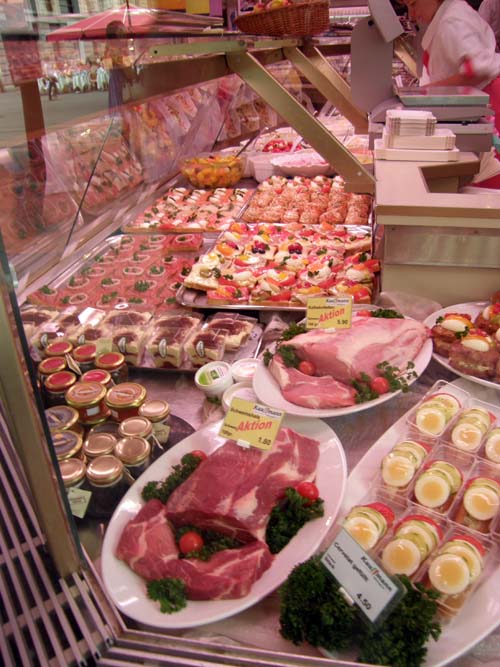 Carnivores' delight (Abu-Fadil)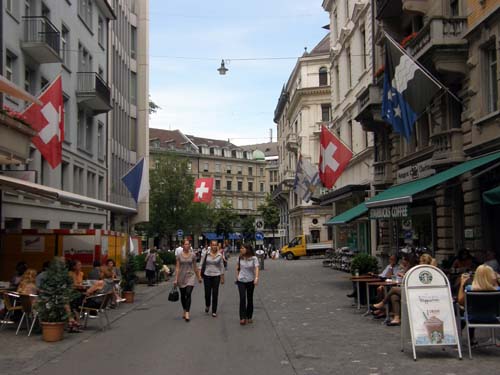 Walking down Zurich alley (Abu-Fadil)
So settling at an outdoor café/restaurant to order the requisite Zurich veal with rosti potatoes, a small green salad, glass of white wine, ice cream dessert and espresso (with a piece of chocolate on the side), was well earned after some serious walking.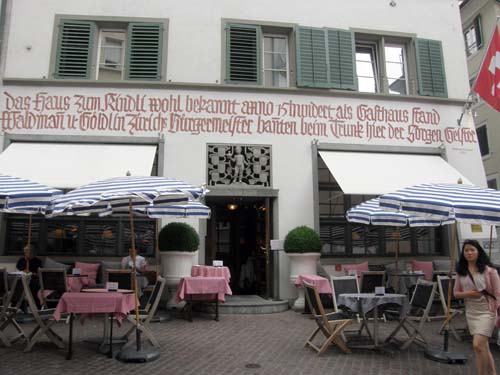 Charming setting, pricey meal (Abu-Fadil)
The 90-Franc ($107.81) check, including tip, was worth it. Better one good meal than several mediocre ones.
(Fortunately lunch was included in the conference fee, and breakfast came with the hotel room.
On one of the conference nights, participants were taken to a lovely restaurant miles above the city for meat fondue, raclette and other delicacies).
Heading back to the station, I came across several up-market shops, with one displaying a 420-Franc ($502.7) bottle of Cognac.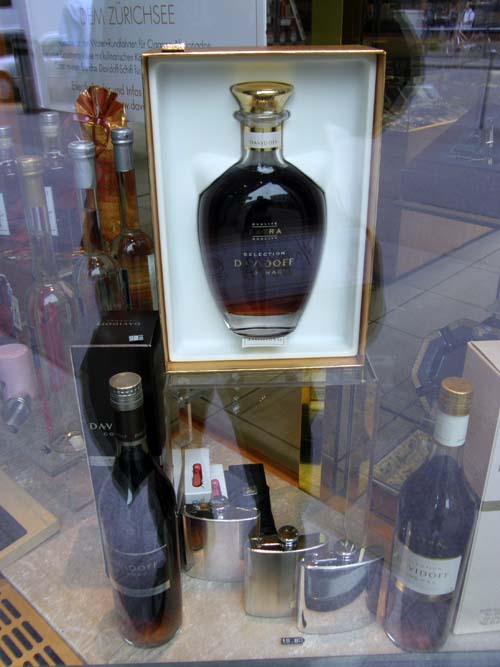 420 SFr Cognac (Abu-Fadil)
A snifter after the coffee would have been nice, but not at those prices.
It wasn't all food-related for this gourmet.
Given my limited time, the hotel location seemingly on the edge of town, and the times places opened, I had few choices.
So a tram ride to a few blocks from one side of Lake Zurich landed me at the Bellerive Museum for an exhibition entitled "A New Hook: Rethinking Needlework" at 9 Francs ($10.75) for admission.
It included handicrafts, knitting, and crocheting in very original styles.
One exhibit item was a bull's head covered in filigree crochet reminiscent of what Grandma did and displayed on her table. It takes all kinds...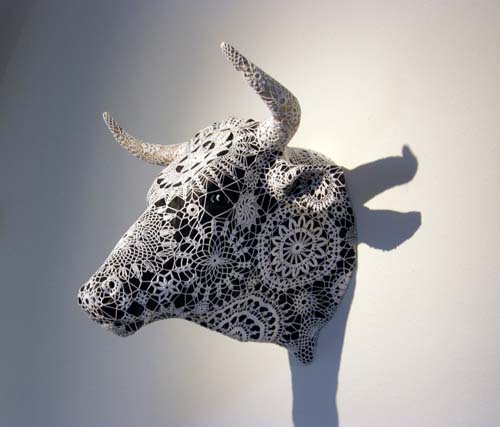 Bellerive Museum exhibit (Abu-Fadil)
I walked down to the waterfront to enjoy the view and just listen to the gentle waves lapping against the shore.
The weather was crisp enough for a walk by the lake to the tram back to my hotel.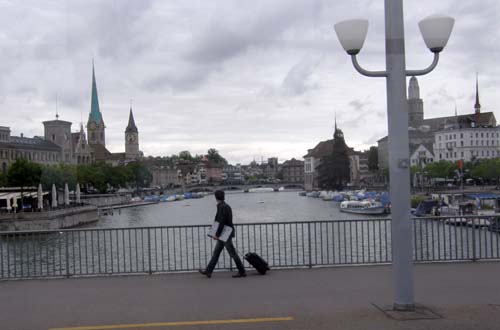 Ride across Zurich (Abu-Fadil)
En route I came across a bizarre piece of sculpture shaped like a spider that turned a lot of heads near one of the city squares.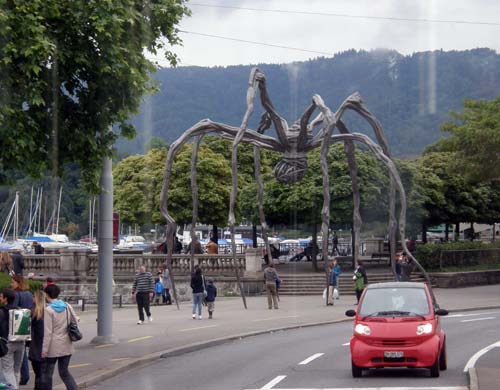 Itsy bitsy spider (Abu-Fadil)
Shopping for the family meant some clothing items, an Alpine backpack for me with matching jacket, a new Swiss army knife with more gadgets -- they're incredibly handy -- some odds and ends, and Raclette cheese.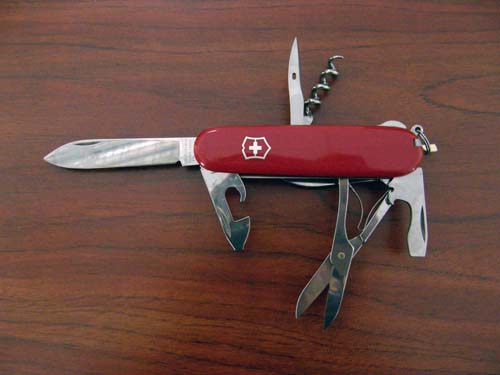 Swiss army knife (Abu-Fadil)
And, some more chocolates from a lovely shop inside the old rail station.
But I'm not a chocaholic.
This time it was the more exquisite types: champagne-flavored, liqueur-flavored, assorted and cream chocolate truffles.
Don't ask how much I paid.
As Liza Minelli, playing Sally Bowles in the movie Cabaret, once said: "Divine decadence."
An occasional indulgence does wonders for the spirit. I recommend it highly.