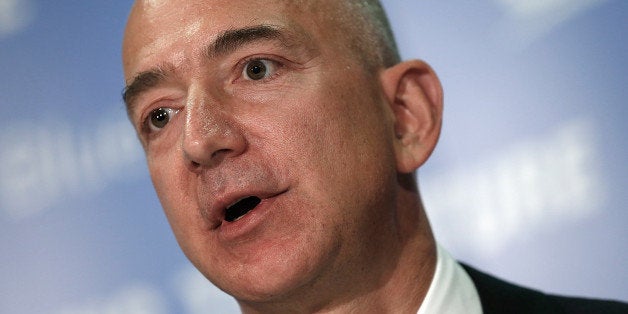 Jeff Bezos had a bad week.
Calls to rein in the ambitious Amazon chief executive grew loud on Thursday after the e-commerce giant reported its biggest quarterly loss in 14 years, driven by the anemic sales of its Fire Phone, the company's first smartphone. The losses were seen as proof of Bezos' reckless obsession with prioritizing growth over profitability. The 50-year-old tech mogul was lambasted as a megalomaniacal "Grinch" who stole Christmas from a company so bad at making money that it's "not a real business."
Yet, according to the November issue of the Harvard Business Review, Bezos is the best-performing CEO in the world. Despite the latest bad news, the venerable magazine stands by that assessment.
"People have bet against him over the years, and historically they've been wrong," Daniel McGinn, the senior editor who profiled Bezos, told The Huffington Post on Saturday. "He definitely has a set of shareholders who have faith in him because of his ability to deliver despite a lot of doubt over the last 20 years."
The Harvard Business Review compiled its list of top CEOs by comparing shareholder returns for S&P Global 1200 companies from each executive's first day in office until April 30 of this year. Bezos won by a wide margin. Even if Amazon's stock price -- which plummeted nearly 9 percent to $287.06 on Friday -- fell to $250, he still would have beaten runner-up John Martin, the CEO of biotech giant Gilead Sciences.
"He had quite a bit of leeway," McGinn said. "He had such a big lead over everyone else."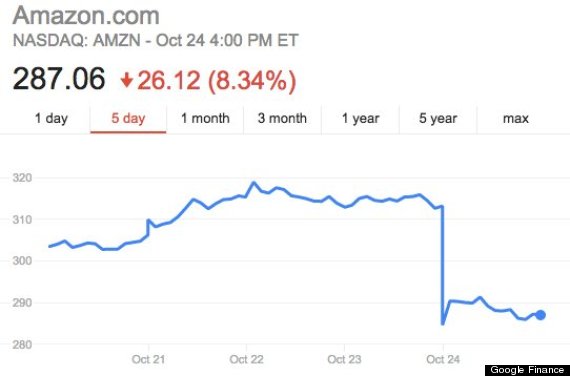 Amazon's stock tumbled after a disappointing earnings report on Thursday.
Profitable quarters are rare for Amazon, but the company generates strong revenues. Bezos' strategy, which both befuddles and inspires investors, is to reinvest money to continually grow Amazon. A small online bookseller thereby became a video streaming service, a cloud-computing behemoth, a grocer and, most recently, a smartphone maker.
But the Fire Phone, unveiled in June, has flopped. A study published in August by the ad network Chitika, which measured web traffic from Fire Phones, found a paltry number of the devices were in use. In a conference call with analysts on Thursday, Amazon's chief financial officer, Thomas Szkutak, admitted that the dearth of people buying the phone had cost the company $170 million in losses "primarily related to the Fire Phone inventory evaluation and supply commitment costs."
"It's not unusual for them to lose more money," McGinn said. "It is unusual for them to miss a growth target."
That doesn't seem to worry Bezos, however.
"Even though we have significant revenues, we invest in so many new initiatives that in some ways we're still a startup," he told McGinn sometime before last week's earnings report. "Volatility is part of being a startup."
Bezos may be alone in thinking of the company as a nascent venture. Since going public in 1997, Amazon has grown so large and powerful that some have called it a monopoly ripe for a regulatory crackdown.
Still, even as Amazon stock takes a hit, the company is a lucrative investment by the Harvard Business Review's methodology.
"If you could go in a time machine and go back to 1997 and you had the chance to buy stock on that day, would you do it?" McGinn asked rhetorically. "In financial terms, you'd still be many thousand percentage points ahead today."
Amazon did not return a call requesting comment.
Popular in the Community