CHICAGO -- Susan B. Anthony recognized the power cycling had for women more than a century ago when she famously said bicycling "has done more to emancipate women than anything else in the world."
"We hope [BFF Bikes] is a place that women come to from all around and visit," Buccella told The Huffington Post by phone. "We want to see more women on bikes and more women riding together."
Rather than approaching the shop from a mechanic's perspective -- Buccella said neither she nor Byrne have worked as bike mechanics -- the co-owners are taking a more consumer-oriented approach.
"We felt most bike shops are started by mechanics or people with bike shop experience," Buccella said. "But we think it gives us an advantage by coming from a consumer perspective. We know what [the consumer wants]. I can say 'what would I have liked then [as a novice biker]?' and then build the shop around that."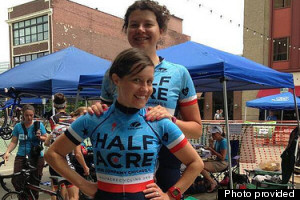 Co-owners Byrne (top) and Buccella (below) met and formed the idea for BFF Bikes racing in Chicago's criterium bike community.
While Buccella acknowledges plenty of bike shops have welcoming environments for both men and women, the lack of attention to detail for women's cycling needs (no dressing rooms to try on bike apparel) and the lack of availability of relevant products still leaves women behind.
"My husband asked, 'Why do you want to cut out half your market?' But when you're a guy, you don't go into a bike shop and notice all the missing products because everything you want is always there," Buccella said.
"Most shops sees cycling as skewing just 20 percent for women, so they don't want to buy [women's products]; It's a risk for them to buy that stuff. It's much less of a risk for us," Buccella said, explaining how their shop will stock almost exclusively women's gear, many of it unavailable in the Midwest.
And while the focus will be on women's needs, Buccella said the store will also offer gender-neutral items like locks, bags and lights for bikers of all genders.
"We're going to have an open, inclusive philosophy. We're going to have a beginner's mind so that everyone is treated as an equal. If you own five bikes and race, you'll be treated the same way as if you were coming in and buying your first commuter bike."
Additionally, Buccella said BFF will have a more boutique-like atmosphere ("and a clean bathroom") that she hopes will function as a third space of sorts for customers with offerings like movie nights and inexpensive yoga classes.
"I want there to be a place for women to be able to be together and have it not be a bar or a restaurant," she explained.
With what Buccella said will be a largely female staff, customers can talk more openly and easily about particular needs -- saddle sores, chamois cream -- that Buccella said are "better related to another woman."
As BFF Bikes prepares to open in Chicago's Bucktown neighborhood, Buccella said they've started an Indiegogo campaign to help bridge the "small funding gap" left after the traditional outlets were exhausted.
If support for the campaign, which opened Monday and already secured one-third of funding by Thursday, is any indication, BFF Bikes will have no shortage of fans.
"People from Minnesota and Nebraska are emailing saying they can't wait to come visit," Buccella said. "People from Texas emailed saying they're cheering us on from Fort Worth."
As for the one thing Buccella said she's heard most often from women cyclists eager for a space of their own: "It's about time."
BFF Bikes will open March 2014 at 2113 W. Armitage Ave. in Chicago.
Calling all HuffPost superfans!
Sign up for membership to become a founding member and help shape HuffPost's next chapter
BEFORE YOU GO
PHOTO GALLERY
How To Bike Commute Like A Pro