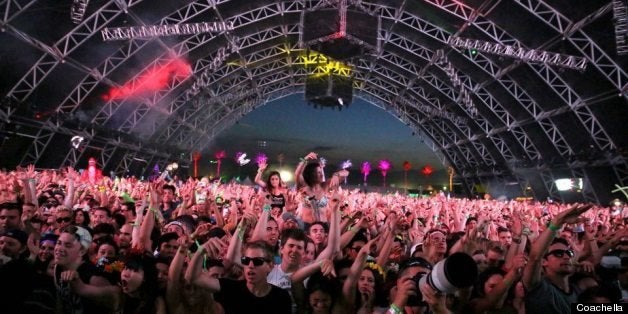 We know some people are going back to Coachella this weekend, and to them we say.... You are far more awesome than we will ever be. Also, "Don't take drugs!" (To quote one of our favorite movies of all time.) Also, are you nuts?? One weekend of sunburns, exhaustion, and sandstorms is already more than our little broken bodies could take.
If you're with us here at Broke Girl's Guide, it seems that staying local is the right move; the weather is going to be glorious this weekend, and there will be lots to do, including Brokechella, which we love for obvious reasons, the LA Times Festival of Books, which is basically our Christmas, and a really random '80s dance party, which needs no caveat.
Let's get started, shall we?
You could also skip everything on this list, enjoy a gorgeous happy hour on the beach, and call it a night. This is also known, lovingly, as "the over-30 plan."
Some of you may opt to bail early for a (slightly pricey) tour of Tom Waits' LA (maybe you're a big fan!) at noon, while others of you may leave to catch a 2 p.m. performance by Alvin Ailey if you missed Friday's. Either way, grab lunch (meat pie, mmmm) at new-kid-on-the-block resto Bronzed Aussie. Or, pop over to Taco Madness at Grand Park for a bite... or 20.
First up, we suggest you take in an amazing 8-course brunch at BEP Vietnamese Kitchen on Melrose. Then (after 30 minutes to rest and digest, of course) grab your bike and join CicLAvia's To The Sea, in which 15 miles of road from downtown to the beach will be cleared of all traffic so that pedestrians, cyclists, tricyclists and the like can run wild. We suggest you do half the route and then stop in Culver City, which will be hosting a huge celebration as a part of the event.
Later, grab dinner at BGG-favorite Sugarfish's newest location in Beverly Hills. Then, sneak into the sold-out Tinariwen show at Hollywood Forever or gain entry the proper way to one of the following shows: Blu plus Tiron & Ayomari at The Roxy, Cotillon at Bootleg, or The Telescopes at The Echo. Now isn't it nice to catch a Sunday night show without having to suffer through a 3-hour drive home from desert after?
Support HuffPost
The Stakes Have Never Been Higher
Related
Popular in the Community