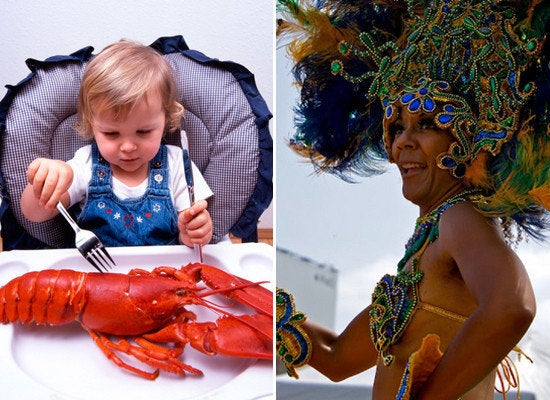 While this abbreviated workweek should have left us feeling rested and rejuvenated, we somehow feel just as exhausted as ever. Either we're getting too old or we work too much or, perhaps, both of those statements are true. (We'll just tell ourselves it's the latter.) While you may also currently feel like hibernating beneath the covers until Monday morning arrives, let's all hope that our seventh-inning energy kicks in, as this weekend's agenda is not one to be missed:
Why start your weekend off by standing in line? Avoid those pesky lines at Laurel Hardware by actually having dinner there, and watch the meat market in full effect as you sip from their stellar wine list and nibble on Peruvian-tinged cuisine. Then, like a true lady of the canyon, drift over to the Greek for Crosby, Stills & Nash.
Where will we be? We thought you'd never ask. You'll find us at the Original Long Beach Lobster Festival, pretending we're island-hopping with a towheaded sailor off the coast of Maine.
Get up and go early because you'll want to be first in line for the Clever-Vintage-hosted Helms Design District Vintage Boutique. It's starts at 10 a.m., and you know those secondhand diehards will be lining up at nine. Once you've loaded up on all the rayon you can handle, stop for lunch at A-Frame on your way into Mid-City.
Next, join the Brazilian Consulate and Sergio Mielniczenko, the host of KXLU and NPR's Brazilian Hour, for food and music at Brazilian Day in L.A. After you've had your fill of samba, hop down Wilshire to see The Planter Show at For Your Art. Stick around for an indigo-dying class with artist and horticulturist Kim Kelly. If you'd rather leave dyed blue extremities to the experts, go to LACMA instead for the Good Food Pie Contest with Evan Kleiman and Jonathan Gold. Later, support the emerging art scene in Highland Park and Eagle Rock by traipsing around the NELA Art Walk. If you aren't full from all the cheap gallery wine, stop by Maximiliano for modern, wallet-friendly Italian, and then take a second lap around the neighborhood by zigzagging your way between local bars The York, The Hermosillo, Johnny's and La Cuevita.
If you happened to spend your night on the east side post-bar-crawl (no judgment, friend), start your day with the inaugural Fried Chicken & Pancakes Sundays at Villain's Tavern. They also happen to be well-stocked with plenty of hair-of-the-dog options for those looking to cocktail as early as possible. For a healthier, more historic approach, go to the majestic and so-very-Hollywood Ivar Castle for Yoga at the Castle. It's $10 or "by donation"-- and I think we all know what that means (i.e., whatever scraps are leftover from Saturday's vintage boutique-ing).
Next, grab boundary-pushing tacos and michelada popsicles at the newly opened (and quick recipient of cult status) Diablo Taco. Then, head to the soft open of the new art space and retail concept Riverside Service Station for a screening of The Goonies. You'll be so full of lobster tacos and nostalgia that you may forget what tomorrow brings... And that's exactly what Sunday nights are for.
PHOTO GALLERY
Weekend, Please!
REAL LIFE. REAL NEWS. REAL VOICES.
Help us tell more of the stories that matter from voices that too often remain unheard.