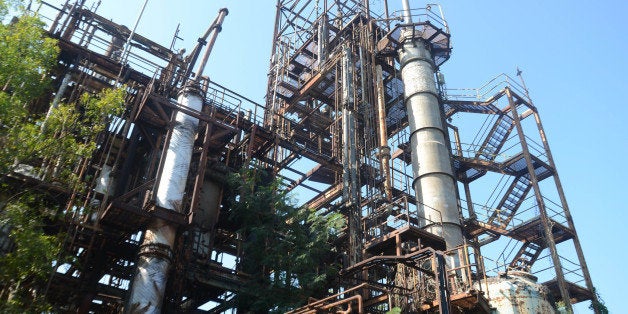 I was in Bhopal, India 10 years after the 1984 disaster in which a now infamous Union Carbide pesticide plant released 27 tons of a toxic chemical into a crowded sleeping city, killing 8,000 people immediately and over 20,000 to date. It's hard to believe that today is the 30th anniversary of that disaster. In spite of so much technological advancement in the three decades since Bhopal, here in the U.S. we haven't sufficiently heeded the warning that that disaster still clearly signals.
I have visited Bhopal several times since 1984 and listened to local peoples' stories of how that horrific night unfolded. At first some thought the pain in their eyes was due to neighbors burning chilies. Thousands panicked and began running. People were trampled, children lost, huge numbers injured and killed. The world's deadliest industrial accident has become known in India as the Hiroshima of the chemical industry.
Today the abandoned Union Carbide factory still sits there, leaking hazardous chemicals and waste left behind in the aftermath of the disaster, poisoning the next generation of Bhopalis with lead, mercury, chloroform and other toxic chemicals in their soil and drinking water. In 2001 Dow Chemical purchased Union Carbide and has consistently refused to accept any responsibility for Union Carbide's criminal or civil liabilities.
This week, as on every anniversary of the tragedy, its survivors held candle light vigils, marched and renewed their demands for full compensation, health care, clean water and justice. The survivors aren't just asking for environmental justice for their community but for every community. Their slogan -- No More Bhopals -- means no more Bhopals anywhere.
When Bhopal survivors Rashida Bee and Champa Shukla visited the U.S. in 2004 to receive the prestigious Goldman Prize for their activism, they took time out to join members of Congress in calling for new federal rules to require chemical plants to switch to safer available alternatives to prevent disasters. The U.S. also has dangerous chemical plants; some that could inflict as many casualties as in Bhopal.
According to U.S. chemical facility reports to the EPA there are approximately 470 chemical facilities in the U.S. that each put 100,000 or more people at risk of a disaster. Together these plants threaten more than 100 million Americans who work in or live near these facilities. Among the most common hazards in the U.S. is chlorine gas produced at plants like the Kuehne Chemical facility in South Kearny, N.J. across the river from Manhattan. The U.S. Naval Research Laboratory estimated that one rail car of chlorine gas could result in 100,000 casualties in 30 minutes.
The American public first learned of these dangers in 2001 due to a provision in the 1990 Clean Air Act known as the Bhopal Amendment. It provided first responders, plant workers and people living downwind from these plants with basic information about the magnitude of these inherent hazards. But a key portion of the Bhopal Amendment that allows the EPA to require chemical plants to switch to safer chemicals or processes was never activated. In 2002, following the 9/11 attacks, the EPA proposed using this authority but was overruled by the Bush White House.
Despite the fact that safer chemicals and processes are widely available and have eliminated the possibility of catastrophic hazards at many chemical plants, we still have hundreds more facilities that put millions of people at risk. A survey by the Center for American Progress of facilities that switched to safer processes found that 87 percent reported the cost of conversion at $1 million or less.
It pains me to think that the April 2013 fertilizer explosion in West Texas that killed 15 people and destroyed blocks of residential homes, schools and a nursing home, could have been avoided had the company been required to use a safer formulation of that fertilizer. President Obama's response to the explosion was to issue an executive order directing federal agencies to propose ways to modernize safety regulations for chemical facilities. Yet despite the President's order, the EPA's has only proposed series of voluntary measures, a decision on enforceable regulations has been put off until 2016. Meanwhile, accidents continue to happen including a November 15th gas leak that killed four workers at Dupont's Laporte, Texas plant.
President Obama has been a champion of genuine prevention requirements, saying in the Senate that requiring the use of safer alternatives, "reduces the danger that chemical plants pose to our communities and makes them less appealing targets for terrorists." Yet the slow pace of the EPA's progress is putting true disaster prevention in jeopardy. Nothing can bring back the lives lost in Bhopal or West, Texas but we can and must do everything possible to prevent these tragedies from happening again. President Obama can do that by directing the EPA to act now before his administration runs out of time to act.
Popular in the Community