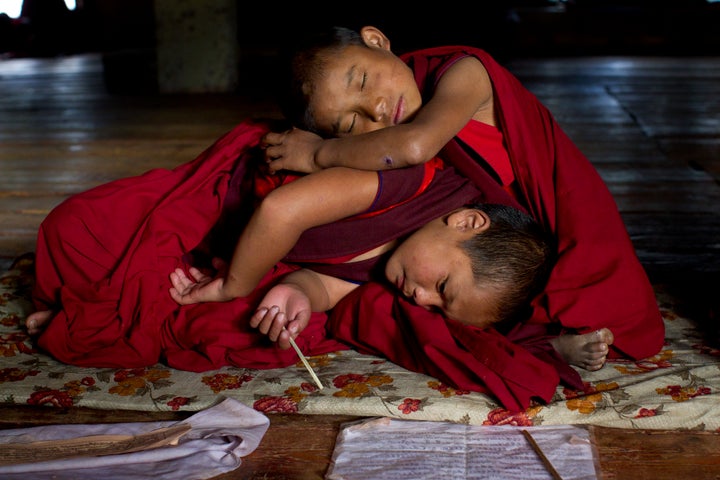 By Vishal Arora
Religion News Service
NEW DELHI (RNS) Health officials in the tiny Buddhist kingdom of Bhutan are making condoms available at all monastic schools in a bid to stem the spread of sexually transmitted diseases and HIV among young monks who are supposed to be celibate.
"We are making condoms freely available everywhere, even in monastic schools and colleges," Bhutan's minister of health, Zangley Drukpa, said in a phone interview. The ministry, he added, has formed a special action group to deal with STDs in monasteries.
Warning signs of risky behavior among monks first appeared in 2009, when a report on risks and vulnerabilities of adolescents revealed that monks were engaging in "thigh sex" (in which a man uses another man's clenched thighs for intercourse), according to the state-owned Kuensel daily.
The health ministry got concerned when a dozen monks -- including a 12-year-old -- were diagnosed with sexual transmitted diseases a year later, Kuensel reports. At least five monks are known to be HIV-positive, the youngest being 19.
The 2012 report of the U.N. agency focused on AIDS response and progress also noted cases of HIV among Bhutan's monks.
Bhutan's Commission for the Monastic Affairs says stricter discipline is a solution. While corporal punishment is banned, monks told Kuensel it is still practiced.
"It is believed the cane, the whip and the rosary represent the Bodhisattvas who personify wisdom, compassion and power, which are needed to discipline," the commission's health and religion coordinator, Tashi Galey, told the newspaper.
Psychiatrists suggest the spread of disease could be a result of mental stress. It is not uncommon for monks and nuns, mostly between the ages of 15 and 25, to visit psychiatrists. Even senior monks show symptoms of severe stress, especially when they are undergoing long periods of meditation, Dr. Damber Kumar Nirola told Kuensel.
"About 70 to 80 percent of (senior) monks are obese, hypertensive and also suffer from back ache because of their sitting posture and sedentary lifestyle," urologist Lotay Tshering told the paper.
Geography also plays a role. Most hilltop monastic schools lack recreational facilities. "Getting space for playgrounds is difficult, but we provide volley balls and badminton rackets," the commission's secretary, Karma Penjor, told Kuensel.
Bhutan, a landlocked nation of about 700,000 people sandwiched between India and China, is the world's only officially Buddhist country, and has about 388 monastic schools with 7,240 monks and 5,149 nuns.
Support HuffPost
The Stakes Have Never Been Higher
Related
Popular in the Community