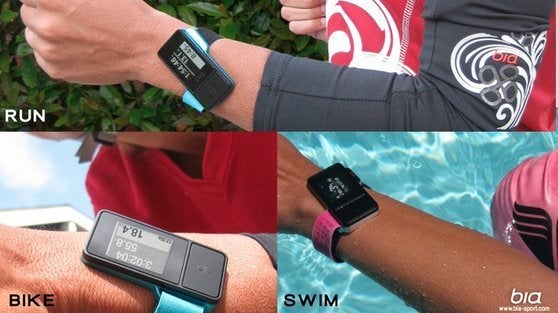 This is an AMAZING product. One I am shocked does not already exist. Basically this is a high-tech GPS-enabled performance sports watch with all the bells and whistles... and a panic button.
It's also a pretty sweet watch! It's cool and funky-looking and lightweight and water-resistant to 100M. It even has a model for guys and sends data to your training log. But it also has that feature you hope you'll never need: a panic button.
A panic button. You'd think it would already exist but apparently it does not -- and according to the founders of Bia Sport, Cheryl Kellond (ex-Yahoo VP; sold her fist startup to pay for her MBA; triathlete; mom of 4) and Sylvia Marino (worked at Edmunds.com, Cisco, Intuit; startup advisor; open water swimmer) it's the #1 feature requested by women.
Here is the thing: If you are the kind of runner or triathlete who would need performance gear, then chances are your routes will take you outside highly populated areas. Cut to 2:24 -- where the video invokes "peace of mind" and the freedom to run & train "wherever" and "whenever." If you've ever been out for a run and suddenly realized that you're alone and no one's around... well, you know that feeling. And it is not "peace of mind." It's more like imagining yourself in the cold open of a Law & Order. (Yikes. Sorry. Would you have rather I said CSI?) The point is, there are times when you just feel it. This product is for those times.
And, for these times: According to Running USA's "State of the Sport 2012," Women actually make up over 40% of marathoners and 60% of half-marathoners, and according to Triathlon America, are the fastest growing segment in triathlon. Er, pretty clear there's a market.
They've got three days to prove it -- on Kickstarter, either you raise the whole amount or get nothing at all. They're more than halfway there but, like most marathoners, need a final push to cross the finish line. I discovered them in a search for the #changetheratio hashtag on Twitter and was immediately on board. Female-founded hardware company with a social purpose? Form, function, style and safety? Pat Benatar? I can't believe this thing isn't already through the roof.
40% of U.S. marathoners are women. 60% of half-marathoners are women. Let's keep them safe while they train. On your mark, get set... go.
The author has no affiliation with any of the products listed
Related
Popular in the Community