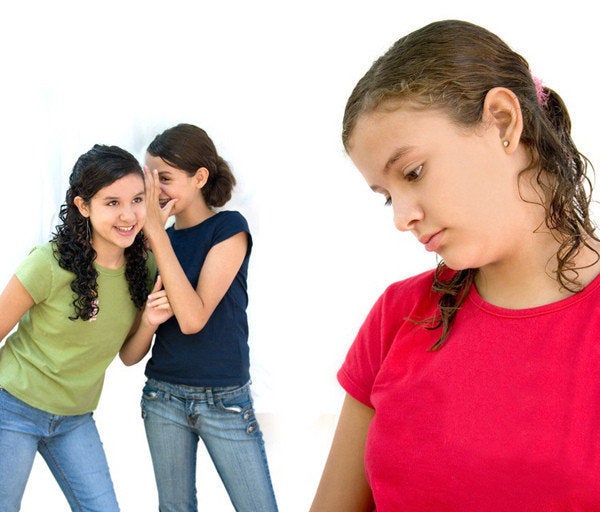 As my loyal readers know, I am "big" on inspiring others, as well as being inspired. My followers also know how much I love and support people who share positive messages through their work and creative endeavors. I recently had an inspirational experience that I feel compelled to share with the world.
Once upon a time I believed in the old saying, "with age comes wisdom." However I was recently blessed with the opportunity to meet the most darling and wise actress and singers, Bianca and Chiara D'Ambrosio. These 7 year-old identical twins are spreading their incredibly inspiring and powerful anti-bullying message in the soon-to-be-released single, "Let Your Light Shine," and I recently had the opportunity to meet the twins on the set of the music video for their musical debut.

Despite their young age, Bianca and Chiara D'Ambrosio have an impressive resume of Hollywood acting credits. The darling twins began their acting career as the on-screen daughter to Michelle Stafford and Joshua Morrow on the long- running CBS daytime drama series, The Young and the Restless. Quickly dubbed as "the new Olsen Twins," their resumes include memorable guest appearances on various hit TV shows, including The Closer, Parks and Recreation, and Close to Home. Bianca and Chiara co-starred as Jamie-Lynn Sigler's daughter in the pilot episode of NBC's new series, Guys With Kids, and Bianca will be guest starring in the season premiere of CBS' Criminal Minds airing September 26. In early 2013, the twins will make their big screen debut in Feeding Mr. Baldwin, a comedy directed by Will Prescott.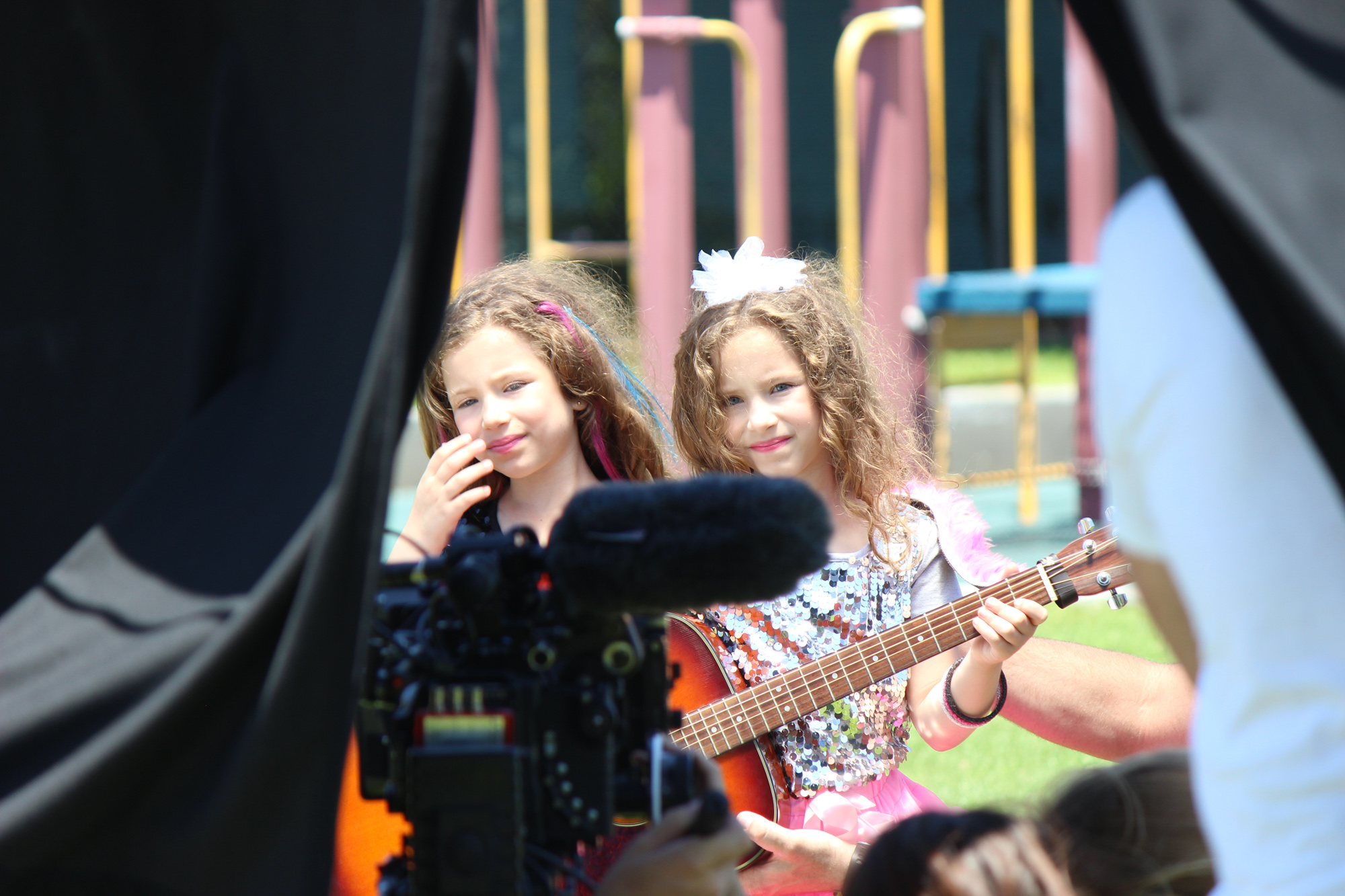 Allison Bluestein Photography
I was truly impressed with how bright and beautiful Bianca and Chiara are both inside and out. When I asked the girls what motivated them to record the song, Chiara replied, "Bullying is bad! No one should ever bully another person. It hurts someone's feelings." Following the response of her sister, Bianca added, "No one should ever bully another person, hurt someone's feelings or hurt someone's heart!" My heart sank as they went on to reveal, "We were bullied by a girl who would say really mean things to us. It would make us really sad." For others who are being bullied, they encourage them to "stand up and let your light shine!"

The purpose and mission of their project is to go head-to-head with bullies. In addition to the release of "Let Your Light Shine," Bianca and Chiara have also designed an anti-bullying T-shirt and pledged a portion of the proceeds from the sales of both to the Seth Walsh Foundation. "The circle is the universal sign for 'DON'T.' Ya know, like from Ghostbusters," the twins explained.
"They chose to put the circle over the word 'BULLY.' Now, if you notice, the circle is 'imperfect.' That was intentional because imperfections should be celebrated," Frank added.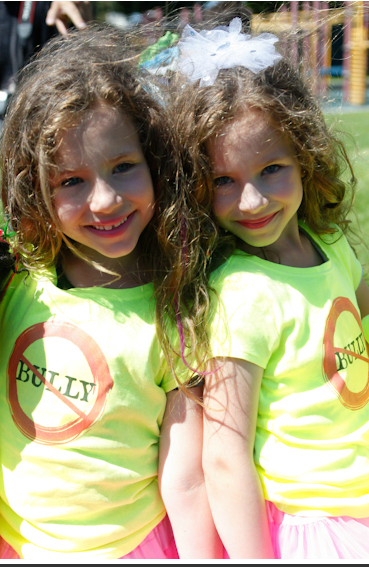 Allison Bluestein Photography
Written by Nick Pellegrino and produced by hit-maker John Ryan (One Direction, Cody Simpson, J-Lo), the single is currently available on iTunes and music video for "Let Your Light Shine" will premiere in mid-September. Having already appeared in music videos for Bon Jovi ("What Do You Want") and "American Idol" alum Crystal Bowersox's ("Farmer's Daughter"), Bianca and Chiara will be starring in their own.
After spending a day on set, I still feel as though I cannot justly describe how much positive energy was surrounding the set-- from cast of kids and the crew! I was hangin' with proud and positive "Mom", Lisa D'Ambrosio, and she shared with me how much the girls love to sing and dance, and that the entire D'Ambrosio family fell in love with the song as well as the positive message behind it. I asked Lisa what values she tries to instill in her daughters and she said, "We have the power to change things."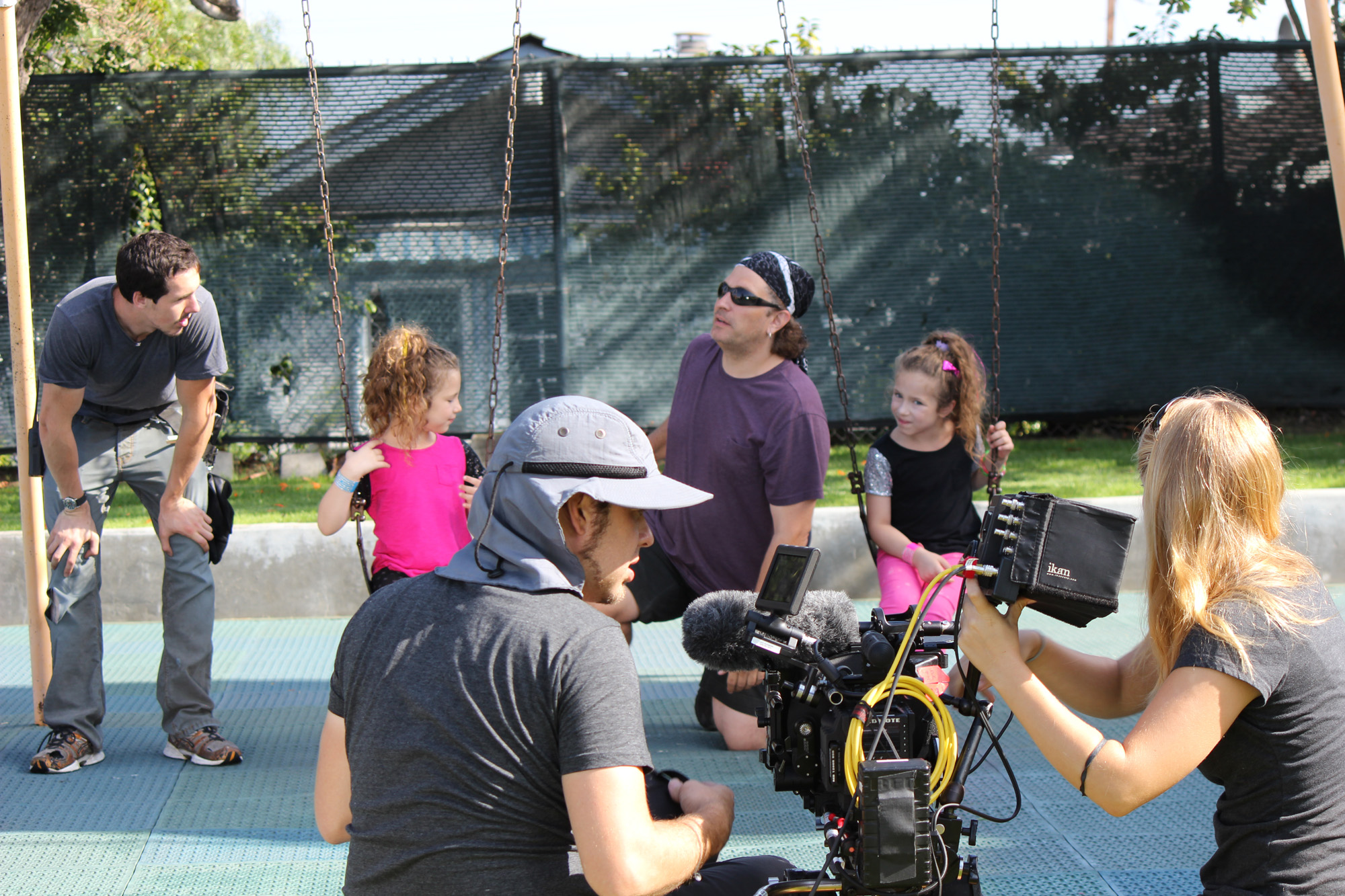 Allison Bluestein Photography
D'Ambrosio Dad, Frank, is super passionate about this project, and shared a lot of valuable information with me. Many years ago, Frank had fallen in love with the song by Nick Pellegrino. He was inspired by the song's positive message and when he listened to it more recently, he realized that not only was this the perfect anti-bullying song, but also a song about self-empowerment. "I believe this song is about standing up for yourself and letting your own light shine. We decided to find a way to marry this positive message with the girls' talents. We saw this as an opportunity to not only stand up against bullying, but to support the work of the Seth Walsh Foundation."
The Seth Walsh Foundation is an organization devoted to eliminate bullying through national education and advocacy. Their mission is to ensure that all youth are safe and protected from bullying, and to prevent tragedies that can result from bullying, harassment, and discriminatory conduct. The organization was founded by Wendy Walsh, who lost her 13 year-old son, Seth, to bullycide in September 2010 after years of being victimized at school by bullies. Following his passing, Wendy filed a complaint with the Department of Education in a landmark case that is set for trial next year. She has emerged as one of the most powerful voices in the anti-bullying movement.
On the final day and shooting wrapped, Bianca and Chiara received a call from BOO2bullying.org, which features artists who are awakening the world to the problems of hate and intolerance, and encouraging our youth to speak out and dig deeper within. The twins will serve as the group's "Tween Ambassadors" because as BOO2bullying.org co-founder, Dimitri Haldkis noted, "they are full of compassion and of being of service to the community."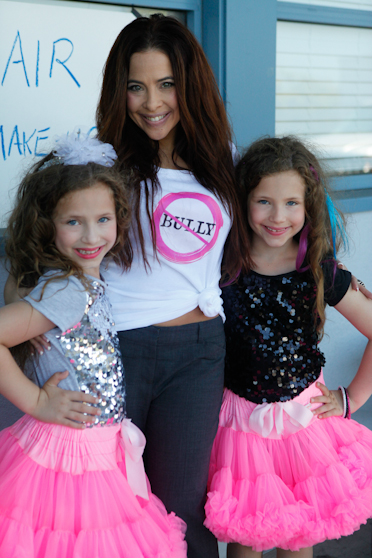 Allison Bluestein Photography
http://beyouandbefearlesslifecoach.com/
Bianca & Chiara D'Ambrosio's Official website:
http://dambrosiotwins.com/
Seth Walsh Foundation:
http://www.sethwalsh.org/
"Let Your Light Shine" on iTunes:
http://itunes.apple.com/album/let-your-light-shine-single/id552406275?ign-mpt=uo%3D2
BOO2bullying Website:
www.boo2bullying.org
Related
Popular in the Community