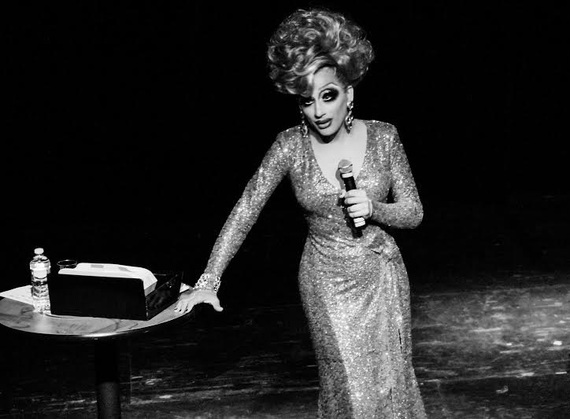 Photo credit: Jonathan Hernandez
When the sixth season of RuPaul's Drag Race began earlier this year, it was clear that Bianca Del Rio was a force to be reckoned with. Del Rio was a strong competitor from the start. Snuffing out the competition and dominating challenge after challenge, she won the crown and the $100,000 prize that goes with it. Yes, the check cashed, which is surprising because Logo is run by lesbians. That joke is one of the Del Rio gems I heard during her performance the other night at the TLA on South Street in Philadelphia. Del Rio is currently touring the country on her Rolodex of Hate tour.
Opening with personal stories from her childhood, Del Rio recounts growing up with old-fashioned Cuban and Honduran parents. She plays a vintage video montage of childhood memories. This paves the way down memory lane, where we eventually find out the traumatic but true story behind the self-proclaimed "Queen of Hate." Del Rio takes even the most controversial of subjects, like childhood molestation and bullying, and makes it the butt of a joke. The audience laughs awkwardly, not knowing whether she has gone too far with these personal accounts. But it is Del Rio's story, and we are here for the ride.
Del Rio is strongest when interacting with the audience. The front row is the splash zone, and if you paid the VIP price and are lucky enough to be sitting close to the queen, then you can't cry when she comes for you. She mocked one audience member for her poor taste in clothes, and another for her poorer taste in men. Del Rio's razor-sharp humor and lightning-fast wit cut deep, especially when she tackles racial issues and stereotypes. But she is an equal opportunist with her satirically discriminatory banter. No race is safe, and she makes sure she lands a joke at everyone's expense.
Del Rio ends the show with a montage of other drag queens from the RuPaul's Drag Race franchise, which is about to embark on its seventh season. Here she offers her unfiltered opinion on each of them. This moment felt rushed. I wish there had been more time available for her to roast the other queens, as her opinions are usually on-point and hilarious.
I went into the evening with high expectations, after having just seen Del Rio aboard the Al & Chuck Travel Drag Stars at Sea cruise, where she hosted a roast of Michelle Visage. She killed it there too, along with local Philly queen Mimi Imfurst, who surprisingly came out strongest (unlike her time on the show) amongst the Drag Race roasters.
Seeing Del Rio perform live, which she lives for, you notice a regal quality about her. She was born for the stage. She relies on the live performance to fuel her post-Drag Race career. She can't release singles on iTunes like many of the other Drag Race girls. She doesn't lip synch or dance or impersonate Beyoncé. She is utterly original, though a comparison to another queen of comedy has littered headlines in recent months. The New York Times recently profiled Del Rio, calling her "the Joan Rivers of the drag world."
I had an opportunity to sit down with Bianca in her dressing room right after she got off the TLA stage. I asked her about being compared to Joan Rivers, what she thinks about local Philly queen Mimi Imfurst, and who she would cliff, marry, and fuck if she had the chance.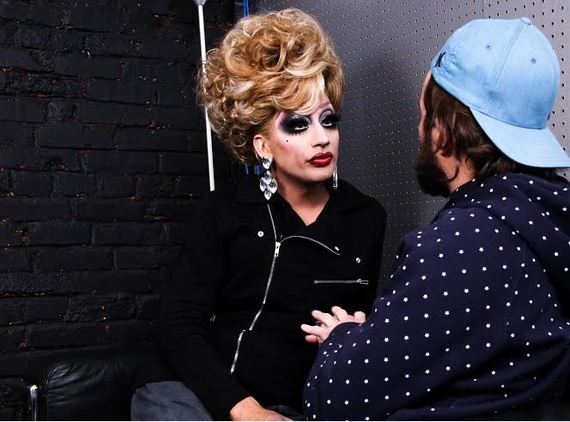 Photo credit: Jonathan Hernandez
Right now, what do you experience when you get off stage?
It's kind of cool. You wonder if it's right. You wonder if it's fun. You wonder if you've done the right job. The great thing is you had an audience. They showed up, and they supported you. For that I am eternally grateful.
How do you feel about tonight's show?
I thought it went well. [Hesitates.] I don't know. The weird thing I have learned over the years is you can't overanalyze what you have done, because I will always have criticism about myself. As long as the audience had fun, it's good. You feel the energy from the people.
How many times have you performed Rolodex of Hate so far?
Philly is our fifth show.
How many more performances do you have?
We go everywhere. I don't mean that in a douchey way. We are doing it in San Francisco, doing it in New Orleans, Australia -- Perth, Adelaide, Sydney. It just continues, which is kind of cool.
You just were on the Al & Chuck Travel Drag Stars at Sea cruise. How was that experience?
Amazing. Fun. It's always fun to hang out with the other Drag Race queens. I love Latrice. I love Adore. I love Ivy Winters. So it's great to be in the same company with all of them.
The roast of Michelle Visage was amazing.
We had a good time. And Mimi Imfurst was hysterical. That should go on record. She was very funny.
She was really hysterical. I have always loved Mimi. Mimi is one of the first queens I met in NYC when I started there. She is amazing. She is brilliantly talented. Unfortunately, [RuPaul's Drag Race] didn't show that, so it's great to see her shine now.
What was your greatest failure, and what have you learned from that moment?
So many. You have so many. I have done drag for 18 years, so you have ups and downs and everythings. And the weird thing is, as much as I would love to tell you a significant story, there really isn't just one. There were so many shit moments that you kind of sit back and go, "I'm sad that happened." You don't know it is that bad until you get something good. And through it you just work. You have your life. For me it was a 9-to-5, and then you do drag shows at night. It's a journey you go on. There were good shows and bad shows and five people and 100 people or 200 people. With RuPaul's Drag Race, in that moment, besides whether I won or not, because I was in very good company with Courtney and Adore, you have a golden ticket. You get to work. You have an unbelievable moment. I had never been to London. I had never been to Australia. I had never been to Scotland. All of this has happened because of the show. If you have faith in what you do, and you have consistency in what you do, you can be rewarded with work. I don't mean just winning. Courtney is working. Adore is working. Sharon Needles is still working. Mimi is working. It's about finding what works for you and excelling at it. It's about finding your craft.
You travel a lot. How does travel affect you?
The travel is intense, but in the end, c'mon! I'm not flying the plane! What do I have to complain about? I'm treated very well. It's an amazing opportunity. For me to complain about it would make me a total douche.
You seem to really enjoy every moment and live in it.
Always. What would you be if you didn't? I have been very fortunate, not just because of Drag Race but because of this journey. And you know the good gigs from the bad gigs, and you know people, and I have amazing friends. My friend -- and I can't even say the word "assistant" -- my friend is a part of my life for the past 15 years. And I needed someone near me to travel with. He is someone I trust and adore and have a great relationship with. It's never about kissing my ass. We don't discuss anything on that level. He is not a fan at all. He is my friend. And for that it's humanizing and genius, and that is what gets you through it. A lot of queens go through this process and lose sight of who they are. No, you are not conquering the world. It's work. And you have to have something to offer. You can be gorgeous. You can be a singer. It's all there for the taking. Drag Race and World of Wonder produce this show that is for the taking.
Speaking of Drag Race, what do you think of the Season 7 queens? Any early favorites?
I don't know, because I haven't watched the promos. I am not going to lie: I saw the cast, and I know one person, Miss Fame, because she is from NYC. She is a beautiful queen, a makeup queen. But I don't know any more information about any of them. I purposely didn't ask for the lingo or information, because the hard part of Drag Race is to keep information under wraps. It's a hard feat. I didn't want any information about next season, because I didn't want to be overheard in a bar, because then they say, "Bianca said this," and I didn't want that. I really don't know. It's an amazing opportunity, and I hope they all have a great experience.
What did you do in Philly today?
I went to lunch with Courtney Act to HipCityVeg, and we had Philly cheesesteaks. Well, not real ones. I'm vegetarian, and she is a vegan, which means she is a pain in the ass. It was really good! We had a good time.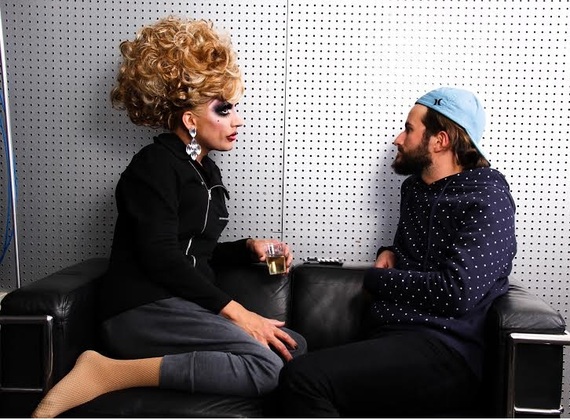 Photo credit: Jonathan Hernandez
So we are going to play a couple of rounds of "Cliff, Marry, or Fuck." Sharon Needles, Jinkx Monsoon, and Raja.
I would cliff [kill] Sharon, because she is annoying. I would marry Raja. Oh, no, but then that leaves me with Jinkx! This is hard. I love them all because of what they are, but this is tricky. I'll fuck Raja. Who is the other one?
I love Raja. I can't get even go there.
Chelsea Handler, Kathy Griffin, and Joan Rivers.
Well, Joan is an easy target. She is already off the cliff. But the thing is I would bring Joan back. I would marry Joan. Chelsea Handler, I would fuck her. Kathy Griffin? Not my favorite.
While we are on that subject, The New York Times recently did an amazing profile on you. How did it feel when they proclaimed you the Joan Rivers of drag?
Surreal. As a faggot, as a little gay boy, anytime my name is mentioned with hers, it is surreal. Winning Drag Race was amazing, but sitting in bed with this lady who I respected, admired, and loved, and getting a moment to film an episode of In Bed With Joan, was surreal for me. I don't get nervous. I don't get excited. I do what I do, and I think over the years you just do it. I have a good time. But that was different. I questioned, "Should be I over-friendly? Should I be aloof?" I didn't want to be any of that. I didn't know where to go. But once I was in a room with her, she made me feel totally comfortable. When that little inner boy realized that I was sitting in bed with Joan Rivers and she was laughing at something that I said, it was incredible. She was the sweetest, kindest, and most genuine individual I had ever met. As a comedienne, there are times when people are like, "It is my show." I never felt that with her.
It seemed like she was really impressed with you and your presence.
I don't know what it seemed like to everyone else, because, shockingly, I haven't watched it. I can't even go there, because what I felt, it doesn't matter what anybody else felt. I had that moment. I remember going into the car leaving Melissa Rivers' house (because that all happens in her basement). I was third of the four people filming that day, and I had a gig in some other city that day. My manager told me that I had a gig and would have to shift it. I don't back out of anything, but it was Joan Rivers! I was like, "Bitch, no question!" They said it was the only day she could do it, so we said, "Let's do it." Luckily that other gig reworked itself out. It was effortless to have a conversation with her. My heart was like, "How do you beat that?" It's just like talking with Ru. Surreal.
One more Cliff, Marry, Fuck: Darienne Lake, Adore Delano, and Courtney Act.
I would marry Darienne Lake, because that is easy. Oh, God. This is horrible! This is hard! Does it matter what I would do with any of them? They all lost. It doesn't matter! You know what? I don't want to cliff, marry, or fuck any of them. I want to give them a job! They all lost!
Calling all HuffPost superfans!
Sign up for membership to become a founding member and help shape HuffPost's next chapter