But while Bianca loves appearing in bars, she has her eyes set on bigger stages and silver screens. Currently, she is running a crowd-funding campaign to make the independent film Hurricane Bianca, a feature-length comedy about a New York teacher who moves to a small town in Texas, gets fired for being gay and returns disguised as a mean "lady" to get revenge on the people who were nasty to him.
I sat down for a quick chat with "Roy Lady" about the film and to see what's next for Bianca del Rio's infamous rolodex of hate.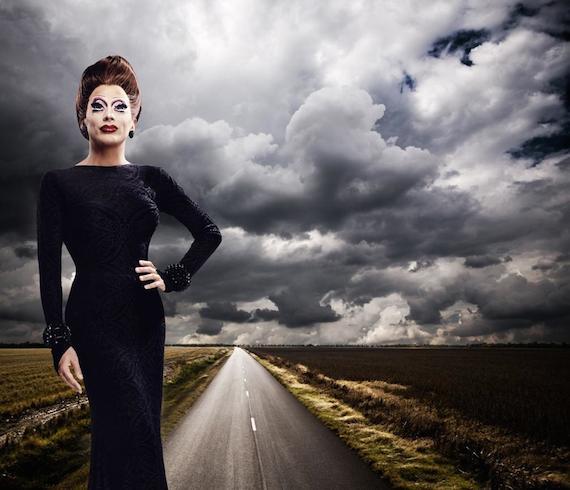 Photo courtesy of Matt Kugelman and
HurricaneBianca.com.
How did you and Matt Kugelman [writer/director of Hurricane Bianca] meet?
Matt had a friend who was turning 30 and wanted an insult video made for his party. Matt's friend had come to a few of my shows, and so Matt thought it would be funny to cast Bianca as a pissed off ex-girlfriend. So, we filmed for a few minutes in Matt's apartment in Chelsea, then he showed up a few days later in a bar, handed me a copy of the film with his business card, and said he'd love to work with me again.
[Our professional relationship and friendship] just snowballed from there. We had some other ideas for contests we wanted to do, and we did them and won some, and now I can't get rid of him!
It's all been a hoot and the best thing is [Matt and my other friends] have been there to share it with me.
I saw photos of those friends passed out in your crown.
Assholes. They'll never wear it again! But really, it's been great and we're all still recovering. I think it will finally sink in when I cash the check and have to pay taxes on it.
Where did the idea for Hurricane Bianca come from?
One day Matt had this idea and I never thought anything would come of it, but Kugie makes shit happen. He's fearless. I've been honored to have him in my life in New York. When he originally wrote it, I was 30, but I'll be 39 in August, so I'm like "Queen, we better make it quick!"
I think it's pretty genius and clever, because it deals with a serious topic by using comedy, so I'm all about it. I'm looking forward to it and I have all the faith that it will happen.
In a recent video, fellow Drag Race contestant Joslyn Fox said she wanted a cameo in Hurricane Bianca. Will you have other queens in the movie?
Well, that's the worst part. Everybody wants to be in the movie without realizing it's set in a high school. When they ask me, I always tell them to talk to Kugie. Because I don't want to be the one to tell them they're untalented and are not going to make it into the movie. I'm honored he has enough faith in me to think I can do it.
There is one scene where [my character] goes to a gay bar and there is a drag queen there. I'm luck to have worked with so many amazing drag queens that would be perfect for it, it will be hard to choose one to fill that role.
Maybe you can start offering a role in the movie as a campaign perk! Speaking of which, tell me about these insult videos you're doing as perks. How do you prep for such a thing when you've never met someone?
Originally it was just our friends, so it was easy to do. [Full disclosure: I donated and Bianca did one for me and it was hilarious.]
Nowadays we send them a questionnaire kind of like going to a dating service... "Tell us what you like about yourself" stuff like that, and I just turn whatever they say around on them. "I like reading, I like swimming," and I like to make fun of that bullshit. That's the magic of it, I can just talk shit and Kugie can make sense of it all with his [editing] genius.
We also get information from the Internet or friends. Where there's one person willing to put up this much money for a video, there's a friend willing to spill all their cheese.
Besides Hurricane Bianca, what other big projects are in the works?
I am working on putting together a stand-up show, something I could do in New York in front of a live audience that would be filmed. Then I could package the routine and take it all around the country. It would be different than what I do in bars -- not that I don't love my bars, the people in bars have been beyond kind to me -- but something that's a cabaret-style show, which I have not done yet.
It's forcing me to write something, and I've never really been a writer, so this is a new thing for me. I'm working with a dear friend and mentor from New Orleans to help me with it, and I have a lot of time on planes these days to work on it and figure out what I want to do from here.
What are some of the major character differences between Roy and Bianca?
There are the obvious things like the eyelashes. *laughs* Professionally, it's a gig, it's a job and that's what you're paid for. By no means is it my identity, but I can totally relate to that same sick sense of humor.
To be on stage in a costume is the packaging to get away with murder. Like I've said before, if I'm not in a wig, people call me a hateful queen, but then if I wear a wig, I'm called hysterical.
How long does it take for you to go from Roy to Bianca, both physically and mentally?
Mentally, it's a breeze, "Time to Dance Monkey!" I don't light candles or do a seance or anything. I like to get ready in a good hour, because I live in New York and you never have time to do anything, so I don't want to have a 2 hour process sitting around eating Bon-Bons and becoming her. I don't have that luxury.
The weird thing is, even when I've had two or three hours, I look exactly the same as I do when I have an hour. It's paint by numbers at this point. It's not this grand procedure; I can do it anywhere. And with all this traveling I've been doing, I've been in cities with no lights, broken mirror, forgotten makeup, so you have to be clever and make things happen quickly.
It's a hoot, but it's also hard work.
If you'd like to see if Bianca del Rio is bringing her "clown realness" to your town, visit BiancaDelRio.com for a full line up of appearances, including comedy shows, a pride tour and a few gay cruises.
And don't forget to check out HurricaneBianca.com to see those hilarious insult videos and donate to get the movie made.
Popular in the Community