A 21-year-old man slashed the neck of a 17-year-old girl and posted photos of her body on social media before attempting suicide, police in Utica, New York, said Monday afternoon.
Police located Brandon Clark of Bridgeport, New York, near a car in Utica early Sunday morning. They were responding to 911 reports that Clark had posted suicidal messages on social media, Utica Police Department spokesman Mike Curley told HuffPost.
Clark had also called 911 and made "incriminating statements" regarding homicide, police said in a statement.
As police approached Clark, he slashed his own neck with a large knife, Curley said. Officers provided first aid to Clark and he was transported to St. Elizabeth Medical Center, where he underwent surgery.
He is listed in critical but stable condition and is expected to live, Curley said. Clark was charged with second-degree murder on Monday evening and is currently in the custody of Oneida County Jail, law enforcement officials told HuffPost.
Officers found Bianca Devins' body under a tarp outside the car, according to police. Clark apparently killed her with the same knife he later used on himself, Curley said.
Police say Devins and Clark got into an argument while attending a concert in New York City on Saturday night. Curley declined to comment on a possible motive, and would not say whether Clark said anything as officers approached his vehicle Sunday morning.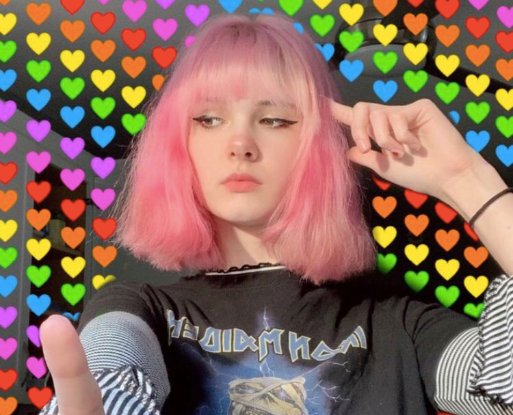 Devins' family described her as a "talented artist, loving sister, daughter, and cousin" in a statement issued Monday evening. She graduated from T.R. Proctor High School in Utica last month and was planning to attend Mohawk Valley Community College in the fall, according to the statement.
"We are very grateful for the outpouring of love and sympathy we have received from our Friends, Family, Bianca's Friends and the whole community," Devins' family said. "Your prayers help to strengthen us through this difficult time."
"[She was] a wonderful young girl, taken from us all too soon," the family's statement continued. "She is now looking down on us, as she joins her cat, Belle, in heaven. Bianca's smile brightened our lives. She will always be remembered as our Princess."
Rumors of Devins' slaying spread across social media after Clark posted graphic photos of her slashed neck early Sunday. Utica police told HuffPost that the photos are authentic.
Police say Devins and Clark spent time together over the last few months and were acquainted with each other's families. Sources close to Devins told HuffPost the two were friends.
Maura Botsford, 19, of Oswego County told HuffPost she knows Clark through her friend James Ward, the suspect's younger brother. She said she saw photos of Devins' body posted to Clark's Snapchat account early Sunday and initially didn't believe they were real.
"It was absolutely a surprise," she said. "I never would have expected this from him. And I mean people probably say that all the time. It's just so shocking. He's definitely not the kind of person that anyone would think would do this sort of thing."
Clark also posted photos of the attack on Instagram and the encrypted chat service Discord.
"We are shocked and deeply saddened by this terrible situation," a Discord spokesperson told HuffPost in a statement. "We are working closely with law enforcement to provide any assistance we can. In the meantime, our hearts go out to Bianca's family and loved ones."
Botsford said strangers on social media have been sending Ward death threats and blaming his family for Devins' slaying.
"Nothing better than waking up at 4am to find out your brother killed someone and tried to kill himself, and when you're trying to understand and comprehend how the person you looked up to, and taught you so much is responsible for such a horrible act, and people proceed to go out and blame you for what he did," Ward wrote in an Instagram post Sunday. "I'm deeply sorry something like this came from my family and my heart goes out for the family of the victim."
Ward did not immediately respond to HuffPost's request for comment.
Jesselyn Cook and Nick Robins-Early contributed reporting.
Popular in the Community