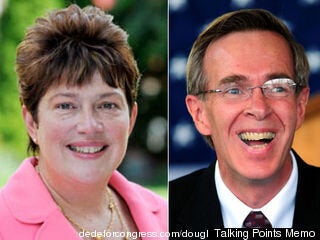 Three days before the special election in New York's 23rd congressional district, the Republicans have lost their candidate. Dede Scozzafava has dropped out. This leaves upstate New York, parts of which have voted for the party of Lincoln since Lincoln, without a Republican choice.
They just have a Democrat -- law professor/Air Force captain Bill Owens.
And a Conservative -- cipher Doug Hoffman.
But no Republican. Chester Arthur would roll over in his grave, which is in New York's First District, which means he couldn't vote for Doug Hoffman in Tuesday's election, just like Doug Hoffman can't.
(Why shouldn't 99% of the money for Doug Hoffman's campaign come from outside the district? He comes from outside the district.)
(Here's the difference between Doug Hoffman and a carpetbagger: A carpetbag has mass and physical form.)
Dede Scozzafava, a lifetime Republican, and the former Mayor of Gouverneur, was driven out of the race by Doug Hoffman's out-of-state money and Doug Hoffman's dirty tricks. This might explain why she declined to endorse Doug Hoffman in her resignation:
I hereby release those individuals who have endorsed and supported my campaign to transfer their support as they see fit to do so.
Which comes off a little bitter.
One of the dirty tricks was setting up a fake website called Draft Dede as a Democrat. The site, which depicts Scozzafava as Emma Goldman, only without the strong Rochester roots, calls itself "An unofficial campaign site for Dede Scozzafava's NY-23 race." I emailed them Wednesday, politely asking who they were and if they really thought they were helping. No reply.
Another dirty trick was the creation of a group of non-existent Scozzafava supporters called Common Sense in America. On Wednesday they bought $150,000 worth of local airtime and started running this ad.
The ad calls Scozzafava "the best choice for progressives" and says she supports gay marriage, the stimulus and card check - an issue that's supposed to enrage you, but about which no one but the Chamber of Commerce gives a damn.
The problem? There's no such thing as Common Sense in America. The group, I mean. According to Politico:
The group, which was founded on October 23, is headed by Arkansas businessman Jackson Stephens, a board member of the Club for Growth. The Club for Growth was one of the first groups to endorse Hoffman. Stephens donated the maximum $4,800 to Hoffman's campaign, and is one of the Club for Growth's leading donors.

Calling the group's phone number - listed on the advertisement - led me to a voice mail from Stephens, which directed all questions about Common Sense in America to Dan Blum, a communications consultant who is serving as a spokesman for the organization. According to FEC records, Blum worked for the Republican National Committee as a staffer as recently as this January.
On Thursday, Politico exposed the ad as a smear and a fake. But as of Saturday morning there was still at least one place linking to it as evidence to "further show liberals and progressives in our district that Dede represents our values and beliefs":
Draft Dede as a Democrat.
Don't you just hate dirty Chicago style politics?
Makes you wonder what Doug Hoffman's imported campaign workers were saying about Dede Scozzafava door-to-door.
Here's another example of what Dede Scozzafava was up against, and why the people of Plattsburgh don't have a Republican to vote for, for the first time in 150 years:
Bill Hennessy is a tea bagger and about the 150th guy to get the idea to write a book and call it The Conservative Manifesto (Right Press, 1993). If he were any more bush league he'd sprout. And even though it's unclear if he's ever been to New York, he says he'll do "whatever it takes" to choose its next congressman.
Before the polls open in upper New York on Tuesday morning, thousands of Tea Partiers from states as far away as California will have had an impact on what might otherwise have been an unnoticed special election. ...

Those patriots will soon conduct perhaps the strongest get-out-the-vote campaign ever targeted on a single Congressional election. ...

It's as if God has given Tea Partiers the lever that controls the course of the sun. If they all pull together, they make it Morning in America.
"It's as if God has given Tea Partiers the lever that controls the course of the sun." And/or megalomaniac paranoia.
If you're a voter in upstate New York, you should understand why you don't have a Republican candidate anymore. You should know that it's because there are psychotics "from states as far away was California" who want to use you and your vote to "control the sun."
Popular in the Community