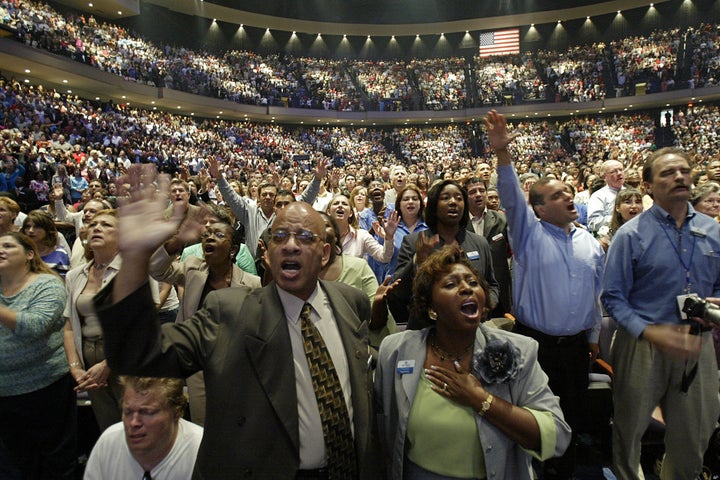 By Greg Garrison
Religion News Service
BIRMINGHAM, Ala. (RNS) Megachurches here in the heart of the Bible Belt are thriving enough to support a major building boom despite a sluggish economy.
First Baptist Church of Gardendale has built a $19.7 million, 2,700-seat sanctuary about 15 miles north of Birmingham. After a small arson fire in April delayed the opening, the first service in the new building is now set for Aug. 8.
First Baptist Church of Trussville is in the midst of a $7.5 million expansion that will include a new, larger home for its preschool, expected to be ready in January.
A new $4 million, 1,000-seat youth sanctuary is under construction and expected to open this fall at the Church of the Highlands, and Dawson Memorial Baptist Church in Homewood is getting ready to break ground on a $9 million children's building.
"It's certainly a difficult time in the economy, but it appears we're staying on track with our budget," said Chris Byrd, chairman of the building committee at Dawson.
Churches are finding that with housing construction in a downturn, they can save money when they invite bids on their building projects.
"It's a tough time to build a new building, but on the flip side it's a good time to go out and get bids," Byrd said. "We expect to get better prices."
Even in a down economy, megachurches are growing as families look for programs that serve children and young adults. The new children's education building at Dawson Baptist is needed to accommodate new growth, Byrd said.
"Our church is really growing as far as young families with school-aged children," Byrd said. "That's our motivation behind this completely. It's because of the church growth."
While the slower economy has meant cheaper construction costs, many megachurches have held steady in their budgets.
"We're still on track with our giving," said the Rev. Lance Pate, associate pastor of First Baptist Church of Trussville. "We're doing very well in spite of the economy."
In March, First Baptist Church of Gardendale erected a 125-foot-tall stainless steel cross--spotlighted to make it visible for miles--that will be a dominant feature of its new campus.
At its current campus, Gardendale First Baptist has average attendance of 3,300 to 3,500 across three Sunday services. In 2008, the church scaled back its budget because it foresaw tougher economic times, Senior Pastor Kevin Hamm said.
That has helped keep the budget balanced, while the church continued to fund its building project from its regular budget, he said. There was never an appeal for funding above and beyond regular tithes and offerings, Hamm said.
By waiting a few years to start construction, saving the money designated for the project and then getting bids during a tough economy for construction, the total cost savings was about $1.8 million cheaper than previous estimates, said church administrator De Allen.
At Church of the Highlands in Irondale, the auditorium for students in junior high and high school will become home to the Wednesday night youth ministry service, said Associate Pastor Layne Schranz.
"We are on budget and on schedule to open in September," Schranz said. "The youth ministry is going to really benefit."
On Sundays, it will serve as an auxiliary auditorium with its own worship team that will watch Senior Pastor Chris Hodges' sermons on video screens. The youth have been crammed into an undersized room, Schranz said.
In 2007, Church of the Highlands opened its $15 million campus with a 2,400-seat sanctuary. Four satellite campuses and a fifth expected to open in August feature on-site worship teams with a satellite feed of Hodges' sermon. The church draws weekly attendance of more than 10,000, making it one of the largest churches in the South.
(Greg Garrison writes for The Birmingham News in Birmingham, Ala.)