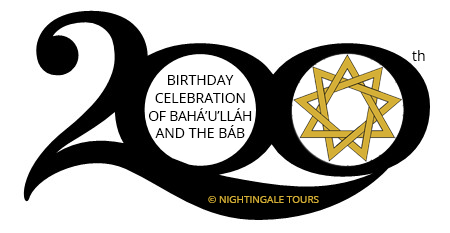 Bahá'ís from all over the world will set their intention towards the birthday celebration of the blessed Báb and Bahá'u'lláh this coming October 2017.
The world today has been through many changes that are visibly deteriorating many of the fundamental processes and global institutions, from the financial world, politics and the fabric of society to climate change and energy. And yet there is an enlivening upsurge in knowledge, concern for human rights and information technology allowing people to come together.
The world has been waiting for 'A CHANGE', some may call it an energy, a spiritual awakening, the coming of manifestations ushering in the age of peace and justice promised in all the world's religions. Well, that time has come according to Bahá'ís. "God summoned Bahá'u'lláh meaning the 'Glory of God' (His given name was Mirza Husayn Aliy-i-Nuri) to deliver His new Revelation to humanity." Beautifully, magnificently, poetically, intelligently Bahá'u'lláh wrote volumes and in his writings he outlined a framework for the "development of a global civilization which takes into account both the spiritual and material dimensions of human life." [1] (such as global issues, world security, universal language, education, economy, science, administrative order, arts, humanitarian services, medicine, and so much more about children, ego, death, etc. ) Bahá'u'lláh's writings can be found here.
Christians, Muslims, Jews and others knew that the fulfillment of the prophecies written foretold that the dawn of a new age is to begin. On May 23, 1844, the Báb announced that He was the Bearer of a long-promised Divine Revelation destined to transform the spiritual life of the human race.
The Báb referred to this coming Divine Teacher as "Him Whom God shall make manifest" and stated that "no words of Mine can adequately describe Him, nor can any reference in My Book, the Bayan, do justice to His Cause."[2]
He clarified the aim of His mission by explaining that "the purpose underlying this Revelation, as well as those that preceded it, has, in like manner, been to announce the advent of the Faith of Him Whom God will make manifest."[3]
He was the "Voice of the Crier, calling aloud in the wilderness of the Bayan." [4]
Siyyid 'Ali-Muhammad was his given name, He took the name - Báb - which means 'Gate' or 'Door' in Arabic. He represented the portal through which the universally anticipated Revelation of God to all humanity would soon appear. The central theme of His major work can be found in —the Bayan— and that the imminent appearance of a second Messenger from God, one Who was far greater than the Báb, and Whose mission would be to usher in the age of peace and justice promised in Islam, Judaism, Christianity, and all the other world religions.
To find out about local celebrations please contact your local Bahá'í communities.
Nightingale Tours will launch a special tour to commemorate the auspicious occasion, beginning October 20 through November 9, 2017. For more information please contact info@nightingaletours.com or click here.
To view the 200th Birthday celebration video please click here.
What is the Bahá'í Faith?
Bahá'ís believe that all humanity is one family; that men and women are equal; all prejudices must be extinguished; individuals must investigate truth independently; science and religion are in harmony; economic problems are linked to spiritual problems, the family and its unity are crucial; there is one God and all major religions are sent from God and World peace is vital!
For more information about the Bahá'í Faith, please visit this site.
Popular in the Community