Being the business hub of South America and one of the largest cities in the world has its bitter side: São Paulo has been drowning in a sea of automobiles (6 million and counting) for quite some time, and the future doesn't show any signs of improvement. Insufficient buses and subway lines, together with private vehicles mostly with single occupants, compose a scenario of daily chaos, with frequently over 80kms (50mi) of traffic jams in the main avenues.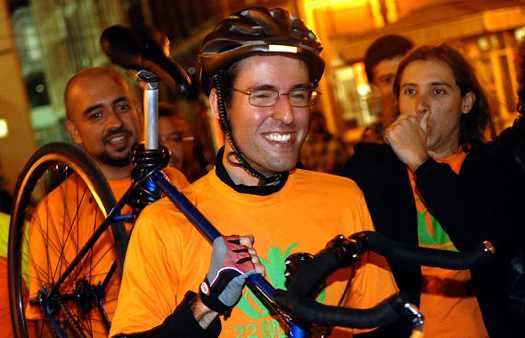 This car-centric urban transport model is showing signs of exhaustion. The average São Paulo inhabitant spends almost three hours a day stuck in traffic jams. That's about 15 hours a week - or almost 2 working days. Apart from the economic and psychological damages, let alone the carbon footprint, this situation is a true hindrance for the city's development and for the well-being of the people who live in it.
It was in this scenario that the São Paulo Intermodal Challenge was held. The challenge was simple: to get from point A to point B as quickly as possible -- during rush hour -- using the mode of transportation of your choice. The goal was to raise awareness regarding a number of alternatives to cars, and to promote the World Carless Day, by proving that avoiding traffic -- and its consequences -- might just be a matter of choice.
The means of transportation chosen ranged from cars, bikes, motorbikes, and a helicopter to buses, metro, their own feet and even a wheelchair. Contrary to all forecasts, a biker won the challenge, with a total time of 22 minutes -- more than 10 minutes faster than the person on the helicopter, who spent a total of 33 minutes and 30 seconds between going to the heliport, waiting for takeoff clearance, flying and landing.
The car came way behind, with a total time of 1:22- slower than the runner, who took 1:06, the bus (1:11) and just 10 minutes faster than the person who chose to walk the whole path (1:32).

To read more, visit PSFK (this article was contributed by Mauricio Soares)

Popular in the Community