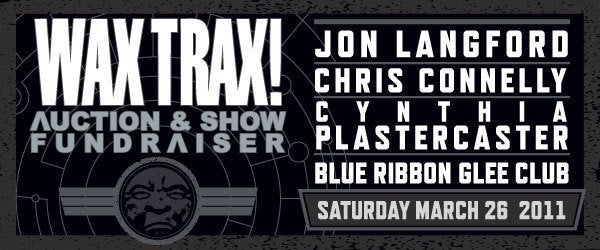 Fans of the New Wave, punk rock and industrial scene have a have a rare opportunity to bid on exclusive merchandise from recording artists like Nine Inch Nails, KMFDM, Revolting Cocks and a laundry list of other noteworthy artists on Saturday, March 26, as a fundraiser for the legendary Chicago Wax Trax! at the Center on Halsted, to raise money for its Wax Trax! Records 33 1/3 Anniversary Retrospectacle in April at Metro (hey, they need extra money to fly in the European artists!).
At the top of its game in the 1980s and 1990s, the legendary Wax Trax! was at the helm of Chicago's underground art and music scene. It supported initial recordings by bands like Ministry, Front 242, and KMFDM, and became an innovator of industrial music. A fundraiser with the name Wax Trax! attached to it, would not be a fundraiser without music -- and there will be lots of it. The evening's events will kick off with a cabaret-style performance by Jon Langford, Chris Connelly, and the Blue Ribbon Glee Club, along with as a special on-stage interview with "recovering groupie" Cynthia Plaster Caster. Drinks and appetizers will be on hand, along with raffle tickets that will be sold throughout the night's festivities. And, if you're one of the lucky ones, you can score one of the evening's hottest commodities -- a pair of Wax Trax! Retrospectable tickets (two pairs will be given away to these sold-out concerts).
The other main attraction will be the silent auction (e-mail bids are also being accepted) that runs throughout the night. Any piece from the bevy of rare music memorabilia will be a welcome addition to just about any industrial music fan's collectible stash. Some of the items available for bidding include a Trent Reznor autographed keyboard from the "Wave Goodbye Tour," KMFDM animation frames and production sketches, Local H signed snare drum and limited concert posters and rare Wax Trax! collectibles, along with gift certificates from restaurants, bars and venues around the city. You can view the full list of biddable swag here.
6-9 pm; $15 ticket includes four free drink tokens. 3656 N. Halsted St.; 773-472-6469
Calling all HuffPost superfans!
Sign up for membership to become a founding member and help shape HuffPost's next chapter